Cigarette Smoke Damages DNA in Male Reproductive Cells, Ups Offspring's Cancer Risk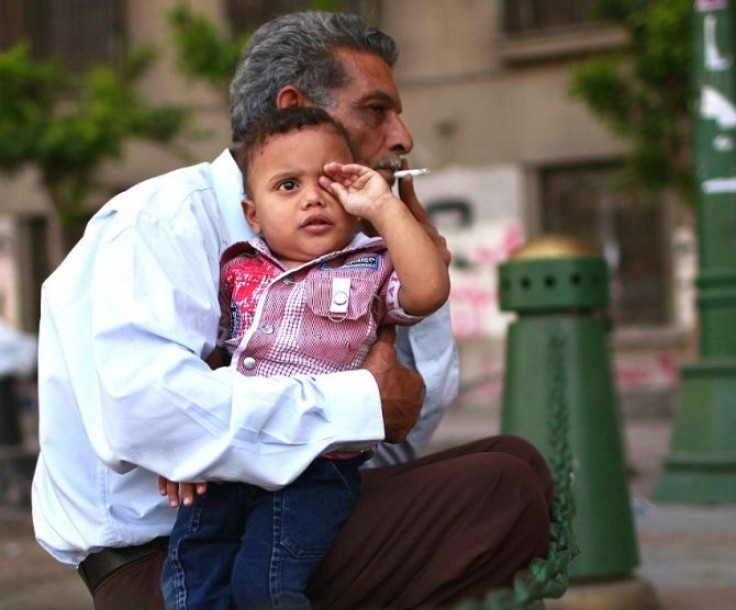 Children of fathers who smoked before conception inherit damaged genes that increase their likelihood of developing cancer and other diseases throughout their lifetime, according researchers.
A new study, published in Federation of American Societies for Experimental Biology Journal, shows for the first time that men who smoke before conception can significantly damage the genetic information of their offspring, making their children more susceptible to later diseases.
"That smoking of fathers at the time around conception can lead to genetic changes in their children indicates that the deleterious effects of smoking can be transmitted through the father to the offspring," researcher Diana Anderson from the School of Life Sciences at the University of Bradford, in the United Kingdom said in a statement.
"These transmitted genetic changes may raise the risk of developing cancer in childhood, particularly leukemia and other genetic diseases. We hope that this knowledge will urge men to cease smoking before trying to conceive," she added.
Researchers used DNA biomarkers to measure genetic changes in the paternal blood and semen around conception, as well as maternal and umbilical cord blood at delivery of 39 families living in Greece and the United Kingdom.
Participants were asked to fill out questionnaires regarding their lifestyle, which researchers used to determine environmental and occupational exposures of these families.
Researchers then compared the analysis of exposures and the results from the DNA biomarkers to measure the role of exposures before conception and during pregnancy in the causation of genetic changes in the offspring.
Researchers said that the latest findings suggest that, like women, men should also quit smoking before they try for a baby to reduce the disease risk of their unborn offspring.
Interestingly, researcher found that a fertile sperm cell takes about three months to fully develop, meaning that men would ultimately need to quit smoking long before conception to avoid passing down damaged genes.
"This report shows that smoking is a germ cell mutagen. If dad uses cigarettes, his kids will be affected even before they are born," said Dr. Gerald Weissmann, Editor-in-Chief of the FASEB Journal, said in a statement.
Published by Medicaldaily.com