Cindy Crawford And Urban Remedy Present The 3-Day Food Cleanse: We Tried It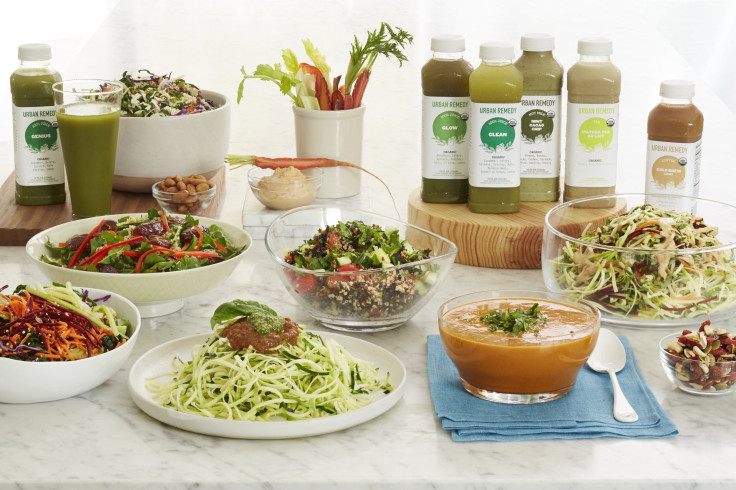 Model Cindy Crawford loves to eat balanced low sugar, low glycemic food; the spicier, the better. Urban Remedy founder and acupuncturist Neka Pasquale, who studied traditional Chinese medicine, firmly believes food is healing. So when the two crossed paths, it wasn't long before they realized they were kindred spirits.
"I have always sought out expert advice to live a [healthier], balanced life," Crawford said in a press release. "It is confusing to decipher between diet fads, ingredient trends and true expertise, and — like everyone — I was overwhelmed until I met Neka."
Let's take a step back: Urban Remedy, for those who don't know, is "a line of raw, ready-to-eat snacks, meals, cold-pressed juices, and energy boosting tinctures." Each product is inspired by Pasquale's background in Chinese medicine, which is to say each recipe is formulated with "deeply healing elixirs and edibles" that are as delicious as they are effective.
While products are currently only sold in northern California stores, consumers can put together an online order and have it delivered fresh to their door. Products can be ordered individually, or they can be ordered as part of a meal plan. There are four total plans to choose from: the beauty kit; the immunity kit; the metabolism kit; and, of course, Cindy Crawford's essentials.
Crawford and Pasquale partnered to make it easier for people to access healthy, well-balanced information and food. Within the kit are the exact foods Crawford herself eats and loves. And Urban Remedy was kind enough to send a sample to Medical Daily. In the name of clean meals and drinks, I volunteered as tribute.
Pre-Cleanse
My responses to the idea or proposal of a cleanse typically vary between NOPE, NO WAY, and NEVER. Sustaining on spicy syrup water? I'll pass — if not for the perpetually growling stomach, then definitely for the bad breath. But, Crawford and Pasquale based Cindy's kit on the 80/20 weight loss principle: 80 percent of the time you make healthy choices while allowing yourself room to indulge 20 percent of the time. I was actually surprised at how the instructions encouraged me to be indulgent.
I had the option to follow the cleanse plan to a tee, or I could spread the meals across however many days, allowing room for out-of-office lunches and celebration dinners. For the sake of the story, I said I would stick with the three-day cleanse and not indulge. And then I strayed from the cleanse and indulged.
Prep isn't really required for this particular meal plan since it incorporates a lot of food, Pasquale told me in a Google Hangout. "My hope is you'll do something like this and you'll feel so good that it will inspire you to eat like this in your [daily] life, and eat less foods that cause inflammation," she said.
Here's what was on my three-day menu: 3 mint cacao chip breakfast shakes; 2 light, cold brew coffees; 1 Matcha Au Lait; 3 cold-pressed green juices; 3 snacks; 3 prepared lunches; and 3 prepared dinners.
Mid-Cleanse: Day 1
I begin with a glass of warm water and the juice of a whole lemon. You may recall drinking warm water can heal your body; it boosts digestion and reduces metabolic waste built up in our immune system. It involves much less sour-face making than I initially anticipated.
Breakfast: I have the caffeinated version of Crawford's kit (non-caffeinated comes with herbal teas), so I have my first cold brew with my mint cacao shake. For someone who normally takes their coffee black, this is great; it involes three ingredients! And though the shake looked like smashed peas, it tastes like a liquefied thin mint. Is this cleanse going to be amazing?
Lunch: Mediterranean Quinoa Bowl, which I see after the fact is listed under dinner; woops. I decide this is a happy mistake, since I'm having dinner out later and quinoa is super filling; the dressing is a little too lemony for my taste.
Snack: JK about the quinoa being super filling. A couple hours later I'm eating the crudité and sweet potato hummus, which contains the secret ingredient miso. Pasquale said she likes to sneak this in for improved gut health.
Juice: Let me just say I've never been a fan of cold-pressed juice. Pulverized kale and spinach and other greens taste better to me when they're frothy and mixed with fruit. That said, it took me an hour and a half to drink the "Genius" juice.
Dinner: Here's my first indulgent dinner: small but mighty margaritas, chicken quesadillas, and a bowl of fries. I did have my co-workers help me with the fries, if that counts for anything.
Day 2
I don't have time to squeeze the lemon into my warm water. This is what happens when you drink the night before a scheduled running class for 8 AM.
Breakfast: I am desperate for the cold brew coffee after running on warm water, but really last night's margaritas. The mint cacao chip smoothie is everything.
Lunch: I change things up and have my "Glow" juice an hour before my lunch of shredded kale salad. I'm trying to narrow down what it is I don't like about this type of juice, and I think it's the cucumber-celery combination. Do all green juices use this combination? I could maybe like one without.
The actual salad is enjoyable, though the fridge froze some of my dressing.
Snack: Spicy lemon almonds — a snack Pasquale made per Crawford's request. I eat half the bag after grossly realizing it's these almonds and dinner left on the day's menu. I'm going to be so hungry later.
Dinner: LOL BROKE THE RULES AGAIN. I have a terrible commute home, it's so cold outside, and plating a cold meal truly makes me sad. I go with two slices of margherita and a generous glass of cabernet instead; sigh.
Day 3
More warm water. More lemon. This plan involves so. much. lemon.
Breakfast: I feel slightly guilty about last night's dinner, so I only have the shake for breakfast. I'll save the green tea for tomorrow.
Lunch: The Zen Salad is my favorite lunch by far. I tend to be a sad salad maker — some greens with handfuls of random veggies — so I appreciate the mix of kale, cabbage, almonds, and sesame seeds. The dressing is also so good. Note to self: make more of your own dressing.
Snack: The rest of the almonds. I enjoy them, but it's not the kind of snack I want right now.
Dinner: Inspired by my dinner last night, my roommates decided to order a large pizza. It's Sophie's Choice when I go to the kitchen and face their slice offerings and my cold veggie pad thai; I choose pad thai. The coconut-almond butter sauce almost makes up for the fact I'm not eating pizza again. Almost.
Day 4
The last day of the cleanse is perfectly timed to my last lemon.
Breakfast: I sleep through this meal and my Matcha Au Lait. What a mess.
Lunch: The Super Green Quinoa salad and "Clean" juice. I don't particularly like this dressing, and the green-quinoa mix makes me more sad than the second night of my cleanse. It's not that the meal is unappetizing; it's just so green.
Snack: The superfood trail mix is a nice treat. The bitterness of the cacao nibs is masked by the super sweet berries, and balanced out with the cashews and sesame seeds. I may try to repeat this combination in the future.
Dinner: Raw Carrot Soup & Zucchini Pasta. Zoodles are all the rage, and I quickly see how they're a substitute for traditional noodles. Though I'm allowed to heat up the carrot soup, this meal generally doesn't satisfy me. I'm already dreaming of the warm eggs over avocado I'll have for breakfast the next day.
Post-Cleanse
I am sick. I woke up on day five with a sore throat from a slight cough the night before. I can't say for sure if elements of the cleanse are to blame (namely my terrible follow-through), but I can't rule it out either.
For as many advantages as there are to a cleanse — it's a way to reset and give your body "a fast blast of nutrients," according to The Daily Burn — there are disadvantages. Juicing strips fruits and vegetables of their filling fiber; it skimps on carbohydrates and protein; and it's not scientifically proven to detox the body any better than it's naturally designed to do. The side effects of juice and otherwise cleanses include hunger, fatigue, nausea, irritability, and constant thoughts of food and eating, author Cynthia Sass, RD and sports nutrition consultant, told Daily Burn.
Even clean meals, as I experienced, don't completely curb hunger. There were moments when this cleanse left me unsatisfied and genuinely upset over foods I couldn't eat (you know, when I was bothering to stick with the plan). Yet, upon further cleanse research, I realized this may be a good thing.
"Detoxes and cleanses prevent you from being able to act on your usual emotional, social, environmental and habitual eating triggers, which can be the first step to breaking unhealthy patterns," Sass said.
My unhealthy patterns? Wanting a certain kind of food based on outside factors, like the weather and a scheduled Netflix binge, rather than legitimate hunger.
Updated: I reached out to Pasquale with some follow-up questions about the cleanse. Unsurprisingly, one of the first I asked concerned the amount of snacks. I ate two of my provided portions in one sitting (which is the move if you want to feel full until your next meal), making the third last for two days since I wasn't sure if incorporating one of my routine healthy snacks would be considered an indulgence. Turns out, this is not the case.
"It's fine to add in another healthy snack," Pasquale said in an e-mail. "You can have an apple with almonds, a cup of berries, a bowl of veggie soup — any snack that is clean eating and will promote keeping your blood sugar balanced and your energy high."
Glory be!
Final Thoughts
A year ago Pasquale relayed how Urban Remedy came to be in her book, and she said it's been a huge labor of love. She got to "combine information on traditional Chinese medicine that really focuses on balance of mind, body, and spirit" in a way she hopes will "really empower people to make healthier choices in their life, to be as healthy and happy as they can be."
She believes Urban Remedy has an edge on their competition because they're rooted in this idea food is healing, not just convenient (an aspect of the service I appreciate).
"We leverage the deep wisdom and ancient healing properties of food, combined with modern, cutting-edge nutrition and culinary innovation, to offer practical nutrition that fits a busy lifestyle," she said. "In addition, we strive to educate people on the benefits of using foods to help alleviate common medical problems. In addition, you are guaranteed with Urban Remedy that you're receiving the cleanest food available as we are organic, non-GMO and low-glycemic."
Can't swing individual or packaged meals? Focus on clean eating in your daily life. That means eating real food: fruits, vegetables, organic protein, fermented foods, whole, low-glycemic grains, and avoiding processed foods, sugar, white flour, and processed meats. My clean food cleanse and an all-juice cleanse no doubt vary in results, but both aim to empower and inspire people to be as healthy as they can be.
"I think enjoying life and enjoying food is so important," Pasquale said. "You want to offer people food that tastes really good so they're not suffering through what they're eating."
Overall cleanse grade: B. I plan to recreate some of the recipes (seriously, the shake was so good) and be more mindful of times I want to reach for a certain snack or meal. Am I really hungry for a large pizza, or is Parenthood making me cry and I need the cheese to slow down my feelings?
A huge thanks to both Pasquale and Urban Remedy for the samples and experience.
This article did not originally feature Pasquale's answers to the reporter's follow-up questions. Her answers have now been added.
Published by Medicaldaily.com