Cleveland Kidnapping Suspect Ariel Castro Faking Incompetency? Judge Orders Psychiatric Evaluation, Competency Test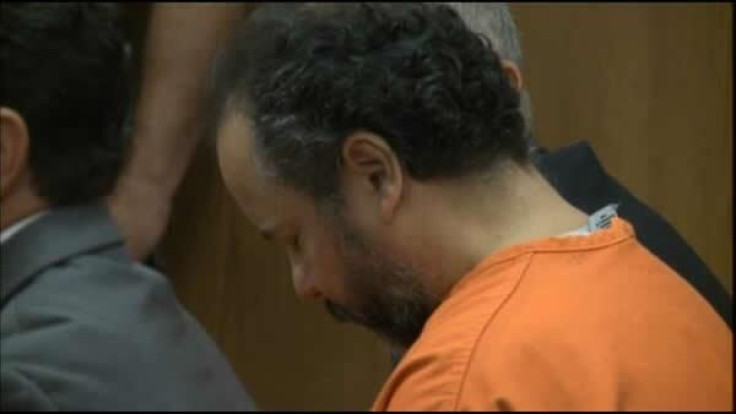 Judge Michael Russo ordered a competency test of Ariel Castro, the Cleveland man charged with kidnapping three girls and holding them captive for ten years, after his recent behavior has caused defense lawyers to question whether 52-year-old Castro is fit to stand trial.
Castro pleaded not guilty to the more than 300 charges against him, including rape, kidnapping, and aggravated murder. Last month, Amanda Berry, Gina DeJesus, and Michelle Knight escaped the home where Castro allegedly held them captive for over a decade. Castro and his alleged victims were questioned separately immediately following the girls' escape. Prosecutors say that tapes of those interviews reveal that Castro knew is competent enough to proceed to trial.
Prosecutor Timothy McGinty said that Castro "isn't in any way incompetent." He went on to say that there is "no doubt from the hours of tape that he is competent and knows what he is doing now and knew what he was doing then," based on the statements he made to authorities shortly after the women's escape from captivity.
Competency to stand trial is a complex issue in legal proceedings. Issues of competency can arise at any point during the case if it seems that a defendant is "unable to show a rational and factual understanding of his charges or the legal process, or [is] unable to communicate with counsel." In the United States, defendants are afforded the right to a fair trial, which includes right to counsel, right to speedy and public trial, right to confront your accuser and the like. A fair trial, therefore, is put in jeopardy when the defendant lacks the requisite understanding of what is going on around him, especially in the court room.
"I have to make sure whatever [Castro] does here ... will stand up in the future," the judge said.
Recent jail logs show that Castro has been refusing to shower or change his prison-issued clothing. Dr. Phillip Resnick has been assigned the task of evaluating Castro's competency in a psychiatric evaluation set to take place today in a court clinic.
Castro's trial is set to begin in August, but he will return to court July 3 for more pretrial hearings. He is being held in county jail on $8 million bail.
"The longer this process lasts, the more painful it is for them. And the more sordid details of this horror that get disclosed in this process, the more painful it is for them," Kathy Joseph, Michelle Knight's attorney, said in a statement.
Published by Medicaldaily.com