Cloistered Nun Sister Teresita Barajuen Spent 86 'Happy' Years in Convent, Dies At Age 105 [VIDEO]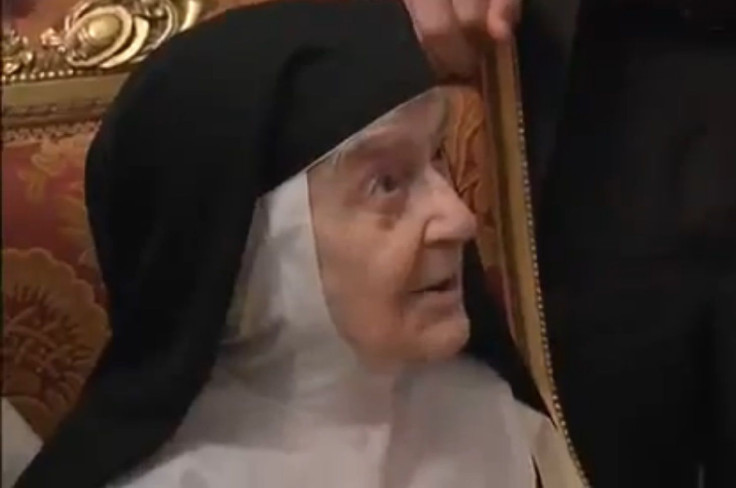 Sister Teresita Barajuen, a cloistered nun who is reputed to have spent a world record of 86 years in a monastery, has died in Spain at the age of 105.
Barajuen joined the Buenafuente del Sistal monastery in Guadalajara, a town northeast of Madrid with only 200 residents, when she was only 19 years old. The abbess of the Cistercian convent, Sister Maria Romero, announced on June 12 that Barajuen passed away overnight, reported the AP.
In an interview with Portal de tu Ciudad, Barajuen explained that she never meant to become a nun when she was a girl.
Born on September 16, 1903, as Valerian Barajuen Gonzalez de Zarate, she grew up as the oldest of seven siblings in a farming family in the village of Foronda, deep in the Basque country of Spain.
Despite what she described as an idyllic childhood in the field, her father pressured her to join the convent, thinking it would be easier for her than a life of manual labor. She initially resisted the austere manner of the nuns, but a priest convinced her of the beauty of a spiritual vocation.
Decades later, Barajuen spoke of a full life spent praying and working for others in the convent. Previous research has linked the austere but social monastic lifestyle to a distinct longevity advantage over the general population, and like many nuns, she credited her faith in God and spiritual contemplation for her emotional well-being in old age.
She admitted to once having imagined how her life would have been different had she not become a cloistered nun, but ultimately decided she was happy with the life she chose.
Barajuen left behind three boyfriends in Foronda, she told ABC.es earlier this year, but insisted that as a much older woman, she was at peace with her vow of celibacy. "Even if I had married a prince I would not be happier now."
"You cannot live bored in the convent," she told Portal de tu Ciudad. "You'll end badly. Either you're happy or nothing."
Barajuen served as abbess in the seventies, according to ABC.es, directing and boosting the morale of the other nuns during a time of economic crisis in Spain.
She was reportedly an expert cook of tortillas de patatas, or Spanish omelettes, and presided over simple meals of food collected from the convent garden. On special occasions, the nuns would have lamb and "exquisite puddings."
In her old age, the cloistered nun followed a simple routine. Summarized thus by the Catholic News Agency:
"Sister Teresita follows the daily rhythm of prayer, from 5:30 a.m. to 10:00 p.m., and she continues giving thanks to God for the grace of having met the Pope, which, she says, motivates her even more to pray for him and to be holy."
When not praying, she told Portal de tu Ciudad that she read the news every day.
She left the convent for the first time in 40 years in 2011, to greet the retired Pope Benedict XVI when he visited Madrid on World Youth Day. Barajuen had entered the monastery on the same day that Benedict was born, April 16, 1927.
At that meeting, she offered the Pope a copy of a book called "What's a Girl Like You Doing in a Place Like This?," which featured Barajuen in one of 10 testimonials from women who devoted themselves to God as nuns, and received a white rosary in exchange, reported EWTN News.
"I know that many won't understand my lifestyle, but I do not understand any other," she told Portal de tu Ciudad. "I am very happy and do not envy anything from the outside."
Barajuen's death was announced within days of the passing of notable supercenterians Luo Meizhen, who died in China at the unconfirmed age of 127, and Jiroemon Kimura of Japan, who was officially the world's oldest man at age 116.
Published by Medicaldaily.com