Coaching Legend Joe Paterno Dies at 85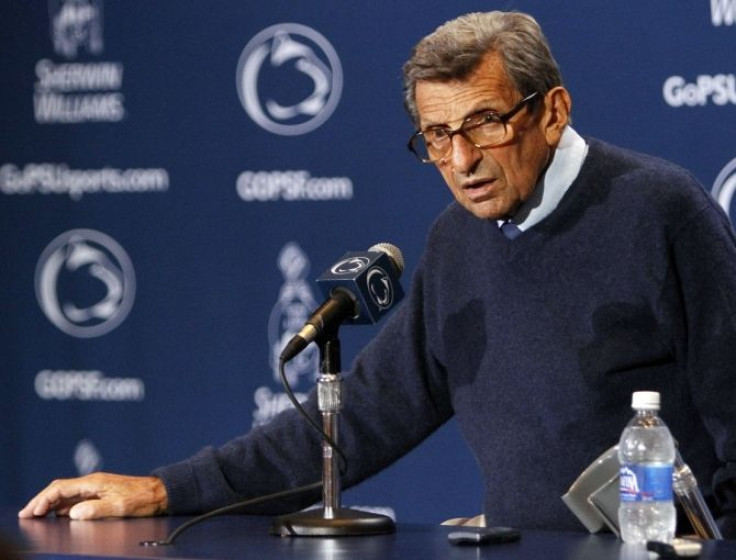 Joe Paterno, a towering sporting figure as a head football coach who was long associated with success on and off the field, but whose role in reporting allegations of child abuse was highly criticized when details emerged in 2011, died on Sunday at the age of 85.
Paterno had been suffering from lung cancer diagnosed last November. He had been hospitalized since Jan. 13 for observation.
Regarded with reverence for much of his 46 years as a head football coach at what is affectionately known as "Happy Valley," Paterno served at the school for 61 years. Paterno holds the record for most major college football wins as a head coach with 409.
On Sunday, his family focused on Paterno's loss, the former coach's ambitions and devotion.
"His loss leaves a void in our lives that will never be filled," they wrote, according to the Associated Press.
"He died as he lived. He fought hard until the end, stayed positive, thought only of others and constantly reminded everyone of how blessed his life had been. His ambitions were far reaching, but he never believed he had to leave this Happy Valley to achieve them. He was a man devoted to his family, his university, his players and his community," the family wrote.
Paternos' actions in 2002 became a controversial subject once they were revealed in legal proceedings last year.
In 2002, an assistant told Paterno at the time he had witnessed child abuse on school property by one of his former assistants – a matter revealed in criminal proceedings against the assistant.
Paterno's testimony in the matter came in proceedings of a case filed against Paterno's former defensive coordinator Jerry Sandusky.
Paterno, upon learning of allegations did not immediately report what he had learned to the police, a move which while not illegal, raised the furor of the general public. Instead, he reported the matter to a superior at the university which did not pursue the matter with law enforcement.
Police said Paterno had broken no laws and followed proper procedures. However many critics felt he should have done more.
"I didn't know exactly how to handle it and I was afraid to do something that might jeopardize what the university procedure was," he told the Washington Post in an interview published Jan. 14. "So I backed away and turned it over to some other people, people I thought would have a little more expertise than I did. It didn't work out that way."
His university fired him soon after the revelations were made public.
Published by Medicaldaily.com