Coconut Oil Uses: 11 Surprising Health Benefits, Including Weight Loss, Aromatherapy, Skin And Hair Care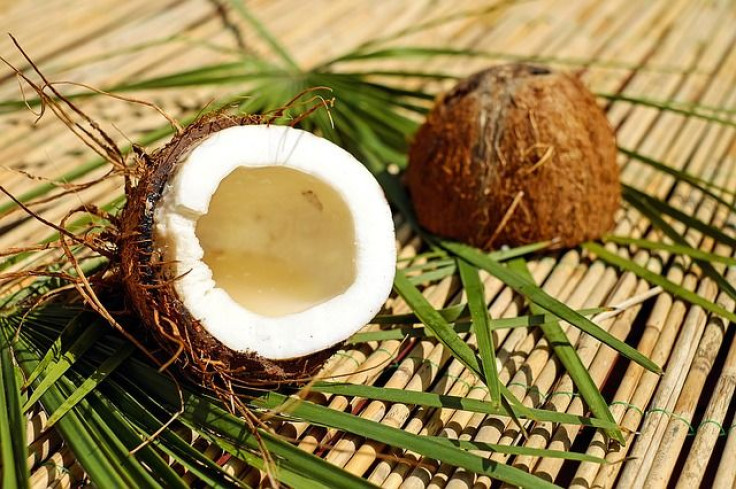 Coconut oil is a clean eating staple, and doubles as a must-have for people who use organic products and live an all-natural lifestyle. We've listed some unexpected uses for coconut oil, which can improve your physical health, help you drop pounds, and improve your mood. And in even better news, it can be used in place of pricey, processed beauty products.
The following information is aggregated from online publications Dr. Axe, Allure, and Shape.
WEIGHT LOSS
1. Sauteing and frying your dinner can be improved with coconut oil because it is made up of healthy saturated fats — meaning that, even under high temperatures, it stays stable.
2. Baked goods can be made with this healthier option in place of butter, shortening, or other vegetable oils.
3. Replace your coffee creamer with a dollop of coconut oil.
4. Make some homemade granola as a healthy snack, but use this oil for a better taste and aroma.
Read: 4 Health Benefits Of Organic Coconut Oil
BEAUTY
5. Coconut oil will get the makeup off your face — while offering tons of extra, all-natural moisture. Try replacing your daily makeup remover.
6. Your expensive nighttime wrinkle cream could be replaced by applying this oil directly to your facial problem areas.
7. Coconut oil can be a great base ingredient if you're making natural deodorant.
8. The oil can also be used as a teeth whitener. Check out what happened when Medical Daily reporters tried oil pulling for oral hygiene.
Read: Coconut Oil Uses: 5 Surprising Benefits Of Coconut Oil For Your Health
AROMATHERAPY
9. Eucalyptus oil partnered with coconut can create an all-natural vapor rub and cold remedy.
10. Replace your candles by burning clean oil within an oil diffuser using coconut oil and essential oils.
11. This oil can be used in place of massage oil. If you want more healing scents, add drops of lavender or peppermint oil.
See Also:
Using Coconut Oil Injections To Bulk Up: Amateur Bodybuilder Damages Arm Muscle By Injecting Natural Oils
Enriched Coconut Oil Can Help in the Fight Against Tooth Decay
Published by Medicaldaily.com