Most Coffee Drinks Contain More Sugar Than A Coca-Cola, 'Action On Sugar' Report Finds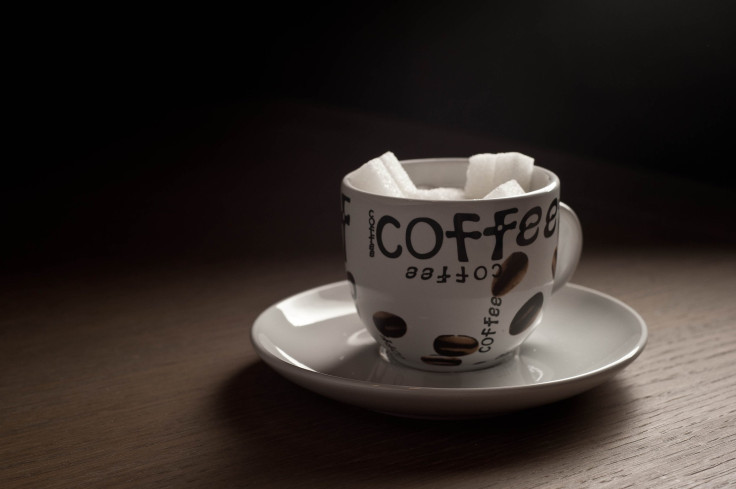 Grabbing a coffee at your local café may leave you sipping on copious amounts of sugar every morning. The University of London's registered charity, Action on Sugar, conducted research on the liquid side of the sugar industry — café beverages, and found there's more than beans in that coffee.
For their study, researchers measured the sugar content in 131 hot flavored drinks and found 98 percent of the drinks selected received a red label, indicating they had excessively high levels of sugar per serving as sold. They examined beverages served by chains such as Starbucks, McDonald's, Dunkin' Donuts, and a popular café in England called Costa. They highly laden sugar drinks reveals a largely overlooked dietary danger — your morning coffee routine.
In 2015, the World Health Organization announced their latest recommendations to reduce added sugar intake to less than 10 percent of an adult and child's total calories. The organization is not referring to the sugars found naturally occurring in fresh fruits and vegetables, or those found in milk because there are no reported adverse effects from consuming natural sugars.
Added sugars, on the other hand, such as table sugar, are added to foods and drinks by the manufacturer, cook, or consumer. According to the Harvard School of Public Health, excessive added sugar consumption can lead to higher rates of obesity, heart disease, and Type 2 diabetes. Sugar-sweetened beverages provide no nutritional benefits and contain empty calories, which when consumed in excess, lead to weight gain. For example, if you were to drink one can of a sugar-sweetened soft drink, such as Coca-Cola, every day and not increase caloric intake elsewhere in your diet, you could potentially gain 10 to 15 pounds each year.
Thirty-five percent of the hot flavored drinks contained the same amount or greater sugar than what's in a Coca-Cola, adding up to 9 teaspoons of sugar per can. There are an estimated 1.7 billion cups of coffee sold each year in the UK, from more than 18,000 outlets. The potentially high sugar content in cafes and coffee chains could be slipping in extra empty calories into the regular consumer's diet. The researchers organized the chains they investigated into a list from the worst to least sugar offender.
Top Sugary Drinks
Starbucks: Hot Mulled Fruit Grape with Chai, Orange and Cinnamon (Size: Venti)
Grams of sugar per serving: 99 g (9 tsp. of sugar per serving)

Costa: Massimo Chai Latte (Size: Eat In)
Grams of sugar per serving: 79.7g* (20 tsp. of sugary per serving)

Starbucks: White Chocolate Mocha with Whipped Cream (Size: Venti)
Grams of sugar per serving: 73.8g* (18 tsp. of sugar per serving)

Starbucks: Signature Hot Chocolate (Size: Venti)
Grams of sugar per serving: 60 g* (15 tsp. of sugar per serving)

KFC: Mocha Coffee (Size: Large)
Grams of sugar per serving: 58.8g* (15 tsp. of sugar per serving)
Published by Medicaldaily.com