Colin Powell Was Wrong About Weapons Of Mass Destruction But Says He's Right About Universal Health Care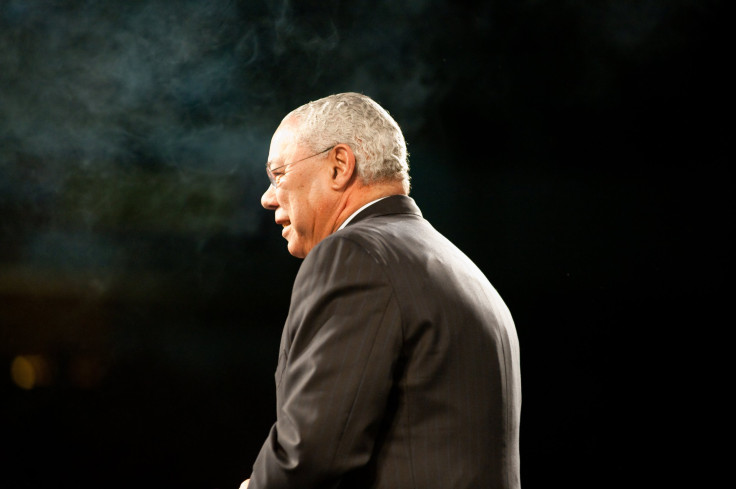 Once favored for a presidential run, former Secretary of State Colin Powell delved this week into contemporary politics by espousing support for the kind of universal health insurance offered throughout the developed world, including Canada, Europe, and South Korea.
And people listen to Colin Powell. In February 2003, the first African American chairman of the military's Joint Chiefs of Staff spoke at the U.N. to urge the imminent invasion of Iraq, claiming the presence of weapons of mass destruction predicted by 16 U.S. intelligence agencies. None were ever found. Years later, Powel crossed party lines as a Republican to endorse Barack Obama for president, the first African American to hold the office. Now, the GOP star says he believes universal health care is the only logical solution for America's dual problem of cost and access.
"I am not an expert in health care, or Obamacare, or the Affordable Care Act, or however you choose to describe it, but I do know this: I have benefited from that kind of universal health care in my 55 years of public life," Powell said last week, quoted in the Puget Sound Business Journal. "And I don't see why we can't do what Europe is doing, what Canada is doing, what Korea is doing, what all these other places are doing."
As opposed to some other types of health care systems offering broader access but with multiple payers, the universal care offered by countries in Europe, for example, involves the equivalent of a Medicare-for-all system here, whereby the federal government would fund most health care expenditures. Like many Democrats, Powell says anything short of a single-payer system would represent an unworkable compromise between proponents of universal access and those touting the "free market" system.
In Seattle, the former four-star Army general told a business audience about recent health experiences that compelled him to support universal insurance. Powell's wife, Alma, suffered three aneurysms and an arterial blockage around the time a family acquaintance, the woman who delivers firewood, asked for a favor — payment for an MRI not covered by insurance.
"After these two events, of Alma and Anne, I've been thinking, why is it like this?" Powell said. "We are a wealthy enough country with the capacity to make sure that every one of our fellow citizens has access to quality health care." "[Let's show] the rest of the world what our democratic system is all about and how we take care of all of our citizens."
Although the cause of universal health care had been left to leftish stalwarts such as Sen. Bernie Sanders, I-Vermont, and former Rep. Dennis Kucinich, D-Ohio, some economists make a financial argument in favor of schemes derided by many Republicans as "socialized medicine." Yet Jim Yong Kim, president of the World Bank, made an economic argument favoring universal healthvcare, while attending a meeting in Japan.
"Today, there is a large and growing movement in developing countries to undertake the necessary comprehensive health reforms to achieve universal coverage," Kim said. "A promising message… is that even low-income countries with low levels of health coverage can still aim for [universal health care], which is central to reaching the global goals to end extreme poverty by 2030 and boost shared prosperity."
The World Bank and World Health Organization continue to push for global universal health care by 2030.
Published by Medicaldaily.com