Common Skin Disorder Rosacea Linked To 'Slight Increase' In Alzheimer's Disease Risk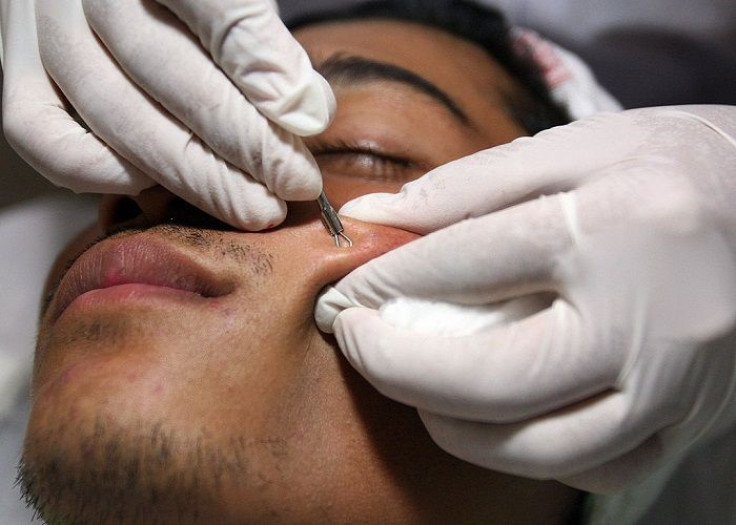 By now we know the detrimental effects of Alzheimer's disease. It's a progressive brain disorder that impedes memory, the ability to carry on a conversation and go about daily activities. Age may be the best determinant of disease, but it's hardly the only one. New research published in the Annals of Neurology suggests there's a link between rosacea, a common skin disorder that affects at least 16 million Americans, and the neurodegenerative condition.
People with rosacea experience small red, pus-filled bumps on their skin, a result of excessive levels of certain proteins. These proteins have also been implicated in disorders like Alzheimer's disease and dementia. This interesting fact inspired Dr. Alexander Egeberg, of the University of Copenhagen, to further explore the possible connection between the two.
Egeber and his team combed through data they collected from more than 5 million Danish citizens between 1997 and 2012. Of this sample, more than 82,000 had rosacea. Researchers followed their subjects until Dec. 31, 2012, at the end of which 99,040 developed dementia and 29,193 of those dementia patients were first diagnosed with Alzheimer's disease.
After further analysis, researchers found that people with rosacea had a 7 percent increased risk of developing dementia and a 25 percent increased risk of Alzheimer's disease compared to those without the chronic condition. The study also revealed that men with rosacea fared slightly better than women with the condition, with only a 16 percent increased risk of developing Alzheimer's compared to 28 percent in women.
When researchers analyzed the results by age, they found that the risk of Alzheimer's disease was only significantly increased in people who were at least 60 years old. When analyses were limited to patients whose rosacea was diagnosed by a hospital dermatologist, the increased risks of dementia and Alzheimer's disease were 42 percent and 92 percent, respectively.
"A subtype of patients have prominent neurological symptoms such as burning and stinging pain in the skin, migraines, and neuropsychiatric symptoms, suggesting a link between rosacea and neurological diseases," Egeberg said in a statement. "Indeed, emerging evidence suggests that rosacea may be linked with neurological disorders including Parkinson's disease and now also Alzheimer's disease. There are certain mechanistic overlaps between rosacea and Alzheimer's disease that may explain the observed association, albeit the pathogenic links between these conditions are still unclear."
Previous studies have also suggested brain injuries and gum disease can also increase an individual's risk of Alzheimer's and dementia. The current study provides new insight into the link between the skin and dementia, but it doesn't necessarily mean people with the rosacea will develop either disorder. In fact, Egeberg said more research is needed to examine whether treating the skin condition can reduce or modify a patient's risk of developing a neurodegenerative disorder.
Source: Egeberg A, Hansen P, Gislason G, Thyssen J, Patients with Rosacea Have Increased Risk of Dementia. Annals of Neurology. 2016.
Published by Medicaldaily.com