Competitive Eater, Molly Schuyler, Breaks Record By Downing Two 72-Ounce Steaks in Under 15 Mins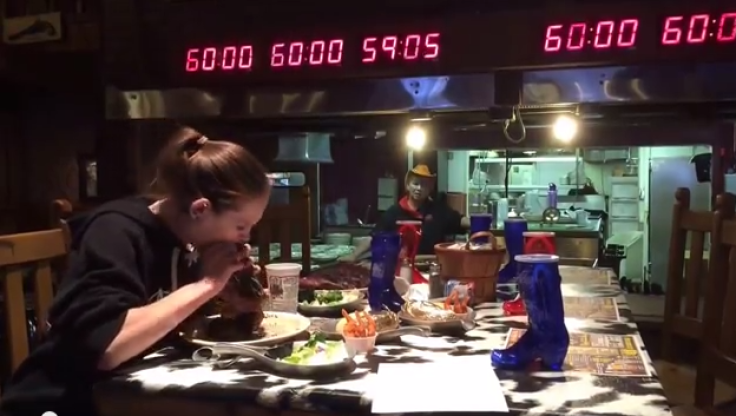 Competitive eater Molly Schuyler, the self-proclaimed "bottomless pit," has never been one to back down from an eating challenge. The mother of four from Nebraska walked into the the Big Texan Steak Ranch in Amarillo, Texas, with no intention of paying for her meal. That's because the restaurant challenges any customer to win a free meal by eating an entire 72-ounce steak in under an hour, but Schuyler only needed 15 minutes to eat two.
"We witnessed history," Big Texan co-owner Danny Lee told the Amarillo-Globe News. "If there's a zombie apocalypse, I want to stay away from this girl."
Prior to Schuyler's visit to the Big Texan this past Monday, six-time Nathan's Hot Dog Eating Contest Champion Joey Chestnut held the eating challenge's record at 8 minutes and 52 seconds, a record he has held since 2008. On top of a 72-ounce cut of beef, contestants must also finish off four sides including a baked potato, shrimp, salad, and a bread roll.
At 5-foot-7 and 125 lbs., Schuyler destroyed Chestnut's record by finishing the challenge in four minutes and 58 seconds. To celebrate her victory, she ordered a second 72-ounce steak that she finished in nine minutes and 59 seconds. All in all, it took Schuyler 14 minutes and 57 seconds to devour two 72-ounce steaks with four sides in one sitting.
This past January, Schuyler finished off 363 wings in less than 30 minutes to win Philadelphia's 22nd Wing Bowl. The competitive eating heavyweight said she plans on returning to the Big Texan to surpass her own record by eating THREE 72-ounce steaks.
Published by Medicaldaily.com