An Ultrasound Headset May Someday Be Able To Diagnose Concussions On The Go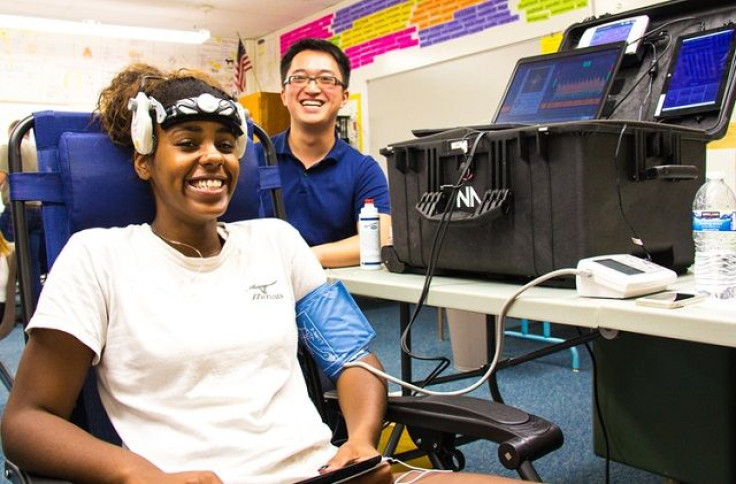 Someday soon, analyzing on-the-field head injuries for the possibility of concussion may be a lot easier and cheaper than with conventional diagnostic tests.
That's the hopeful takeaway from research set to be presented at the American Academy of Neurology's 68th Annual Meeting later this month, at least. In an accompanying abstract released Wednesday, the study authors, all members of medical device company Neural Analytics, detailed their pilot efforts in designing a portable headset capable of identifying concussed brains. The device was able to distinguish the brains of young high school athletes who had recently suffered a traumatic brain injury from those of healthy subjects with 83 percent accuracy, thanks to being outfitted with what the researchers say is a more sophisticated version of a ultrasound technique known as the transcranial Doppler (TCD).
"What TCD does is measure blood flow velocity in the major arteries of the brain," Dr. Robert Hamilton, the study's lead author and co-founder of Neural Analytics, told Medical Daily. "Unfortunately, all doctors look at [currently] is just one variable of that signal — how fast the blood flow is moving, for example. If you actually look at the signal, it's very complex and they essentially ignore a tremendous amount of information in that signal. Our machine learning platform captures subtle variations in blood flow that allow us to make more accurate diagnoses of neurological conditions."
TCD has been around since the mid-1980s, but Hamilton says the test has been underutilized by doctors, in part due to its relatively imprecise readings compared to other imaging techniques. Hamilton and his team believe their TCD device represents a step forward in its evolution, similar to how electrocardiograms (ECGs) have steadily improved and become more specific in their measurements over the years.
The researchers recruited 66 high schoolers who had suffered a diagnosed concussion within the past 12 days and compared them to a control group of 169 similarly aged athletes. While the concussion group was entirely comprised of athletes who played in contact sports, the control group also had athletes who played non-contact sports.
Lending support to their findings, the researchers found that the measurements offered by conventional TCD devices were less accurate than those from their advanced method. For instance, using average blood flow speed alone, they were only able to tell the difference between healthy and concussed brains 55 percent of the time; for blood flow resistance, that success rate dropped to 53 percent. The advanced TCD was also able to track the subtle improvements in blood flow as their volunteers recovered from their concussion, an important function that might allow doctors to better monitor the progress of their patients in real time, Hamilton said.
Hamilton's TCD is the centerpiece of Neural Analytics' primary project, called the Measurement of Intracranial Neurological Disorders, or MIND for short. The California-based company was founded in 2013, with many of its original members, including Hamilton, having met while at UCLA's Department of Neurology. Since then, the company has continued to partner with the university and other public and private organizations; a list that includes the National Institutes of Health and the National Science Foundation — both of which supported the current study.
Aside from submitting their findings to a peer-reviewed journal within the next six weeks, the team plans to next compare their machine learning platform with other imaging techniques like MRI, once again recruiting high school students as their test subjects. That study is set to begin in the fall. With the help of advanced robotics, they also hope to further improve their device such that anyone, like a high school coach, can be quickly trained to use it without the need for dedicated expertise.
While concussions remain the company's primary focus for now, Hamilton believes the TCD can play an even wider role in medicine. "Blood flow regulation is incredibly important for a wide array of neurological indications, whether it's concussion, stroke, dementia, or depression. But doctors today don't have a good way to assess blood flow regulation and it's simply because of a lack of technological innovation," he said. "We're trying to address that problem, first with concussions, and now we're starting to look at those other neurological conditions as well."
Other scientists, like Dr. Jeffrey Kutcher of The Sports Neurology Clinic in Michigan, are also hopeful if somewhat more reserved about their research. "This important work provides insight into a tool that may yet prove useful in the recognition and management of concussion," said Kutcher in a statement released by the American Academy of Neurology. "The potential of having an accessible technology that detects a physiological change following brain trauma is very exciting. However, what these detected blood flow changes mean to a patient's clinical care is still unclear."
Elsewere, just this past March, researchers from Orlando Health similarly announced their early success in developing a blood test that may be able to identify concussions.
Source: Hamilton R, Thibeault C, Wilk S, et al. Sports Related Concussion Diagnosis Using Advanced Measures of Cerebrovascular Reactivity. AAN 68th Annual Meeting. 2016.
Published by Medicaldaily.com