Concussions In Sports: The Latest On A Deadly Month For High School Football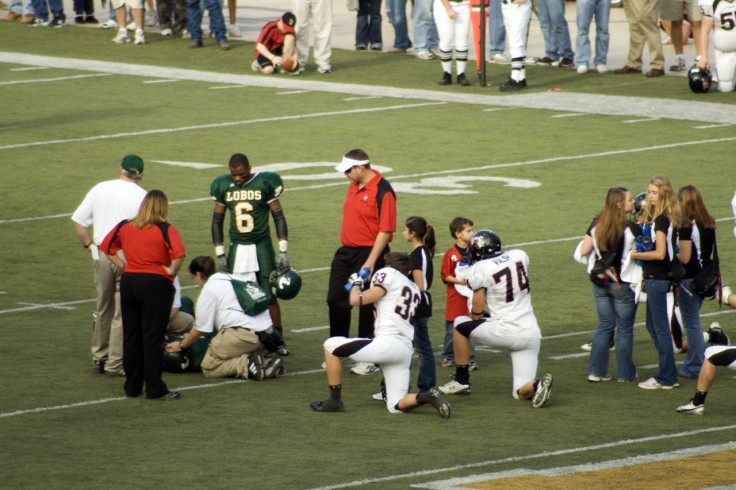 As more and more parents start to pull their children away from organized football, high school football programs across the country just capped off a deadly start to the 2015 season. The number of deaths associated with high school football rose to seven this past Friday following the tragic death of 17-year-old Andre Smith, who died as a result of "blunt force head injuries due to a football accident."
Deaths like Smith's have both parents and health care professionals deciding if the benefits tied to organized contact sports outweigh the sometimes fatal risks. Smith, a senior at Bogan High School in Illinois, was able to walk off the field after sustaining a hit to the head during the game's final play this past Thursday, but would collapse soon after. He was taken to nearby Advocate Christ Medical Center where he passed away early Friday morning.
Although Smith's death was the first in Illinois since a player died due to an enlarged heart in 2012, it was also the seventh nationally since the start of the season in early September, according to the Illinois High School Association (IHSA).
"As anyone who has participated in athletics knows, there is a risk of injury any time a player steps on the field of play," the IHSA said in a statement. "Football, in particular, has been under the microscope over the last decade, and organizations at all levels of play, including high school, have been taking aggressive steps to try and reduce injury over time."
Other high school football players who have passed away this season, including Kenney Bui from Washington state and Ben Hamm from Oklahoma also suffered traumatic brain injuries that ultimately led to their death. It comes as no surprise that concussions played a role in part of this deadly month for high school football, but they're not to blame for all or even most of this season's death toll.
The death of Evan Murray from New Jersey back in September was caused by massive internal bleeding from a lacerated spleen. Roddrick "Rod" Williams from Georgia died as the result of a preexisting medical condition. So in spite of everything we know about the relationship between concussions and football, can we really say contact sports are excessively dangerous?
"These events are incredibly tragic," Dawn Comstock, an associate professor at the University of Colorado School of Public Health, told Fox8. "I would love to never see another high school athlete die while they play their game, but the positive benefits of playing sports in terms of lifelong health are greater."
According to the National Center for Catastrophic Sports Injury Research survey, at least 12 high school and college football players die each year. Complications caused by a concussion may seem like the safe bet when it comes to leading cause of death among football players, but its actually sudden cardiac arrest — something that could affect a long-distance runner or a baseball player.
Officials on all levels of organized football are doing everything in their power to ensure the safety of athletes. For example, a rule in Wisconsin limiting contact in high school football practices significantly cut down on the number of concussions sustained throughout the season. To help improve player safety among players in the NFL, league officials have started emphasizing how players and coaches address safety in the locker room and out on the field.
No one knows a player's risk for a sports-related health complication better than that player. It's up to him or her to speak out if something isn't right. Covering up injuries is commonplace among athletes in order to keep playing the game they love. It has become the coaches' and parents' duty to make players aware of the danger they put themselves in by not reporting an injury.
Risk is everywhere in the world. If it's going to stop you from getting the recommended amount of exercise or participating in activities that you genuinely enjoy, then stay inside.
Published by Medicaldaily.com