Contaminated Sashimi Causes Severe Tapeworm Infection In China: How To Choose The Best Raw Fish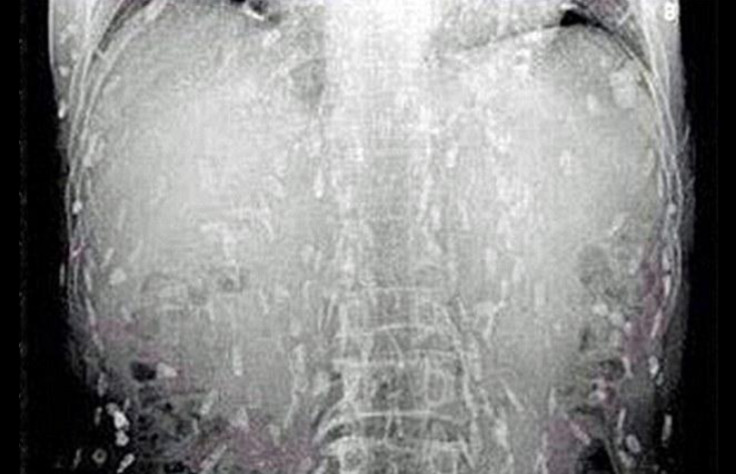 If you're a sushi lover, you may want to consider trading in your plate of raw fish for a grilled cheese sandwich for lunch. A Chinese man complaining of stomach aches and itchy skin to his doctor soon learned he was infected with hundreds of tapeworms after eating too much sashimi, or raw fish. Tain Liao's X-rays at the Guangzhou No. 8 People's Hospital in eastern China's Guangdong province revealed the tapeworms had infected most of his upper body, his legs, and organs.
Dr. Yin (no first name provided) of Guangzhou No. 8 People's Hospital told the website thatsmags.com eating uncooked food contaminated with tapeworms' eggs could eventually cause cysticercosis when the adult worms enters a person's blood stream. This occurs when the larval cysts contain diphyllobothrium larvae and settle outside of the intestines, including in the liver and the brain, according to the Centers for Disease Control and Prevention. If the cysts become infected by bacteria, they can burst and result in anaphylaxis, a life-threatening allergic reaction.
In a 2012 study published in the journal Canadian Family Physician, a 43-year-old woman from Edmonton, Canada, went to the emergency room with an acute onset of diarrhea and vomiting, and was diagnosed with gastroenteritis. While the acute illness was resolved, the patient came back to the clinic eight weeks later complaining of unresolved diarrhea and passed a 75-centimeter flat worm a day later. The patient had no history of travel, but she described herself as a "regular" sushi consumer.
Although cases of tapeworm are more prevalent in impoverished areas, there have been more reported cases in the developed world, and doctors like Nancy Craig, a study author of the 2012 case report, believe it's due to the soaring popularity of sushi. "The widespread popularity of Japanese sushi and sashimi (slices of raw fish) is a contributor," wrote Craig in the study. "But other popular dishes might also be implicated, such as raw salted or marinated fillets, which originate from Baltic and Scandinavian countries; carpaccio, very thin slices of raw fish common in Italy; raw salmon and ceviche, lightly marinated fish."
It seems like the raw fish delicacy is here to stay. So whether you prepare it at home, or eat it at a Japanese restaurant, become raw fish smart with these three simple tips:
1. Types Of Fish
Sea bass, tuna, mackerel, salmon, eel, shrimp, among many other fish are commonly used in raw preparations like sushi. These are considered good for eating raw because they are less likely to cause foodborne illnesses and do not need to be frozen before consumed. According to the Food and Drug Administration (FDA), shellfish are more likely to cause the most foodborne illness outbreaks like hepatitis, food poisoning, and V. parahaemolyticus infection.
2. Purchasing Fish
If you're buying fish with the intention to eat it raw, opt for fish that is labeled sushi-grade. This type has been pretreated to limit the risk of foodborne illnesses such as freezing the fish at very low temperatures that cannot be done with a regular freezer at home. Avoid buying fish from packages that are damaged, contain ice crystals or frost on the packages, or that are above the frost line of the freezer.
3. Limiting Mercury Levels
Fish such as Blue marlin, mackerel, sea bass, swordfish, tuna, and yellowtail are high in mercury, so it's best to limit consumption to avoid the effects of high mercury. Exceeding mercury levels in the body can affect nervous system functioning. The U.S. Environmental Protection Agency lists three basic recommendations for selecting and eating fish or shellfish, especially for women and young children.
4. Freezing Fish
Non-sushi grade fish may contain high levels of parasites that could lead to foodborne illnesses, including listeria, Salmonella, Staphylococcus aureus, and Vibrio parahaemolyticus. According to the FDA, parasites can be killed by freezing the finished product. It's important to thaw sushi-grade fish and keep it in refrigerated until it's ready to be served. Thawing fish on countertops can actually increase the risk of foodborne illnesses.
Published by Medicaldaily.com