Cornell Hazing: Lacrosse Team's Fall Season Canceled After Underclassmen Forced To Chug Beer Until They Vomited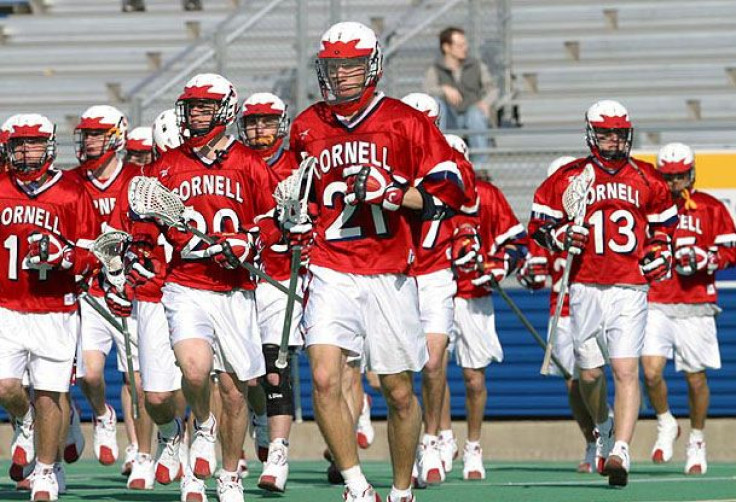 Cornell University, one of the eight elite Ivy League learning institutions in the country, is in the spotlight for a not-so-good reason this week as details emerge about why the school's lacrosse team canceled its fall season. The athletic department revealed that part of the team's hazing included a keg race and making underclassman (who are underaged) chug beer until they vomited.
"It's a team-wide penalty for a team-wide incident," said John Carberry, a Cornell spokesman. "It involved coerced alcohol consumption by underage freshmen."
Cornell has a zero-tolerance policy when it comes to hazing. In February 2011, Cornell sophomore George Desdunes died after a hazing ritual in which he was tied up and fed candy, chocolate powder, strawberry syrup, hot sauce, and several shots of vodka as part of a hazing ritual for Sigma Alpha Epsilon fraternity. According to the New York Times, 80 percent of hazing deaths involve alcohol. And, since Desdunes's death, Cornell has been especially stringent in its approach to student hazing.
In the instance of this year's lacrosse team, freshman players were told to perform various tasks for the upperclassmen. They were also challenged to participate in a "keg race" in which they were asked to drink large amounts of beer as part of a competition. The freshman were told to stand in a circle and drink beer until "multiple members vomited."
"Hazing practices are harmful and antithetical to our values as a university and our commitment to student athletes," Andy Noel, Cornell's athletic director, said in a statement. "They have no place in Cornell University athletics. I am particularly concerned with coercive traditions that abuse the power differential between new students and upperclassmen."
The team can no longer play competitively, but will continue to practice through the fall. They will also be allowed to compete in national games starting in the spring.
Published by Medicaldaily.com