Crest's Chocolate-Flavored Toothpaste Delays Mint Onset, But Is It Good For Your Health?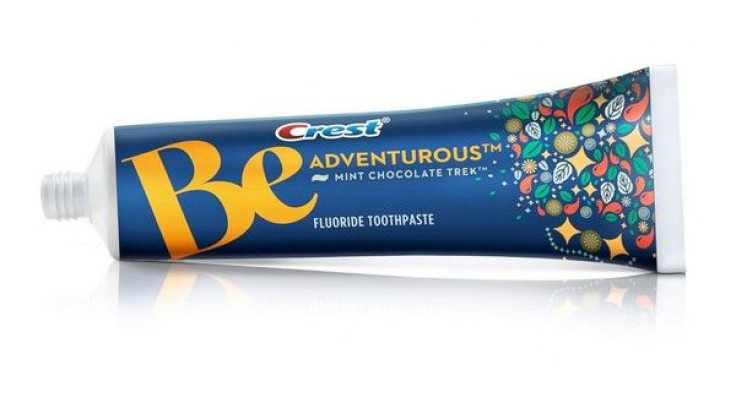 Having chocolate before breakfast may seem like an unusual way to start the morning, but toothpaste brand Crest, believes you should cater to your "adventurous spirit" and "sweet tooth." The company has launched its chocolate-flavored toothpaste — "Mint Chocolate Trek" — along with "Vanilla Mint Spark" and "Lime Spearmint Zest" — as part of Procter & Gamble Co.'s new Crest "Be" line set to hit store shelves in February at $4.99 a tube. The new paste aims to provide a "… whole new world of deliciousness for toothbrushes everywhere," but is the chocolate flavoring good for your oral health?
Theobromine: Cacao Extract More Effective Than Fluoride?
Contrary to popular belief, chocolate provides several health benefits that extends itself to dental hygiene. In a study presented at the American Dental Association (ADA) 2013 Annual Session, researchers found a chocolate toothpaste containing theobromine — a naturally-occurring cacao extract — better repaired and re-mineralized exposed dentin — the leading cause of tooth hypersensitivity — compared to a fluoride-based toothpaste. "The comparison to toothpastes containing fluoride — one as much as 5,000 ppm [parts per million] — validates what our research has shown all along: that Rennou [the cocoa extract] … is more effective and safer than fluoride, which can be toxic if ingested," the authors said in a press release.
Is Fluoride-Based Toothpaste Safe?
Over 95 percent of toothpaste sold in the U.S. contains the chemical fluoride, which is intended to strengthen tooth enamel and re-mineralize tooth decay. While the ADA believes in fluoride to promote healthy teeth, the chemical can be detrimental if swallowed daily. Researchers from the U.S. Environmental Protection Agency's National Health and Environmental Effects Research Laboratory have classified fluoride as a "chemical having substantial evidence of developmental neurotoxicity." Accumulated fluoride in the body's tissues can cause a disruption in enzymes and lead to adverse health effects, such as neurological and endocrine dysfunction.
Children are more susceptible to swallowing fluoride from toothpaste, especially if it's candy-flavored toothpaste such as bubble gum. These toothpastes may contain high concentrations of fluoride that will increase a child's risk of swallowing it and actually want to swallow it because of its taste. Although Crest's new flavored toothpaste is thought to contain chocolate, it only contains chocolate flavoring, not theobromine, polyphenols or cocoa butter, meaning it's a fluoride-based toothpaste. "Trek contains chocolate flavoring only. It owes its tooth-protecting properties to sodium fluoride — the same ingredient found in original Crest and many another toothpaste," John Scarchilli, head of Scientific Communications for Procter & Gamble, Crest's parent company, told ABC News.
Does Crest Chocolate-Flavored Toothpaste Provide New Protection?
Crest new toothpaste line does not provide anything new in terms of protection but, instead, aims to add "fun" and provide a "transformative experience" to the consumers' brushing routine. The chocolate-flavor was done using a proprietary flavoring-and-cooling technology that delays the onset of mint 30 to 40 seconds so chocolate can be the first thing consumers taste. Feedback from customers finding toothpaste "boring" inspired the launch of the new Crest line.
Dental experts, like Matthew Messina, DDS, consumer advisor for the American Dental Association, recommends the people to brush for two minutes twice a day with a fluoride toothpaste, no matter the flavor. "I tell my patients to look for the ADA Seal of Acceptance when choosing their toothpaste." Now it is up to you to decide whether you'll choose to brush your teeth with dessert.
Published by Medicaldaily.com