CVS To Stop Sale Of Tobacco Products, Asserting Itself To Competition And Consumers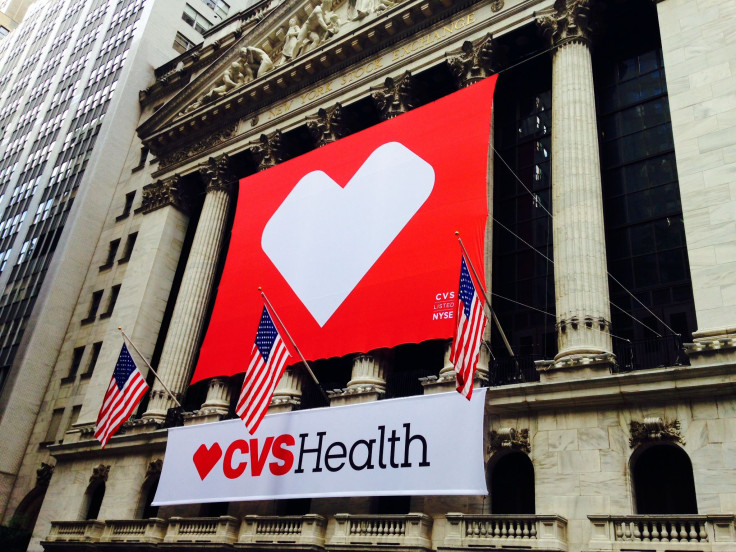 Inside 7,600 CVS pharmacies nationwide, shelves that once held cigarettes have been replaced with cessation tools, and the new identity for the face of the company may change the industry. The tobacco-free chain announced on Wednesday that it would stop selling tobacco products by October and officially changed its name to CVS Health. As one of the largest retail pharmacies in the United States, the move has competitors defending its continuation of tobacco sales and customers waiting to see what happens from the sidelines. The pharmacy's precedential step is part of a long-term plan to strengthen its position as a health care provider and detach from its identity as a convenience store.
The company has taken to Twitter with a "One Good Reason" hashtag campaign, asking people to share the reason they live tobacco-free. Within hours, it lit up the Internet. "The sale of cigarettes and tobacco at CVS pharmacy stores ends today," Larry Merlo, president and CEO of CVS, said in a video statement on the company website. "By eliminating the sale of cigarettes and tobacco products in our stores, we can make a difference in the health of all Americans."
CVS predicts an approximate $2 billion loss in annual sales, which isn't remarkable considering its revenue, totaled $126 billion in 2013. A majority of its revenue is made from health care services, such as walk-in clinics and prescription drug coverage, but profit loss wasn't a deterrent for CVS. That may not be true for other companies, such as pharmacy giant Walgreens. "At the corner of happy and healthy," Walgreens customers will still be able to buy cigarettes alongside smoking cessation tools, such as nicotine patches and gum throughout its 250,000 retail locations.
Retail pharmacies only comprise four percent of overall tobacco sales, "As a result — as many health experts and even a recent doctor survey have noted — a retail pharmacy ban on tobacco sales would have little to no significant impact on actually reducing the use of tobacco," Walgreens' spokesperson James W. Graham said in a statement to Medical Daily. A fact CVS is probably well aware of considering its recent decision to stop selling tobacco products, but also leaves one wondering why its competitors would choose to continue the sale if its profits and consumers are such a small fraction of its business.
"It seems logical that companies would continue selling cigarettes and increase their profit margins even more," non-smoker Robert Sinclair, a recent economics graduate from Stony Brook University, told Medical Daily. "I think people will care about it but not enough to change their lifestyle, we'll have to see. It's also a matter of ideals, it's not just about profit. This is a serious issue, people are addicted to cigarettes."
Walgreens announced in its statement to Medical Daily it will continue selling tobacco products because it will not make an impact on whether people smoke or not. Smoking demand is inelastic, which means because it's an addictive substance the consumer will continue to buy the product regardless of where it's sold or if taxes are imposed on the product. When Walgreens was asked if its corporate responsibility stopped at minimizing harm to consumers and if it decided to continue selling cigarettes because it wanted to provide freedom of choice to its customers or if it doesn't want to experience a profit loss, there was no response.
CVS' Corporate Social Responsibility To Health
Is a company's responsibility to its customers' health or its shareholders? CVS, the No. 2 drug store in the United States, chose to be the first to stop the sale in order to align itself with health. The company's Caremark unit is already a major pharmacy benefits manager for corporations and Medicare programs and is expected revenue from its rise in the health care market to increase between 7.25 to 8.5 percent in 2014. With falling smoking rates, CVS said the company will replace the loss in cigarette sales with its health programs and newly developed relationships with pharmaceutical distributors, such as Cardinal Health Inc. In losing a customer, CVS hopes to gain an industry.
"We applaud CVS Health for becoming tobacco-free and ending the sale of cigarettes and tobacco products at its 7,700 CVS/pharmacy locations," U.S. Department of Health and Human Services Secretary Sylvia Burwell, said in a press release. "We also commend CVS Health on the launch of its national and personalized smoking cessation program. CVS Heath's tobacco-free policy is an unprecedented step in the retail industry, and will have an impact in bringing our country closer to achieving a tobacco-free generation, a call to action that we announced in January. We hope others will follow CVS Health's lead in this important new step to curtail tobacco use."
While CVS advocates health, its competitors Walgreens and the nation's third largest pharmacy chain, Rite Aid, will continue to sell tobacco products and cessation products that Rite Aid reasons they want "to ensure that it meets the needs and interests of our customers." Cigarette smoking is the number one cause of preventable disease and death throughout the world, according to the American Lung Association, and with over 7,000 chemicals and 69 of them are known to cause cancer, it's clear the life-threatening health consequences of smoking are unnecessary for customers.
But as Rite Aid, Walgreens, and its sister company Duane Reade, sweep up the small percentage of CVS' smoker consumer base, they will also make gains on the attach rate, which represents the extra purchases smokers will make. If they're going in to grab a pack of cigarettes, they might as well also pick up some beer, deodorant, or that candy bar staring at them from the checkout counter.
Smokers who are addicted will go anywhere they can to make their purchase, and although CVS may not deter smokers from purchasing their pack a day, its rebranding may lead the industry to a healthier place. Just as the 2003 Smoke-Free Air Act that banned smoking from bars and restaurants in New York City from smoking indoors was chastised and entangled in controversy, banning smoke sales from pharmacies was likely to receive the same. Analysts thought the Act would kill the bar and restaurant industry along with tourism, but it instead did quite the opposite, as non-smokers sought out healthier clean air establishments. But that happened over 10 years of change, and only time can tell if CVS' move will make the same impactful mark.
Published by Medicaldaily.com