The Day You Are Most Likely To Die: Why Christmas Has More Fatalities Than Every Other Day In The Year
Christmas is a time for celebration, right? The joyous holiday that starts off the winter season brings with it family gatherings, giving, and a friendly reminder that you'll probably enter the New Year a few pounds heavier. According to multiple data sources, however, it's also the day you're most likely to die, as research has found that more people kick the bucket on December 25th than on any other day of the year.
The phenomenon has persisted since the late 1970s, when researchers began critically looking at death trends throughout the year (though it may even predate the decade). There doesn't seem to be one concrete reason for the trend, but rather a robust collection of many factors — from old age and natural causes to understaffed hospitals and an unwillingness to bother relatives with a trip to the hospital. Some theories include the effects of cold weather; some say it's stress. And in the case of one family member dying shortly after another has passed, researchers say it could be as simple as a broken heart.
"I've written many stories about a spouse or a partner dying, and then you see the remaining partner die within hour or days or weeks or months," Andrew Meacham, obituary writer for the Tampa Bay Times and president of the Society of Professional Obituary Writers, told CNN. Meacham added that he consistently sees a greater workload around the holiday season. "To me there seems to be a correlation between body and mind here," he said.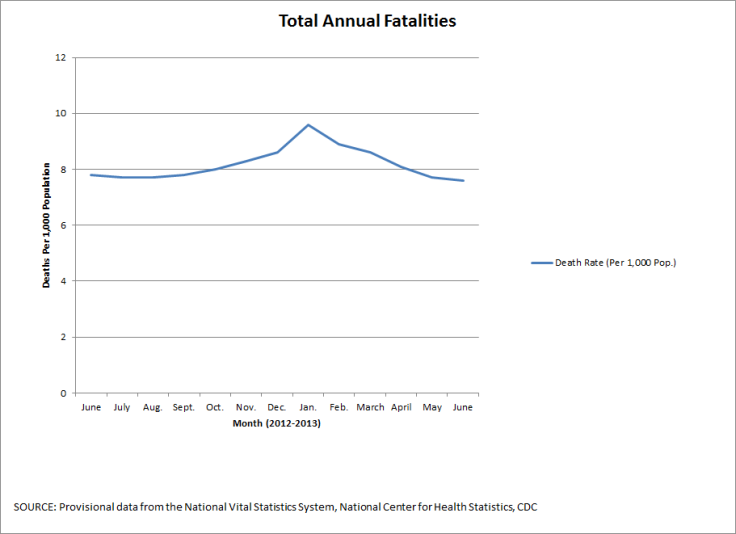 More clinically, the five most common causes of death also spike around Christmastime and the week sliding into New Year's Day: cardiac disease, respiratory diseases, endocrine/nutritional/metabolic problems, digestive diseases, and cancer. Among Alzheimer's patients even, who researcher David P. Phillips of the University of California San Diego sociology department studied for outlier data, showed increased death rates at the end of the year. This signaled to Phillips and his colleagues that an awareness of stress wasn't a relevant factor — cardiac disease persisted among Alzheimer's patients, too.
Phillips' study also looked at hospital workforce, thinking that if there were a spike in injuries around Christmastime and New Year's that these injuries were simply going untreated. As it turns out, Level 1 trauma centers do not carry their full staff, or at least their most experienced staff, around the holidays. In fact, a 2012 study showed that "patients admitted as medical emergencies on public holidays were 48 percent more likely to die within seven days and 27 percent more likely to do so within 30 days."
"For those deaths, the spike was even sharper," Phillips explained. "Those are the cases where seconds make a difference, and you may see a real difference between the response of a junior and senior member of staff." Coupled with that, Phillips found, were greater numbers of people who, not wanting to put a damper on their family's holiday spirit, withheld their injury or illness.
Despite the expected sadness of wintertime, suicide rates do not increase along the same path as other diseases, according to the Centers for Disease Control and Prevention (CDC). By the same token, however, many experts urge family members to consider their loved ones' emotions with a bit more grace than they might at other times, if that person has recently lost someone. In the end, coming together with family may serve less as an occasion for joy, than as a painful reminder of the recent loss.
"We want to make sure we are ready for any phone calls to make sure people are all right in their grief," Stephanie Kohler, family services coordinator at the nonprofit Lory's Place in St. Joseph, Mich., told CNN. "The holidays definitely are a harder time of year for people when this happens, especially since they are such a time steeped in tradition and family."
Published by Medicaldaily.com