Deadly 'Suberbug' C.Difficile Could Be Waiting In Your Doctor's Office: It's Time We Pay Closer Attention To Our Antibiotics
Antibiotics undoubtedly have their place in modern medicine; however, relying too much on antibiotic prescriptions has led to a false sense of security among patients and a new concern among health care professionals: antibiotic overuse. A recent study conducted by the Centers for Disease Control and Prevention has revealed that the deadly bacteria Clostridium difficile (C. difficile) resulted in close to a half a million infections among patients in the United States in 2011.
"C. difficile infections cause immense suffering and death for thousands of Americans each year," CDC Director Dr. Tom Frieden said in a statement. "These infections can be prevented by improving antibiotic prescribing and by improving infection control in the health care system. CDC hopes to ramp up prevention of this deadly infection by supporting State Antibiotic Resistance Prevention Programs in all 50 states."
Out of nearly half a million infections, around 29,000 patients died within 30 days of being diagnosed with C. difficile. Approximately 15,000 of those deaths were directly attributed to C. difficile. One out of every five patients with a health care-associated C. difficile infection ended up suffering a recurrence of the infection. Over 80 percent of deaths associated with C. difficile occurred among patients 65 years or older, and one out of every nine of these older patients died within 30 days of their diagnosis.
Although around two-thirds of C. difficile infections occurred during an inpatient stay in a health care facility, only 24 percent of the total infections were attributed to a hospitalization. The same number of infections tied to hospitals were also associated with nursing homes and the remaining number of health care-associated infections occurred among patients who were recently discharged from a health care facility. Other studies have shown that patients are even susceptible to C. difficile in the vicinity of hospitals.
In addition to older patients living in a nursing home setting, researchers from the CDC found that patients prescribed an antibiotic stand the highest risk for developing a C. difficile infection. Antibiotics tasked with fighting bacteria often do their job in eliminating bad bacteria, but they also suppress good bacteria in the human gut which protects against infection. When this good bacteria is suppressed for several weeks to months, the body is extremely susceptible to infection, such as C. difficile.
Antibiotic overuse has turned into a hot button issue among members of the medical community, with health agencies, including the CDC, warning doctors to avoid overprescribing antibiotics. A similar study conducted by the CDC found that reducing the use of antibiotics linked to C. difficile by 30 percent could help limit the rate of deadly infections among hospitalized and recently discharged patients by over 25 percent. The CDC reminds doctors and patients that antibiotics are ineffective in fighting infections caused by viruses, including the common cold, the flu, and bronchitis.
Frieden and his colleagues from the CDC have advised patients to be mindful of their antibiotic prescription and to speak with their doctors regarding the practical use of so-called "broad-spectrum" antibiotics. The CDC has also provided a bevy of tools and resources to help hospitals develop antibiotic prescribing improvement programs, also known as "antibiotic stewardship" programs.
Source: Lessa F, Mu Y, Bamberg W, et al. Burden of Clostridium difficile Infection in the United States. The New England Journal of Medicine. 2015.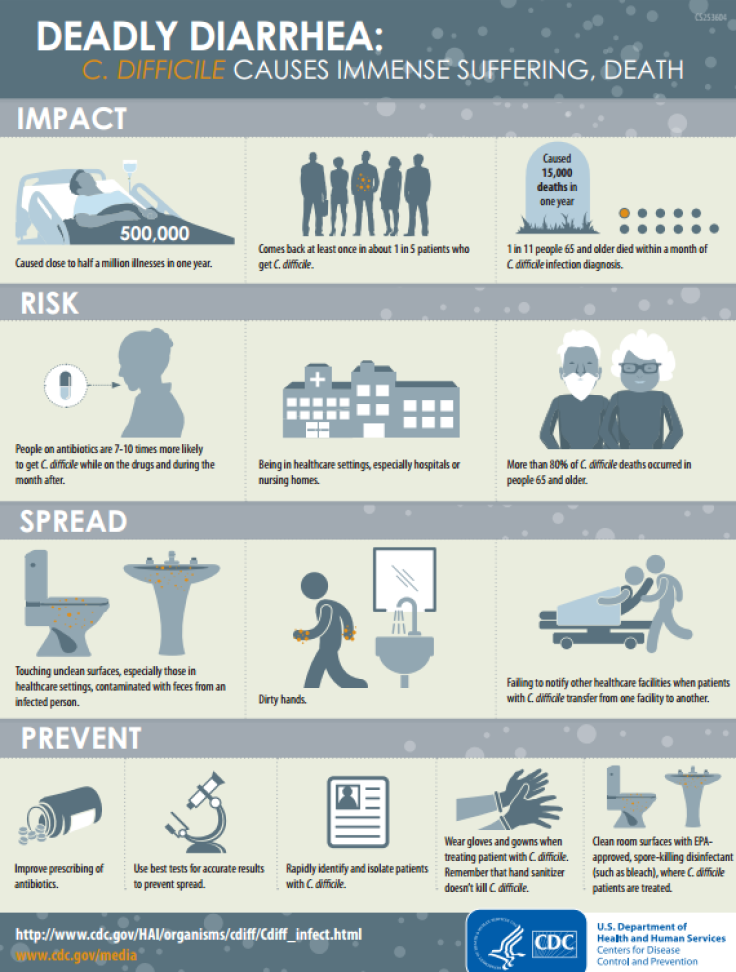 Published by Medicaldaily.com