Death Of Ex-Navy SEALS On 'Captain Phillips' Ship Possibly Linked To Drugs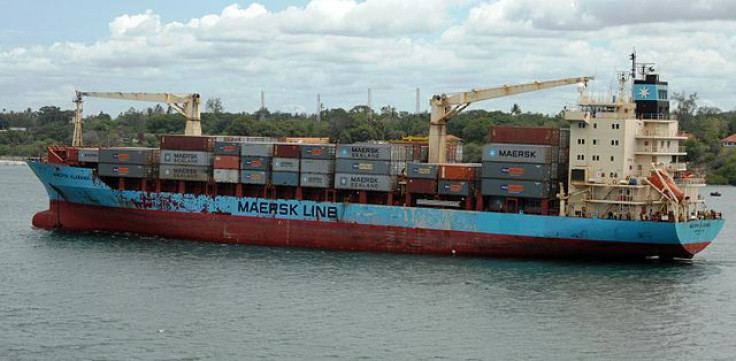 A government official told CNN that hypodermic needles and traces of narcotics had been discovered beside the dead bodies of two American security officers found Tuesday aboard the famous "Captain Phillips" container ship, Maersk Alabama, docked in the Seychelles. Police said a colleague of the men had come across their bodies on Tuesday at about 4:30 p.m. The 500-foot ship, which is owned by Maersk Line Limited and had arrived on Sunday with a 24-man crew, had been expected to leave the Indian Ocean archipelago that same day.
On Thursday, the AP reported, Seychelles police made a positive identification of Mark Daniel Kennedy, 43, and Jeffrey Keith Reynolds, 44, both former Navy SEALS and current employees of the Trident Group, a Virginia-based maritime security services firm. Speaking to CNN anonymously, the Seychelles government official said drug traces and paraphernalia "would suggest that their deaths were a result of drug overdose." In a website posting, Trident's President and CEO Thomas Rothrauff said "the deaths were not caused by operational activity." Seychelles police told the press an autopsy would be carried out later this week. The Coast Guard is involved in the investigation, Marie Harf, a State Department spokeswoman, told CNN after confirming their U.S. citizenship. Because the Maersk Alabama is a U.S. flagged vessel, the Coast Guard has jurisdiction.
In April 2009, the Maersk Alabama became the mark of an attempted hijacking 380 miles off the coast of Somalia in east Africa. Four armed pirates made an attempt on the container ship and, after the crew sank their vessel, hindering their efforts to take control of the ship, the pirates took the ship's captain, Richard Phillips, hostage on a lifeboat. Three days later Navy sharpshooters arrived to kill three of the pirates and capture the fourth, who released Phillips unharmed. The alarming story inspired a 2013 film, "Captain Phillips," starring Tom Hanks. Later that same year, the hapless container ship was attacked by pirates once again, but during this second attempt, armed security guards quickly ended the strike. In March 2011, another raid was made by pirates attempting to take control of the container ship, yet this time the security personnel ended the episode with a simple gunshot warning.
After the original pirate attack, Virginia-based Maersk Line Limited hired Trident to guard its ships. Originally launched in 1998, the ship was built by the China Shipbuilding Corporation. Currently, the container ship is operated by Waterman Steamship Corporation, an American deep sea ocean carrier.
Published by Medicaldaily.com