Demi Lovato Reveals 'Dark And Deep' Struggles Go Beyond Eating Disorder: 'The Harsh Reality Is That I Wouldn't Be Alive'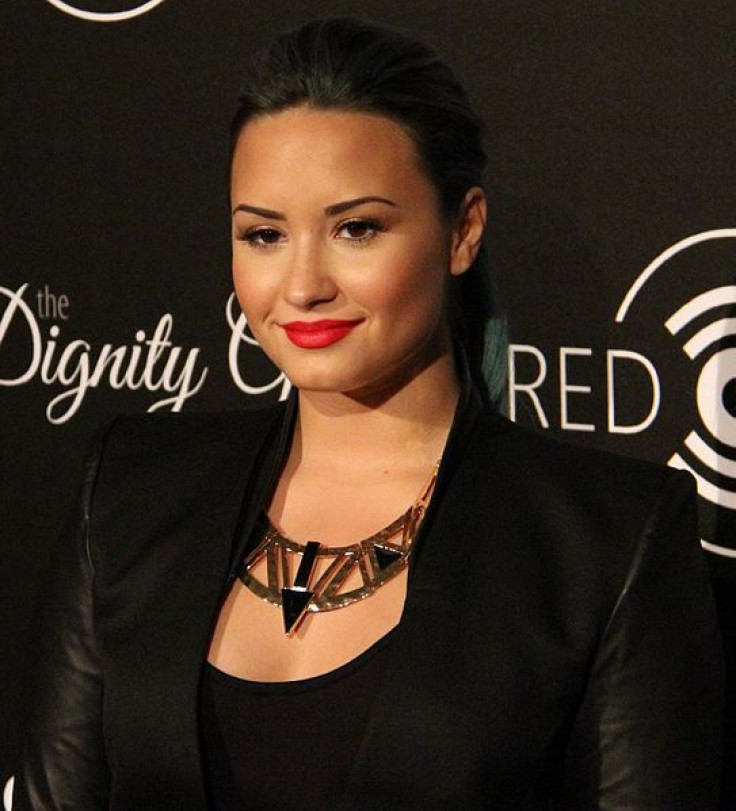 "Heart Attack" singer Demi Lovato has had a hit album, two TV gigs as a judge on "The X Factor," and a role in the show "Glee." Now, with the release of her book of daily affirmations, Staying Strong: 365 Days a Year, she says that all of the things she has done have gotten her on the right path since she left rehab in Jan. 2011.
The former Disney actress, who starred in the channel's Sonny With a Chance, still can't bear to watch herself on TV each week, saying it's difficult being on camera since she underwent treatment for anorexia and bulimia.
"It is still hard being in front of the camera when you have suffered from eating disorders, and I still don't watch my episodes. It is hard" said Lovato, People Magazine reports.
Lovato believes singing is her main thing but she is open to doing movies "once in a while, if the right role comes along."
In Oct. 2010, the Disney star checked into a rehab facility for "physical and emotional issues," struggling with not just an eating disorder, but also with drugs and alcohol.
Lovato's body issues came at the tender age of three, as she recalled being in a diaper, rubbing her hand over her stomach, and thinking, "I wonder if one day this will ever be flat," she told Katie Couric on Katie.
She always wanted to be "very thin," and struggled with bulimia as a young girl. Lovato openly admitted to compulsively overeating when she was eight years old and has had an "unhealthy relationship with food" since then. The singer and songwriter even performed concerts on an empty stomach, mentioning that she would often lose her voice from purging.
According to the Mayo Clinic, bulimia nervosa, commonly known as bulimia, is a potentially life-threatening eating disorder. Typically, patients secretly binge eat, and then purge the food by vomiting it out — essentially getting rid of the calories consumed in an unhealthy way. Females are more likely to have bulimia compared to males, often beginning in the late teens or early adulthood. Like Lovato's experiences, the eating disorder can cause numerous serious and even life-threatening complications such as anxiety, depression, and drug and alcohol abuse.
The star's decision to undergo treatment for her struggles came from the need to inspire her little sister and other young girls who she claims were her reason to keep going and become a role model. Many pop stars steer away from being labeled "role models," even when they have thousands of young fans, but Lovato refuses to think that way.
"I used to say that too," she told Entertainment Weekly in a new interview. "That was my excuse to do whatever the f*** I wanted and not give a s*** about what other people thought. Then I ended up going through some stuff. I realized I'm never going to escape the fact that I'm in the public eye, so I might as well do the best I can."
Since she left the in-patient program rehab center she has dedicated her career to serving as a role model for her fans. It was through the support of her fans that she credits her success post-rehab.
"When I was in treatment, I honestly thought my career was over," Lovato told US Magazine. "But when I came out of treatment, I had more supportive fans than ever."
With Staying Strong: 365 Days a Year hitting shelves on Nov. 19, Lovato has already signed on to write another book: a tell-all memoir. Staying Strong touches upon her troubled past, but the author admits that there may be more chapters that could be written, which would tell about a history that goes beyond her publicly known eating disorder.
"I'm battling with internal thoughts on how honest I should be," Lovato said. "Yes, I've been very honest, but if people really knew how dark and deep my struggles got — not just with my eating disorder but with drugs and alcohol — they'd be really shocked." The X Factor judge reassures fans she will most likely end up saying everything to help other people in the industry who may be headed down the same path.
Lovato believes rehab is what kept her alive and well. "The harsh reality is that I wouldn't be alive," she said. "I wouldn't have a book or be a judge. I wouldn't be alive."
Lovato has a few busy months ahead of her but she plans to go on break in January 2014. Like any ordinary hardworking woman, she wants to vacation and "watch crime shows on my DVR on my couch ..." she told People.
To pre-order Lovato's Staying Strong: 365 Days a Year, click here.
Published by Medicaldaily.com