Demi Moore Refuses Rehab, Bruce Willis Comes to the Rescue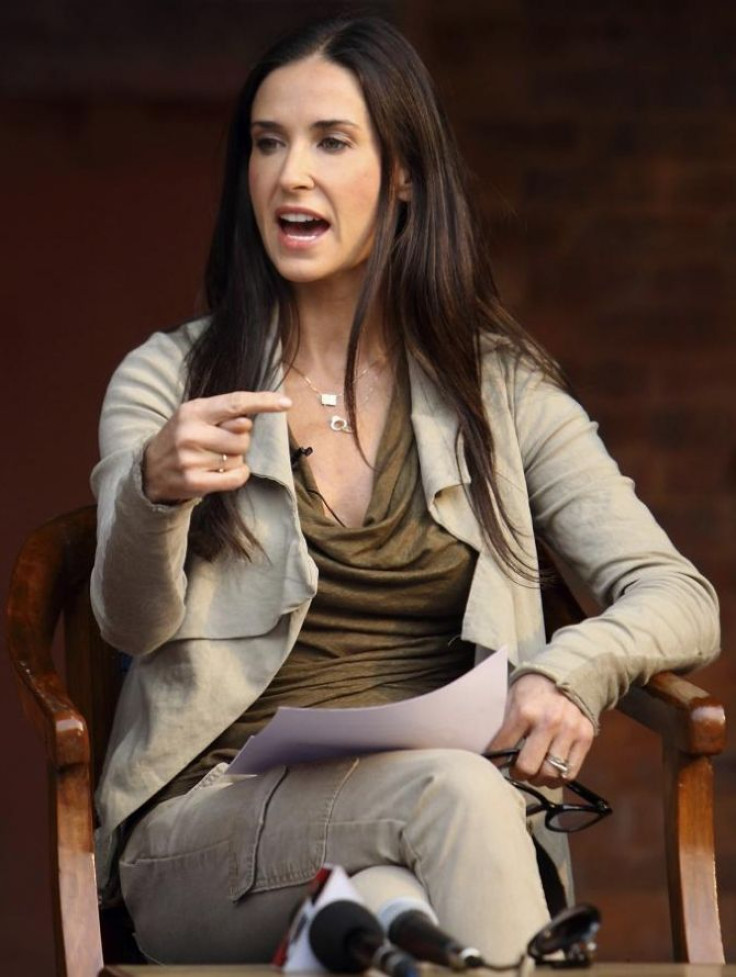 Demi Moore, who has long been regarded as one of Hollywood's most age-defying beauties, is allegedly battling deep feelings of insecurity, and sources have said the 49-year-old star partied wildly and barely ate days before her drug-fueled breakdown which led to hospitalization.
The 'Striptease' star is reportedly refusing to go to rehab after being urged to seek professional help for her alleged anorexia and substance abuse issues despite pleas from her daughter.
All three of Moore's daughters, Scout, 20, Tallulah, 16, and 23-year-old Rumer were all said to be present at the birthday bash when their mother collapsed and suffered a seizure at the star's Beverly Hills home. The daughters are reportedly in favor of getting their mother treatment.
A source told HollywoodLife.com: "Demi needs help but she's not ready to get it. She doesn't want to check into rehab even though her daughters want her to, especially Rumer, who was at home and witnessed her convulsing Demi thinks her problems are emotional and that she doesn't need rehab."
The actress - who according to the 911 call released by TMZ.com "smoked something" before "convulsing" and "burning up" – was also said by the site to be addicted to Red Bull and prescription drugs. She is also said to be taking a different approach with "spiritual counseling" since being released from Sherman Oaks Hospital last week, a source close to Moore told E! Online.
The source said the star, despite rumors, has in fact not entered a rehab facility, and it was confirmed that although she has not been back home since her hospital release, she has not checked in to a residential clinic to recover, according to E!.
Even her ex-husband and the father of her children, Hollywood actor Bruce Willis, has come to Moore's rescue by arranging for her to recover at his place in Idaho, according to reports from Now Magazine.
Bruce, 56, and Moore split in 2000. The "Die Hard" actor has been allegedly helping and offering support to his ex-wife since her very public split with her now estranged husband, Ashton Kutcher after he reportedly cheated on her.
Moore and Willis' daughter, Rumer had made a tearful phone call to her dad after her mother's collapse when paramedics came to Moore's home.
The 49-year-old, who allegedly battled drinking and drug abuse problems in the 80s, had collapsed after inhaling "whip-its" or nitrous oxide as well as prescription medication, according to US magazine.
Moore's publicist has said that the star chose to seek professional help to treat exhaustion because of "the stresses in her life."
Moore is staying at an "undisclosed location" as she recovers from her breakdown, and two of her daughters, Rumer and Tallulah, are living with their father, while one of her daughters, Scout, is enrolled at Brown University.
Moore has reportedly been embarrassed about her very public drug related breakdown.
"Ego-wise, this is the worst thing that could happen to Demi, because she's such a private person. She's embarrassed," a source had told People.
"[Her problems] can be an opportunity, a blessing, and not a curse. The right intervention happened in her life. From a spiritual sense, it is a gift. She has a real opportunity to grow from it. She has to take responsibility for her life," the source added.
The actress follows Kabbalah, a mystical offshoot of Judaism.
Published by Medicaldaily.com