Demi Moore Reveals Toothless Smile Is Result Of Too Much Stress; We Asked A Dentist To Weigh In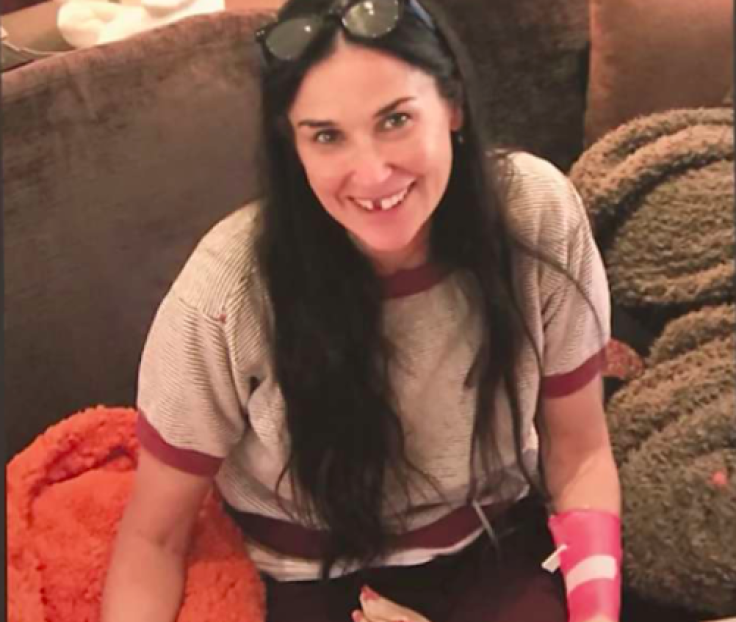 Demi Moore recently shared a photo of her toothless smile, explaining that her front gnashers fell out because of stress. The explanation has the public both horrified and slightly confused, so let's dig a little deeper to see if stress really can cause spontaneous tooth loss.
On an episode of The Tonight Show with Jimmy Fallon which aired Monday June 12, actress Demi Moore revealed that she had recently lost her two front teeth due to stress, US Weekly reported. Much to the amusement of Fallon and his viewers, she shared a photo of her toothless smile on air.
"I sheared off my front teeth. I'd love to say it was skateboarding or something really kind of cool, but I think it's something that's important to share because … it's literally, probably after heart disease, one of the biggest killers in America, which is stress," Moore told Fallon on the show. "Stress sheared off my front teeth."
This comes several years after Moore told Ellen DeGeneres on her talk show in 2010 that some of her teeth had fallen out due to her clenching them too hard.
Read: Depression Not Just A Mental Illness; It's A Systemic Disease That Affects The Entire Body
Moore's revelations are horrific, but more important, are they based in truth? While no one but Moore's personal dentist can attest to the true cause of her oral problems, dentistry experts say it is possible for stress to cause tooth loss.
"Stress wouldn't be the only cause for Demi Moore's tooth loss. There were definitely other factors involved," Dr. Gary Glassman, a dentist at Endodontics Specialists in Toronto, told Medical Daily in a recent email. "Stress and anxiety can cause bruxism, otherwise known as teeth grinding, that can wreak havoc. That's the No. 1 reason why people grind their teeth. Grinding can weaken teeth because of the "friction," which ultimately causes a lot of problems."
In addition, Glassman explained that stress and anxiety can affect people's moods, which in turn may make them less likely to brush their teeth, floss, or get regular dental checkups.
According to WebMD, stress can lead to increased tooth grinding and decreased oral hygiene upkeep, both habits that can increase the risk of gingivitis, tooth decay, and, you guessed it, tooth loss. What's more, one Swedish study from 2006 found that anxiety, stress, and long-term depression can add up to oral hygiene difficulties and therefore early loss of teeth. The study found a correlation between stress-related depression and exhaustion, and increased plaque accumulation.
"Certain people have plaque and inflamed gums without suffering periodontitis, but others suffer the chronic problems," explained study author Annsofi Johannsen, The Local SE reported. "It could be that depression reduces the immune system so that poor dental hygiene habits lead to reduced oral health and more inflamed gums."
According to the American Psychological Association, stress impairs your body's ability to defend itself and increases the risk of infection. For this reason, stress is known to exacerbate the symptoms of certain health conditions, such as the cold or a flu. A 2016 study found that depression causes an imbalance in the body's cells called oxidative stress. This finding provided physical proof that depression was not just a mental health condition, but also a physical health condition.
See Also:
Brush Your Teeth To Save Your Heart: Oral Infections Increase Inflammation In Cardiovascular Disease
Oral Hygiene: 6 Dental Care Myths That May Be Killing Your Pearly Whites
Published by Medicaldaily.com