Eating Your Way To A Healthier Mouth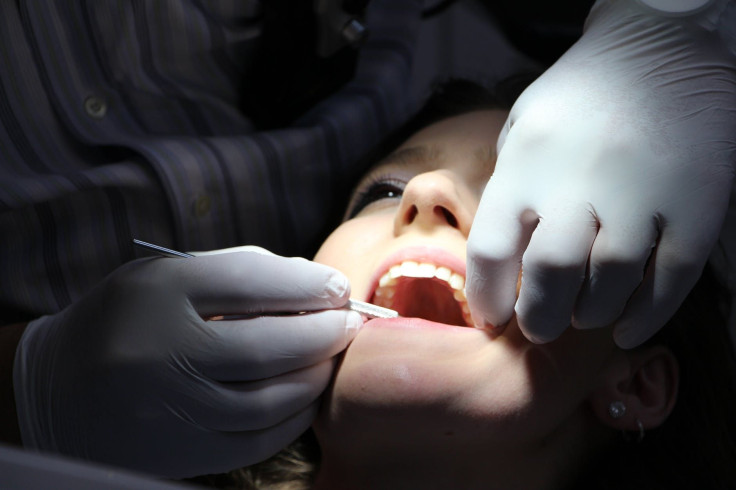 October is National Dental Hygiene Month. Taking care of your mouth is an important part of your health, so we've reached out to experts in the field and brought together top tips, straight from the source. Read on and learn how to keep a healthy mouth and a killer smile.
Protecting Your Teeth Protects Your Body
Steven Barefoot, DDS, Clinical Leader at DentaQuest in Boston, spoke to Medical Daily about the importance of oral health.
"Protecting and caring for your oral health should always be a priority. Everyone knows about brushing and flossing regularly, and while these are incredibly important habits to maintain for a healthy mouth, they can impact more than just your teeth."
Jared Cox, DDS, of Today's Family Dentistry in Searcy, Ark., explained some of the other impacts of dental hygiene.
"Good oral and dental care translate to good health overall. Dental problems like cavities or gum disease can impair your ability to eat and speak properly, even causing pain and bad breath. With routine visits to your dentist and good oral hygiene, your teeth should last a lifetime, as they were designed to do."
Watch What You Eat
What did you eat today? Your food choices might be damaging your teeth right now. Dr. Barefoot said the wrong foods can harm your oral health.
"Stay away from overly processed and sugary foods, and make sure you're getting enough calcium. Ingesting food and drinks with lots of sugar and sweeteners like high fructose corn syrup 'feeds' the bacteria on teeth and gums in the mouth. Constant exposure increases the chance of decay and gum disease. … Try to avoid treats such as gum, hard candies and suckers that stay in the mouth for a long time. Chewy candy and raisins should also be limited because these soft sweets stick on and in between the teeth, creating teeth-damaging acid."
Unfortunately, there's some bad news about your morning cup of joe, too. Marianna Weiner, DDS, a cosmetic dentist at Envy Smile Dental Spa in New York City, offered advice on what drinks to avoid and how to limit their impact.
"Sodas and other darker-colored drinks such as coffee and tea should be totally avoided, if possible. Being unable to skip your coffee break at work is understandable, but please think of me and use a straw. You wouldn't pour it on a white shirt, so try not to pour it all over your beautiful white teeth."
Strengthening Your Teeth
While the wrong foods can damage your teeth, eating the right ones can help protect them. The process begins with what you should drink. Dr. Barefoot recommended that you "drink plenty of water, especially fluoridated water. Bottled water usually does not contain fluoride, so this is not the best option. Foods that contain fluoride are good for you. These include fish, tea, grape juice and green leafy vegetables."
There are many more options that can strengthen your smile. Dr. Cox noted, "There are a lot of tasty foods that people don't even realize are good for their teeth, like nuts and seeds, that make a great, mouth-friendly snack. Foods with high amounts of calcium and phosphorus, such as almonds, peanuts and cashews, can protect teeth by replenishing those minerals."
Calcium is a key part of a healthy diet. You probably already know that it's good for your bones, but it plays the same role in reinforcing your teeth, too.
Dr. Weiner said, "Dairy products, such as cheese and milk, are a great source of calcium and encourage the strength of our teeth. Greens and foods with high fiber content are also great additions to your diet."
If you have a metaphorical sweet tooth, don't worry. You can still indulge while protecting your teeth. The dentists all offered the same recommendation: Look for xylitol, a healthier alternative sweetener.
Dr. Barefoot said xylitolit can often be found in fruits and "is proven to help fight cavities. Chewing xylitol gum helps reduce bacteria in the mouth."
"Think about using products with xylitol in them versus sugar. Xylitol is a sweetener that cannot be metabolized by bacteria that create cavities. There are different types of candy, gum and mints that you can get with xylitol in them that taste good and are better for your teeth. Personally, I like Dr. John's Healthy Sweets and use them all the time," said Dr. Cox.
The Take-Home
Taking care of your mouth is important. Minimize damaging foods, add some healthy choices, and you can keep your teeth in even better shape than normal. Ask your dentist for more recommendations and check back for dental health tips soon.
Sean Marsala is a health writer based in Philadelphia, Pa. Passionate about technology, he can usually be found reading, browsing the internet and exploring virtual worlds.
Published by Medicaldaily.com