Michigan Woman With Series Of Health Issues Dies In Dentist Parking Lot After Having 16 Teeth Removed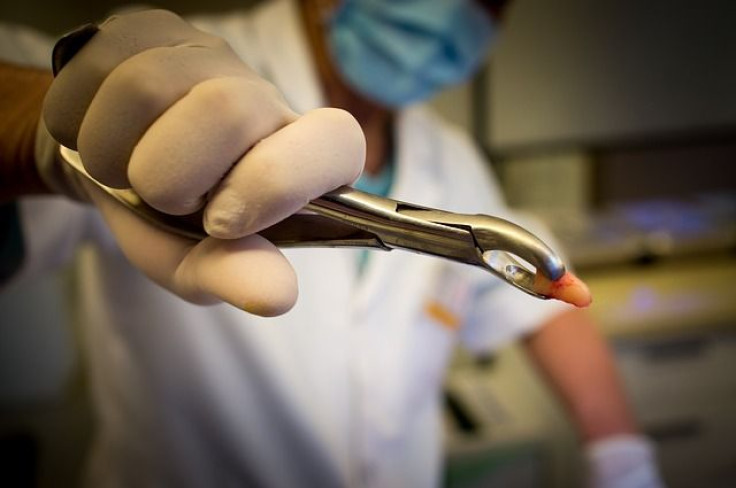 A Michigan woman collapsed and died in the parking lot of the Southfield Dental Care on April 8 after having 16 teeth pulled out due to an infection, and now her grieving family wants answers, The New York Daily News reported.
April Walters, 46, suffered from a series of health issues, including sarcoidosis, asthma, COPD, high blood pressure, and diabetes. On top of that, she required use of an oxygen tank. Despite her poor health, she was cleared by her doctor to have 18 teeth pulled due to an infection, Fox 2 reported.
However, when she arrived to the dentist Friday morning accompanied by her sister, Crystal Cutright, for the procedure, the medical assistant seemed concerned after taking her vital signs.
"Her heart rate was still 130, the dentist came in, ready to do the procedure," Amber Waddell, Walters' daughter, told Fox 2. "The dental assistant said 'I am waiting for her heart rate to come down.' The dentist said 'We're fine' and the procedure starts."
Walters previously has been turned away from this dental procedure due to an elevated heart rate, but this time the dentist decided to go through with the procedure. After pulling 16 of the 18 teeth, the dentist stopped due to Walters high heart rate and told her, "I think you need to go to the doctor and get your heart checked on," Waddell said, and sent her home.
Cutright and her husband James escorted Walters and her oxygen tank back to the car, and that's when Walters started having difficulty breathing. Cutright noticed that her sister's oxygen tank had run out so she went back to the dentist office for help. She said the staff came out with more oxygen; however, that didn't seem to help, and no one from the doctor's office knew how to administer CPR.
"They didn't do no CPR or anything," Waddell said. "They were just rubbing her chest."
"When the dentist came out she started yelling 'I told you to take her to the hospital,' so I yelled back at her 'I have to get her in the car in order for that to happen,'" Cutright told Fox2.
An ambulance was called but Walters could not be revived.
Past research has linked invasive dental procedures to heart risks. One study in particular found that tooth extractions could up the risk of a heart attack of stroke within the four weeks after their dental treatment, and the likely culprit is inflammation. Researchers found that dental surgery can increase inflammation in the body "as it responds to bacteria entering the bloodstream following surgery," Live Science reported.
"We feel deeply for what happened," Caroline Oldsey, who works at the dentist office's human resources office, told Fox 2. "Our thoughts go out to them. Our thoughts and prayers are with them."
An investigation into Walters' death is underway. Her family is awaiting results from an autopsy.
Published by Medicaldaily.com