Depression Linked With Brain Inflammation, Opening Up New Avenues For Treatment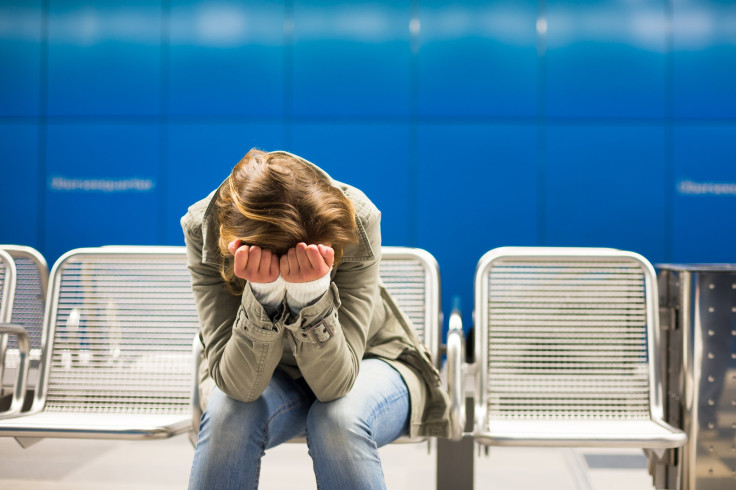 Diagnosing a patient with clinical depression can be difficult; depression is a complex illness that can be caused by one or a mix of many things, from environmental stressors to genetics. But a new study out of the Centre for Addiction and Mental Health (CAMH) has highlighted a link between clinical depression and brain inflammation that might be crucial in better understanding stress and depression's physical impacts on the body, as well as in developing better treatments for these mental health issues.
In the study, published in JAMA Psychiatry, the researchers found that people with clinical depression had a 30 percent increase in brain inflammation, also referred to as neuroinflammation. It's uncertain whether the inflammation caused the depression or vice versa, or if it's simply a correlation. But the study makes it clear that the link should be further examined.
"This finding provides the most compelling evidence to date of brain inflammation during a major depressive episode," Dr. Jeffrey Meyer of CAMH's Campbell Family Mental Health Research Institute said in the press release. "Previous studies have looked at markers of inflammation in blood, but this is the first definitive evidence found in the brain."
The authors took brain scans of 20 patients who were suffering from depression but were otherwise healthy, as well as of 20 control patients. They found that people with depression were more likely to suffer a higher rate of inflammation in their brains, and people with the most severe depression had the highest rates of all. While inflammation can protect the brain and other tissues when triggered by the immune system, too much of it can cause damage.
How Stress Fosters Inflammation
Whenever the immune system is attacked by infections (viruses or bacteria), toxins, or even physical injury (such as a knee injury), it creates an inflammatory response — sending out messengers known as cytokines, which are either pro-inflammatory or anti-inflammatory. Damaged cells release chemicals including histamine, bradykinin, and prostaglandins, which cause blood vessels to leak fluid into tissues and create tissue swelling. While acute or short-term inflammation is a protective feature of the immune system, chronic inflammation can cause simultaneous destruction and healing of the tissues, ultimately wreaking havoc on your body long-term.
It's not only physical injury or infections that can trigger an immune response; stress and emotional trauma cause inflammation as well. Long-term or chronic stress has actually been shown to change the gene activity of immune cells before they enter the bloodstream, priming them to fight infection when there is no infection. As a result, inflammation occurs unnecessarily but still wreaks havoc on tissues and body processes. Chronic inflammation is often associated with cancer and other disorders such as heart disease and high cholesterol. Brain inflammation, meanwhile, has been linked to several disorders, including Alzheimer's disease, Parkinson's disease, and multiple sclerosis.
Treating Inflammation To Target Depression
It's possible that depression changes immune responses and triggers inflammation similar to how stress does. It's not entirely certain. But the notion that depression is somehow linked to inflammation isn't a new one. In fact, though there is currently no FDA-approved medication to treat depression-related brain inflammation, researchers have examined such therapies in the past. In a 2014 study, researchers provided patients with anti-inflammatory treatment and found that it reduced depressive symptoms.
Some physicians believe that depression and inflammation are linked by a build-up of both physical injuries and emotional stress in a person's past, and these things can be difficult to treat with one single therapy. "When remnants of old wounds are left unresolved, they build up inside the body," Gary Kaplan, DO, an osteopathic physician and founder of the Kaplan Center for Integrative Medicine, told Prevention. "So it makes sense that a woman who was raped as a child and gets a concussion in her 20s could develop fibromyalgia and clinical depression. These events may seem unrelated, but all of them result in chronic neuroinflammation."
Kaplan, as an osteopathic physician who takes a more holistic approach to medicine, hasn't been waiting for an FDA-approved drug that treats brain inflammation; he's been attempting to treat patients who have been suffering from chronic depression and inflammation on his own. His therapies often involve a mix of acupuncture, psychotherapy, several anti-inflammatory drugs like Celebrex (which is used to treat arthritis), and craniosacral therapy (massaging the head and neck to relieve tension). But the evidence of their efficacy still remains scarce, and more studies will be needed to better mold a conclusion.
"We're not going to help people who are depressed and in pain if we don't spend time finding out about them as whole people with histories that greatly influence their health," Kaplan told Prevention. "Neuroinflammation is not the answer to everything, but understanding it is extremely important. It will eventually change how we treat these reversible diseases."
Indeed, Meyer and his team who've published the most recent study on brain inflammation feel the same way. "Depression is a complex illness and we know that it takes more than one biological change to tip someone into an episode," Meyer said in the press release. "But we now believe that inflammation in the brain is one of these changes that's an important step forward."
Source: Setiawan E, Wilson A, Mizrahi R, Rusjan P, Miler L, Rajkowska G. "Role of Translocator Protein Density, a Marker of Neuroinflammation, in the Brain During Major Depressive Episodes." JAMA Psychiatry, 2015.
Published by Medicaldaily.com