Dermatitis Rates Increasing As Hospital Hand Washing Policies Seek To Sanitize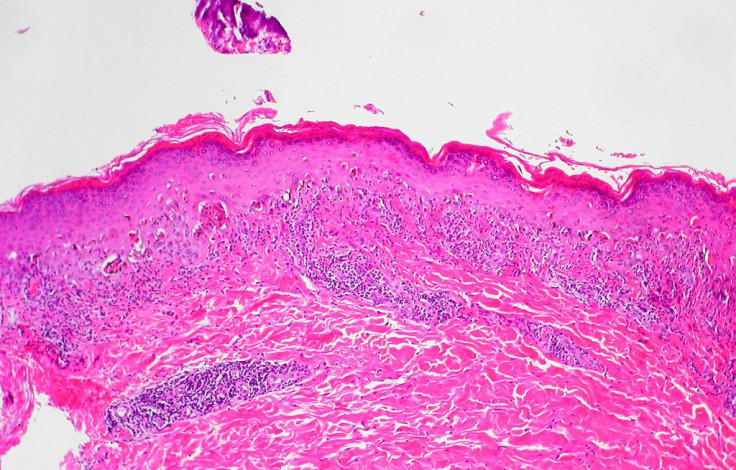 Thanks to a forward-thinking, if misunderstood, 19th-century Austrian doctor, nearly all hospitals today are adorned, to some degree, with the eager white face of a Purell dispenser. More than any in-patient, one might say, these hand sanitizing stations receive the attention of doctors, nurses, and other hospital personnel. They have become the hallmark of clean health care.
Unfortunately, the benefits come at a cost. A new study from the University of Manchester has found irritant dermatitis rates are rising in hospitals that employ strict hand washing policies. After round-the-clock shifts, workers prompted to wash their hands before, during, and after attending to individual patients, find their clean hands rubbed raw.
Between 1996 and 2012, British researchers found that out of 7,138 reported cases of irritant contact dermatitis, health care workers comprised 1,796 of them. When they broke the data down by year, they learned health care workers were 4.5 times more likely to suffer from dermatitis in 2012 than in 1996. Zooming out on the trend, the findings aren't all that surprising, says Dr. Jonathan Epstein, an epidemiologist at EcoHealth Alliance.
"Surgeons who scrub their hands repeatedly throughout the day with soap and abrasive brushes have been dealing with dry and irritated skin for a long time," Epstein, who wasn't involved with the new study, told Medical Daily. Irritant contact dermatitis appears most often as a red, itchy rash, which results from chemical or environmental irritation.
This doesn't mean hand washing is the wrong approach to preventing the spread of disease. The practice prevents far more illnesses, among vastly more people, than over-washing causes skin irritation. It also just plain works. Earlier this year, the Centers for Disease Control and Prevention (CDC) released data on more than 14,000 acute-care hospitals nationwide. Across the board, health care-associated infection rates had fallen since the last time the CDC collected data in 2008, most dramatically in bloodstream infections, one of the most common yet preventable forms.
Still, the study authors argue hospitals should strive to find a safe middle ground. "Obviously we don't want people to stop washing their hands," said Dr. Jill Stocks, lead author and research fellow from the University of Manchester. "So more needs to be done to procure less irritating products and to implement practices to prevent and treat irritant contact dermatitis."
Latex gloves are one solution, says Epstein, especially if the hospital worker has sensitive skin. "Health care workers who are susceptible to contact dermatitis could use exam gloves as an alternative to reduce the risk of infection." However, some personnel may find it just as inconvenient to swap out the hazardous pair for a fresh set with each new patient. And even with the gloves, hand washing shouldn't fall entirely out of use.
Ultimately, the best solution may simply be to invest in a trusty moisturizer, says Dr. Cameron Rokhsar, assistant clinical professor of dermatology at Mount Sinai Health Systems. "The heavier the moisturizer the better it works," he told Medical Daily. "To that effect, ointments work better than creams, which work better than lotions. In severe cases, we can prescribe steroid medications to calm the skin down."
Importantly, the concerns extend past the health care worker. Irritated skin, with its myriad cracks and lesions, can carry infectious disease for a longer period of time than healthy skin. Plus, a nurse with irritated skin might find hand washing only makes things worse, so she avoids the practice altogether — at best substituting it for gloves, and at worse leaving her patients vulnerable. "Either way," Epstein said, "the increased hygienic practices of health care workers is a proven method for reducing the risk of infection."
The moral of the story? Hospital workers should invest in a skin-saving ointment — at least until science finds something else up its sleeve.
Published by Medicaldaily.com