Despite Lower Average BMI, Asian-Americans Highly Susceptible To Diabetes And Often Go Undiagnosed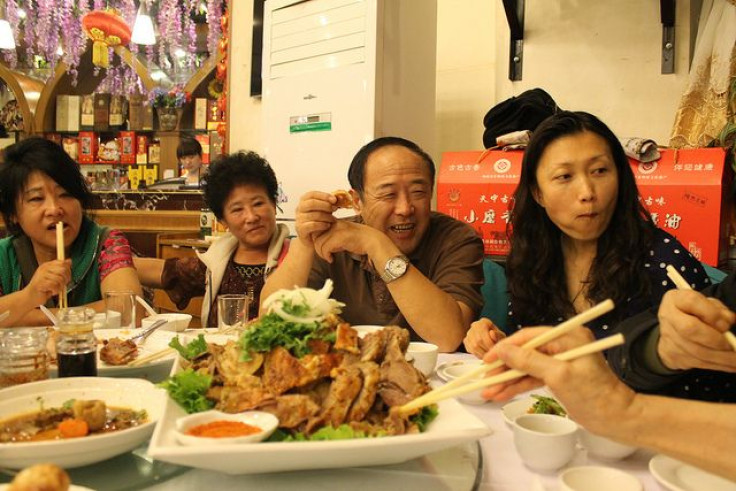 More than half (51 percent) of Asian-Americans with diabetes are undiagnosed, according to a new study from the National Institutes of Health and the Centers for Disease Control and Prevention. This represents the highest proportion of undiagnosed diabetics among all ethnic and racial subgroups studied. A possible reason? Risk factors for type 2 diabetes, the most common form of diabetes, include age and higher than average body mass index (BMI). Yet Asian-Americans often develop the condition at a lower BMI than the general population, the researchers noted.
While the average BMI for all Asian-Americans is under 25, this is considerably lower than the average BMI for the United States population overall, which is just below 29. However, the researchers discovered, with 21 percent of all Asian-Americans affected by diabetes — a prevalence rate of slightly more than one in every five people — diabetes is more common among Asian-Americans than among the general population.
Based on the data, the American Diabetes Association recommends Asian-Americans get tested for diabetes at a BMI of 23 or higher, a lower threshold than for the general population.
"The BMI related research is not new to this study, but this study illustrates the importance of why clinicians need to pay attention to that," Amy Reiter, a spokesperson for the National Institute of Diabetes and Digestive and Kidney Diseases, NIH, told Medical Daily. "It's really a kind of newer take… the findings for Asians-American were particularly novel."
Recent research conducted in Singapore came to similar conclusions. The study indicated that "Asians have a much greater predisposition to risk of cardiometabolic disorders than Caucasians." The researchers concluded that Asians require different BMI "cutoffs" than those used for Caucasians.
For the current NIH study, the research team used newly available 2011-2012 data from the National Health and Nutrition Examination Survey (NHANES), a series of studies that combine interviews and physical exams to assess the health and nutritional status of adults and children.
"We studied about 26,000 people participating in a series of nationally representative surveys of the U.S. population," Dr. Andy Menke, lead researcher and an epidemiologist at Social & Scientific Systems Inc., said in a taped interview.
Menke and his colleagues used two definitions in order to allow "for a full accounting of diabetes." While one definition was consistent with methods used in the medical community, a second method defined the condition based on a method involving two-hour plasma glucose levels. This second, more expensive method was not available for all age groups in all years of the study.
Prevalence of diabetes was high in a representative sample of the overall population no matter which criteria was used, the researchers discovered. Using the plasma glucose test, 9.1 percent of the general population had been diagnosed with diabetes, 5.2 percent had not yet been diagnosed, resulting in a total prevalence rate of 14.3 percent.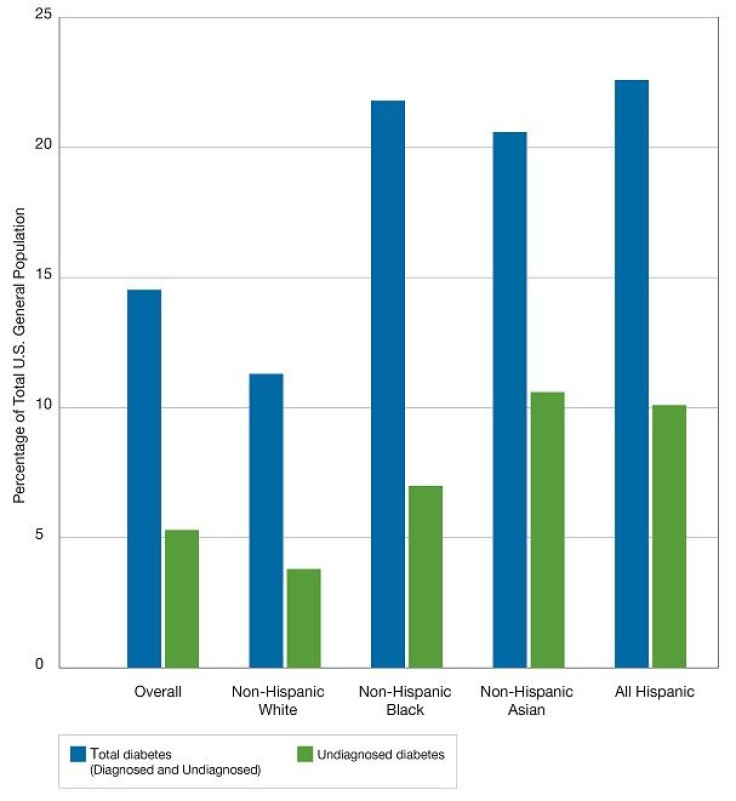 Meanwhile, 38.0 percent of the general population has prediabetes. Using the medical community method, a total of 12.3 percent of the general population qualifies as diabetic while, of these, about a quarter have not been diagnosed.
"Around a third of the total people with diabetes were undiagnosed," said Menke, who added, "about 50 percent of people in the U.S. have either diabetes or prediabetes."
Among the groups studied, non-Hispanic white participants had a prevalence rate of 11.3 percent, non-Hispanic black participants 21.8 percent, non-Hispanic Asian participants 20.6 percent, and Hispanic participants 22.6 percent.
More importantly, between 1988-1994 and 2011-2012, the prevalence of diabetes increased by about 25 percent. This significant increase occurred "among the overall population and among each age group, both sexes, every racial/ethnic group, every education level, and every income level, with a particularly rapid increase among non-Hispanic black and Mexican-American participants," wrote Menke and his co-authors.
One bright spot: The proportion of individuals with undiagnosed diabetes has decreased over time, the research indicated. Early attention and interventions may effectively treat type 2 diabetes, which in some cases can be controlled with a healthy diet and physical activity. Eventually, though, many people will require medication.
Source: Menke A, Casagrande S, Geiss L, Cowie CC. Prevalence of and Trends in Diabetes Among Adults in the United States, 1988-2012. JAMA. 2015.
Published by Medicaldaily.com