Diabetes Dream Team: NBA Legend Dominique Wilkins Sits Down To Discuss How He Manages His Diabetes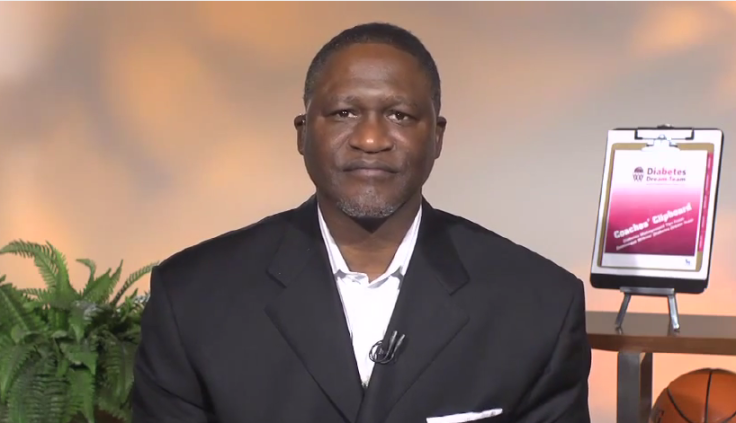 After an illustrious NBA career that included an NBA scoring title, nine NBA All-Star game appearances, and one of the most memorable NBA All-Star Slam Dunk Contest wins in league history, Dominique Wilkins received news from his doctor that very few professional athletes expect to hear following years of being in peak physical shape. Wilkins, nicknamed the Human Highlight Film, was unexpectedly diagnosed with type 2 diabetes in 2000 at the age of 40.
Instead of dwelling on his diagnosis, Wilkins decided to get proactive by changing his lifestyle and spreading the message of diabetes awareness.
"Very shocking news," Wilkins told Medical Daily in regard to receiving his diabetes diagnosis. "Anytime that you're a great athlete, life slows down, and you still think you're in great shape. You become normal like everybody else and find out you have some of the same problems. So it was a big shock."
Teaming up with Novo Nordisk Pharmaceuticals, the NBA Hall of Famer and Olympian recently launched "Dominique's Diabetes Dream Team" to aid adults in managing their diabetes and dealing with the day-to-day challenges that affect around 26 million Americans. This nationwide initiative implores a three-pronged approach to diabetes management: a balanced diet, regular exercise, and taking proper medication when necessary. Managing diabetes means applying all three of these components into the patient's daily life and not just one or even two.
By visiting the Diabetes Dream Team website, patients can design their very own Diabetes Coaches' Clipboard, which offers helpful exercise tips, medication recommendations, and even recipes specifically designed for managing diabetes with a balanced diet. Patients are also given the tools to create their own Dream Team comprised of doctors, nurses, diabetes educators and motivators, and anyone else they see fit to help manage their condition. Wilkins's own Dream Team includes his physicians, a diabetes educator, a nutritionist, and a fitness expert.
The number of Americans diagnosed with diabetes has tripled over the past 30 years, making it one of the most serious health problems in recent history. Wilkins knows all too well just how serious diabetes can be after losing both his father and grandfather to the disease. Wilkins recommends that everyone be screened by their doctor and receive an overall blueprint of their health, whether that patient is at risk or not. The key to managing diabetes is catching it as early as possible to receive the right type of treatment plan.
"The goal of the website and the Dream Team is to continue to educate people," Wilkins added. "We have created this platform to give people other options and more resources that they can use in a very simple way for managing diabetes. More importantly, it helps you form a team of your own. If you can accept and implement the team concept in your own life it makes life a lot easier for you because you have a great support system."
Published by Medicaldaily.com