Diamonds Used To Treat Coronary Artery Disease: Diamondback 360 Removes Plaque Buildup Using New Innovation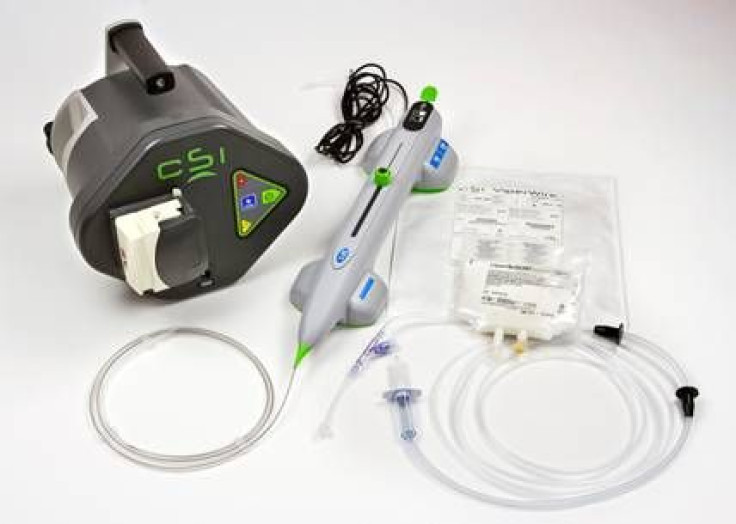 Cardiovascular Systems, Inc. (CSI) recently gained approval from the U.S. Food and Drug Administration (FDA) to market the Diamondback 360 Coronary Orbital Atherectomy System (OAS). The device employs diamond technology to remove calcified plaque found in the coronary artery of the heart. People affected by coronary artery disease (CAD) may not have the ability to remedy their condition through simple lifestyle changes like diet, exercise, and quitting smoking. The Diamondback 360 Coronary OAS could prove to be the most important technological advancement in the treatment of CAD.
According to the Centers for Disease Control and Prevention (CDC), coronary artery disease occurs when coronary arteries — arteries that pump blood in and out of the heart — are blocked by plaque buildup. Plaque is a collection of calcium deposits that build up in the heart's coronary arteries over time. The buildup of calcium, cholesterol, and other fatty substances, is called atherosclerosis. Heart disease is considered the leading cause of death, resulting in 600,000 deaths each year.
"Coronary arterial calcium can cause complications when treating coronary artery disease (CAD)," states CSI. "Diamondback 360 Coronary OAS's unique mechanism of action uses a patented combination of differential sanding and centrifugal force to safely and simply, reduce coronary arterial calcium."
Coronary artery disease is diagnosed through blood pressure, cholesterol and blood glucose levels. Doctors can also administer an electrocardiogram (EKG) to check for plaque buildup in coronary arteries. CAD is the main cause of heart attacks, which 715,000 people in the U.S. experience each year. Coronary artery blockage can also be treated by a wire mesh tube, known as a stent, that is placed inside the artery to prop it open and keep blood pumping.
If coronary blockage is too substantial it can be difficult to prop the artery open wide enough to place a stent. The Diamondback 360 Coronary OAS uses a diamond-coated crown mounted on the end of a catheter that rotates in the area of the artery where plaque buildup has occurred. The procedure, also known as an orbital atherectomy, cuts away at calcified deposits in arteries as the catheter rotates. A stent is put in place of the catheter once it is removed.
Published by Medicaldaily.com