The Difference Between Dieting And Eating Healthy, Plus More Lessons From iHeartRadio's Lifestyle Health And Wellness Expo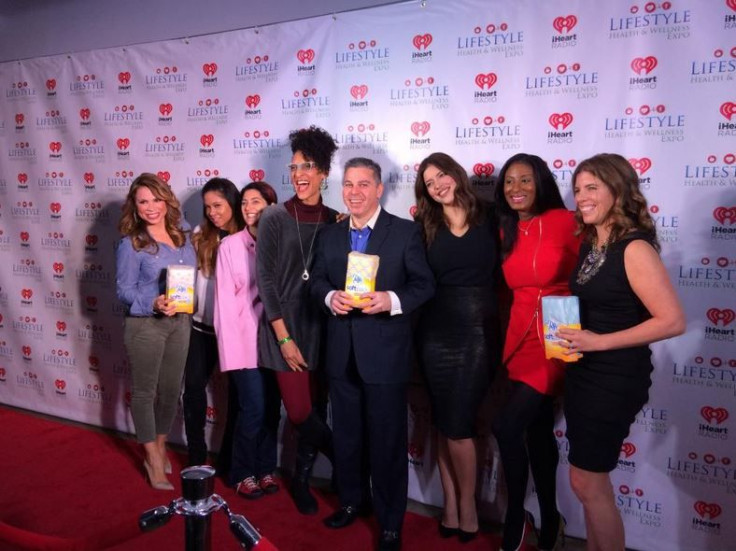 "I'm here for the free stuff."
I heard this phrase a few times while walking the perimeter of iHeartMedia's (free!) second annual Lifestyle Health and Wellness Expo, held in Brooklyn, N.Y., and I can't say I was surprised. Puffs, Blk Beverages, Shea Moisture, and Emblem Health were among the many vendors on-hand to provide a wealth of knowledge and, yes, product samples to attendees. The day's agenda of health and wellness-related panels, including Dr. Mehmet Oz, The Chew's Carla Hall, and international plus-size model Denise Bidot, must have been a crazy-cool bonus.
But then, to my left, I was delighted to hear two young women dissecting the tips Dr. Oz was giving about weight loss and disease prevention. One such tip for weight loss was to incorporate more nuts into your diet. "It's because of the protein," one woman said. "Why do you think so many body-builders eat a lot of protein?"
She wasn't wrong. Nuts aren't only rich in protein, but fiber and heart-healthy omega-3s too. And studies have shown regularly eating them can reduce risk for disease, boost gastrointestinal and bone health, as well as add years to a person's life.
When Dr. Oz shifted the conversation to the do's and don'ts of sugar, these women dually noted traditional sweet stuff is far better than artificial sweetener… you know, if you really can't avoid sugar. It was when they trailed off into their love for avocados I turned to impose my friendship. And, well, I was curious what brought them to Brooklyn. Also, journalism.
"I'm always trying to live healthier," Genese Rogers, 34, told Medical Daily; she was the one who made the comment about protein. "And this event was motivation to learn new information and habits, especially now that the year is closing. I don't want to be one of those people who makes their health a resolution. I want to make it my lifestyle."
Rogers' friend Portia Perkins, 31, says she's always been "somewhat health conscious." But as she's gotten older, she's realized how healthy living pays off. She'd simply like to keep it going. While Rogers and Perkins consider themselves knowledgeable of what it takes to promote health and wellness — thanks in no small part to healthy living blogs and Pinterest — they agreed it's nice to hear it reiterated by experts. "It's good to hear you don't have to do crazy stuff in order to be healthy," Perkins said.
Dr. Oz's "non-crazy" prescription included optimal ("not just good, optimal") blood pressure to stave off heart disease, regularly logging 30-minutes of exercise, getting plenty of sleep, keeping stress at bay, and following a healthy diet. It's as easy as that. Keeping it simple, Oz said, is the only way people are going to do it.
Diet and eating healthy, however, aren't interchangeable. On a healthy eating and living panel, Power 105.1 radio personality Angela Yee asked Pam Yudko, a holistic health and transformational coach, to define the difference. Diets, Yudko said, are restrictive, short-term solutions (one statistic suggested 97 percent of diets fail), whereas eating healthy focuses on health, not weight. Yee then followed up by asking if there is a syndication between physical and mental health, to which Yudko replied, "Absolutely."
Perhaps this was our favorite lesson of the day: physical and mental health should not be approached separately. As international plus-size model Denise Bidot said, when you feel good, you look good. Building up confidence and self-esteem is what helps health and wellness err on the positive side.
Oh, and for those still convinced healthy living is for people with tons of time, Hall will have none of that. "How many of you have one minute to spare in the morning?" she asked the audience. After a majority of hands shot in the air, Hall recited the recipe for her one-minute omelet. It goes like this: crack two eggs into a mason jar, and add desired fixings. Ham, cheese, spinach — what have you. Stir and refrigerate overnight. In the morning, remove the mason jar lid and set in the microwave for 30 seconds. Take it out, stir, and microwave for another 30 seconds before eating.
Planning and prepping healthy meals is the next step for Rogers and Perkins (and what they hoped to learn more about as the day went on). "I know eating something, like spaghetti, at home versus eating it out is nutritionally different," Rogers said. "At home, you know the ingredients you're using, and the sauce you're using has less sugar." Both women know, too, if they don't plan, they wing it, which means they're likely to cave in to unhealthy foods; it's just a matter of how they can work it into their schedule. I like to think Rogers and Perkins left the venue with this idea, in addition to their free swag.
I certainly left knowing more people are adopting a well-rounded approach to healthy living, which, I have to say as a health and wellness reporter, is better than a free pack of Puffs. Though I'll be honest: free swag is kind of the way to my heart. And avocados.
Published by Medicaldaily.com