FDA Cleared 'DigniCap' Uses Cold Cap Technology To Prevent Chemo Hair Loss In Cancer Patients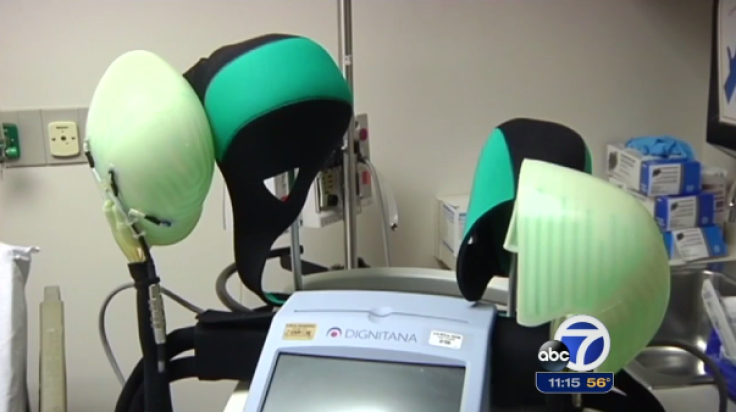 For some cancer patients, hair loss is one of the most traumatizing parts of chemotherapy treatment. The DigniCap, a new device recently cleared for marketing by the FDA, may help prevent such loss, and give patients one less thing to worry about.
The rubbery helmet, made from silicone and neoprene by Swedish medical laboratory Dignitana, addresses the problem of hair loss during cancer treatment by chilling the scalp during chemotherapy. According to BreastCancer.org, the cold temperatures produced by the tightly fitting caps narrow the blood vessels just beneath the skin. This limits the amount of chemotherapy medication that reaches the hair follicles and prevents hair loss.
Currently, there are various types of such cold caps available, many of which cool in a freezer and then can be worn for around 30 minutes before they must be replaced with a freshly chilled cap. The DigniCap avoids this by connecting to a separate cooling unit that keeps the cap at the right temperature, no switching necessary. The FDA cleared the device on December 8, 2015 and it's now available to cancer patients.
"The goal from the very beginning has been to take this device and get it to be as accessible and as available to as many people as possible," Bethany Hornthal, Dignitana and University of California, San Francisco, consultant, told ABC 7.
The technology, which costs between $1,500 and $3,000 depending on treatment needs, is not covered by most insurance plans, putting it out of reach of some.
To address this problem, diPietro Todd, a salon chain in the San Francisco Bay Area, has pledged to donate a portion of retail sales to a cold-cap fund for women who cannot afford the treatment. "We don't want it to be a question of only rich people can keep their hair; we want everybody to be able to keep their hair," professional stylist and salon principal owner Andrew Todd told ABC 7.
It's not just a question of beauty. Rebecca Yarnold, a breast cancer survivor who used a cold cap during a battle with cancer four years ago, said the device not only helped reduce her anxiety during her chemotherapy treatment, it also kept her young son's worries at bay.
"I was able to function, and because I had my hair, it didn't scare him," Yarnold said told ABC 7.
Correction: This article was updated to reflect that the DigniCap has been FDA cleared for marketing, not FDA approved as previously stated.
Published by Medicaldaily.com