Disability Discrimination: Boss Fires Woman After She Reveals Cancer Diagnosis, Says Chemo Side Effects Will 'Distract' Her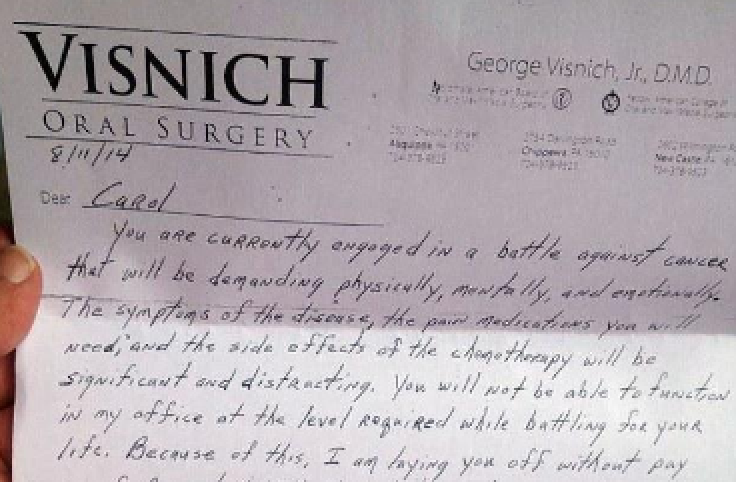 A Pennsylvania woman who received one piece of bad news after another now has a whole community rallying behind her after life's unexpected twist. Fifty-one-year-old Carol Jumper of Hopewell Township, Pa., was diagnosed with a cancer last month that is affecting her ovaries, liver, and pancreas. Once Jumper confided to her boss Dr. George Visnich, an oral surgeon at Visnich Oral Surgery, her cancer diagnosis, he sent the 12-year employee a layoff letter dismissing her without compensation.
The letter, dated Aug. 11 and written on Visnich's office stationary, started with the line: "You are currently engaged in a battle against cancer that will be demanding physically, mentally, and emotionally. ... The symptoms of the disease, the pain medications you will need, and the side effects of the chemotherapy will be significant and distracting," the letter continued. "You will not be able to function in my office at the level required while battling for your life. Because of this, I am laying you off without pay as of August 11, 2014."
Jumper's fiancé, Dennis Smerigan, has rallied behind his wife after her initial cancer diagnosis and continues to be at her side after receiving what is seen as a "heartless" letter by the oral surgeon. "She had been working full-time for this man for over 12 years," Smerigan told the Beaver Countian. "He didn't even call her. He hasn't even called her once since she got sick."
The cancer-stricken patient is expected to undergo intense rounds of chemotherapy for the potentially deadly illness. According to the National Cancer Institute, chemotherapy can also damage fast-growing healthy cells and lead to side effects such as fatigue or infection. It can also damage the cells that line mucous membranes throughout the body, including inside the mouth, throat, and stomach. This can lead to mouth sores, diarrhea, or other issues with the digestive system. Hair loss can also occur if damage is done to the cells located at the hair roots, or follicles.
Whether or not chemotherapy can take a physical toll on Jumper's health, she is still protected under the Americans with Disabilities Act. Jumper is protected against job discrimination as long as she is able to perform the job's essential functions. This act protects the civil rights of people with disabilities, and can help people with disabilities gain equal opportunity in: employment, public accommodations (places that are generally open to and used by the public), transportation, state and local government services, and telecommunications.
Visnich's attorney, Larry Kelly, claims this is all just a misunderstanding, and that the oral surgeon laid her off so she could claim unemployment benefits, describing it as a "humanitarian thing." "He's trying to help this woman and he's made out to be a villain," Kelly told the Beaver County Times. Kelly claims Visnich wrote the letter "with the understanding that when she is feeling better, she can come back to work."
The layoff letter has gone viral after one of Jumper's friends posted it on her Facebook page. This has warranted solidarity among her community members who have organized several fundraisers on her behalf, and even formed a "Bumpers Buddies" Facebook page to gain support. The Facebook group is also selling T-shirts and will share updates on her condition.
"She's a good lady, and we're just doing what we can to help her out," said John Barkovich, Jumper's friend.
Published by Medicaldaily.com