Do Thanksgiving Safely So You Can Do It Together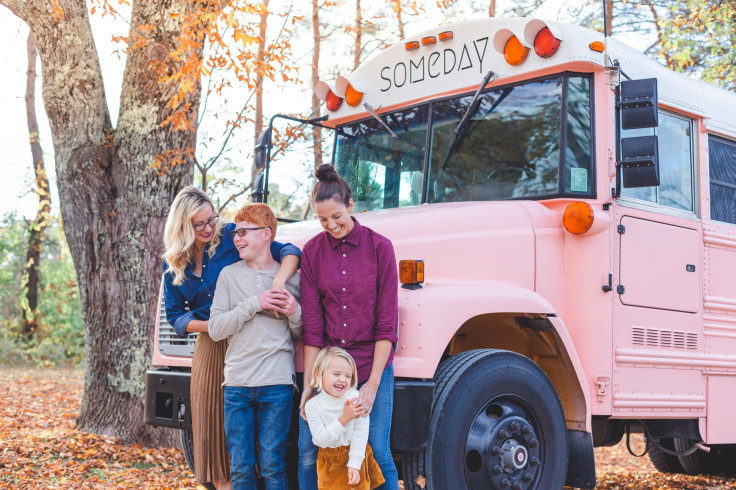 For many, Thanksgiving means gathering around the dinner table with people they love, sharing food and friendship, maybe some politics, while filling and refilling plates and glasses. This year, however, to no one's surprise, public health officials are suggesting caution-saturated contact.
After enduring months of isolation, how can people manage to stay safe and be together on the holiday? (If you decide to travel, please read our guide to avoiding travel Covid-caused snags first.)
This doesn't need to be an either-or situation, said Scott Roth, PsyD, a licensed child and family psychologist in Cranbury, N.J.
"I think people tend to say, 'Well, it's either we stay home, or we see our family,'" Dr. Roth told Medical Daily. "There is a scale, and ... we can make decisions that are in that gray area. Rather than just saying, 'I need to see family or I don't need to see family,' we can think in between that and attempt to come up with a more comfortable arrangement."
It can be hard to make Thanksgiving plans, as we weigh emotional health, physical health and family commitments. "I think we all have to take an individualized look at what are our situations, what our bubbles have been for safety, and make decisions based on all of those things," he said.
This year, the CDC ranked Thanksgiving as a possible high-risk activity. To lower the risk, the agency has offered tools and ideas to encourage safe holiday celebrations.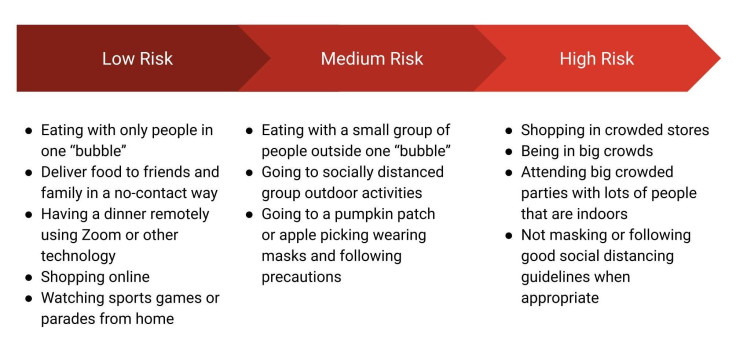 A school bus named Sunday
For some families, logistical concerns aren't so problematic. Jennifer Bateman and her wife, Kaitlin Porter, are planning to drive into the driveway of Kaitlin's childhood home in Maryland, and park. And live there, too.
Home for them and their two children, ages 14 and 4, is a 170-foot converted school bus named Someday. They left their stationary residence in Atlanta last October, in the bus, and have been traveling around the country ever since. Bateman is a developmental psychologist for the Boys and Girls Clubs of America, and Porter worked as a consultant for the CDC but now devotes her time to life on the road with her family. They homeschool their two children.
This Thanksgiving, Ms. Bateman and Ms. Porter are letting family members set the pace.
"When we look at extended family, we've been really following their cues," said Ms. Bateman. Although the school bus is a "quarantine machine," they've let their hosts pick the level of precaution. Sometimes relatives only want to sit outside. In other situations, a fire pit is set up in the driveway. "We lived in the driveway ... and we only met in the driveway right around the fire pit at night," said Ms. Porter.
For other families, the decisions aren't that clear-cut. For Alanna Harding, a 24-year-old corporate development and investment associate, a traditional Thanksgiving has 15 to 20 people gathered at her grandparent's house for football and food.
"I think we'll probably do exactly the same thing as we always do," Ms. Harding said, "My grandmother is cautious about the coronavirus because she is in the concerning age range. Within my extended family, I think there's really, really varying views."
How people deal with the coronavirus is personal. Some people mask up from the moment they leave the house to the second they're home. Others don't. So, families obviously may argue about the best way to manage Thanksgiving.
Dr. Roth suggests seeing the other person's point of view and offering alternatives to diffuse a situation.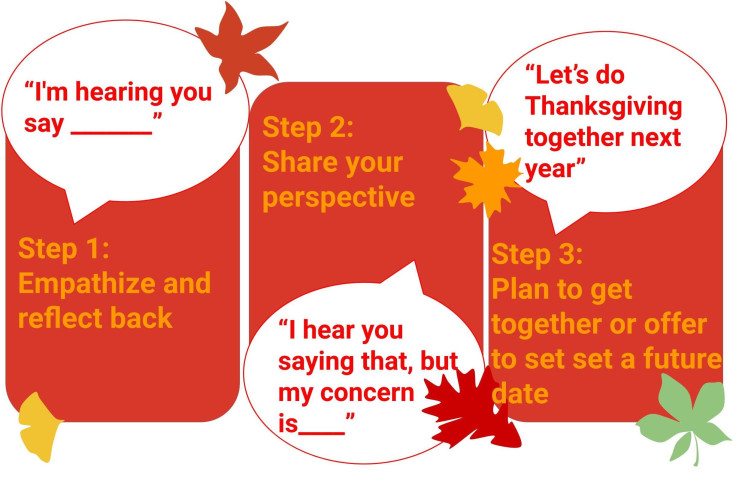 "If it's becoming a source of conflict, chances are there's been a dynamic that has arisen ... before," said Dr. Roth. "We're certainly never going to fully agree with anyone. But we can empathize with their position. We could see where they're coming from and just say, 'We have to do the best thing for ourselves and our family.'"
Ms. Harding often wears a mask at family get-togethers, and sometimes she gets asked why. Her answer is: "For me, I'm wearing it for Nana. And then that usually doesn't get much of a response."
Pass the pie, beware the political tiffs
Between the pandemic and the recent US election, plenty of fodder exists for a potential holiday flare-up. But conflict can be productive, or it can be destructive, said Dr. Roth.
"Productive conflict ends up at a place where there's empathy. There's understanding, and there might even be problem-solving that occurs." As for disruptive conflict, "You don't want people tossing pumpkin pie across the table," he said.
One way to manage conflict is to set up rules of engagement, even in writing, about dinner topics. Dr. Roth suggested saying up front: "We're not going to bring up the conflicts of the past that led us to this conflict. It's just going to be each of us sharing" and respecting opinions.
But sometimes, there are things better left unsaid. "There's some battles you just can't win," said Ms. Harding. Her Thanksgiving wish is that the family will be "smart about managing the risks, knowing that the risk is going to be there, and acknowledging that, not denying it, and being thoughtful in our actions."
This year, sharing Thanksgiving with family and friends can look like anything: a picnic, a Zoom session, even a post-Turkey marathon. Whether it's at home or across the internet, Thanksgiving is more than turkey and stuffing. It is about connection, and that is still possible, despite the pandemic.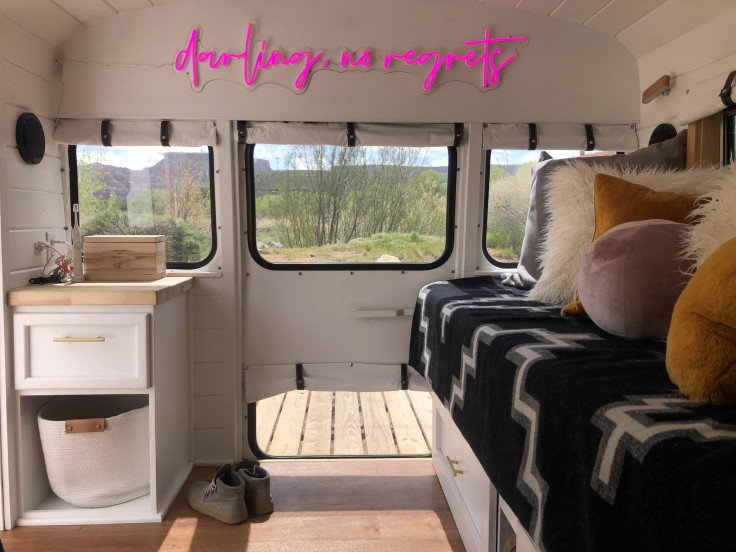 "I think, in a normal week, it doesn't feel weird to live on the bus," " said Ms. Bateman. "[But] when you're trying to do a [Thanksgiving or] Christmas on a bus, or you're trying to do these other things where you're so used to being around friends, family, and you have all these rich traditions, it becomes really hard."
As for Dr. Roth, "We're going to be outside the entire time, with many heaters and a fire pit, and that's going to be Thanksgiving."
Sabrina Emms is a science journalist who has worked as a researcher, looking at the way bones are formed.
Published by Medicaldaily.com