Doctor Who Operated On Joan Rivers Took A Selfie During Her Surgery, Then Performed An Unauthorized Biopsy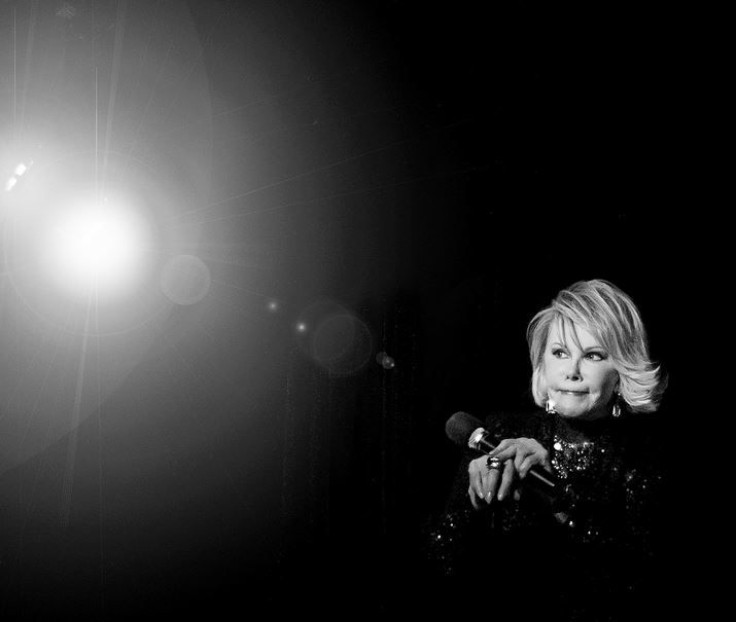 Joan Rivers' doctor has been under the spotlight ever since her recent death on Sept. 4 in a New York City hospital, for good reason. An unnamed physician performed a biopsy on 81-year-old Rivers' throat without her consent, which subsequently led to her fatal cardiac arrest. The doctor also reportedly took a selfie of her while she was under anesthesia.
Rivers had originally gone to Manhattan's Yorkville Endoscopy clinic to investigate why she had a hoarse voice and sore throat, which merely involved a camera insertion down her throat by her gastroenterologist and the clinic's medical director Dr. Lawrence Cohen. Cohen handed her over while she was still under sedation to an ear, nose, and throat specialist, who was not certified to perform the biopsy, which involves the surgical removal of a piece of tissue or sample of cells for laboratory analysis.
Investigators believe trouble started when Rivers' vocal cords began to swell during the unauthorized biopsy, which cut off the flow of oxygen from her lungs to her brain. When her body threw her into cardiac arrest on Aug. 29, she was rushed to New York's Mount Sinai Hospital, where she was placed under a medically induced coma and died a week later.
"Even though you are a licensed physician, you still should have, if you will, the checks and balances to get your approval to practice in that particular place," Dr. Arthur Caplan, a medical ethicist at New York University's Langone Medical Center, told CNN.
If the ear, nose, and throat specialist truly did take a selfie (reported solely by an unidentified CNN source), how would one move forward based on medical ethics? Clearly this bypasses some sort of respect for a person's well-being, in addition to the unapproved biopsy. The casual click of a button turns someone's privacy into public property. Imagine lying unconsciously on an operating table, not only having someone collect your cells without your permission but also snapping a photo in your most vulnerable state? The medical moral codes certainly do not approve of photos and folly in the workplace, or outside of the workplace for that matter.
The clinic has declined to respond to the comments about the selfie, but issued a statement last Thursday denying that the vocal cord biopsy had even been performed at their clinic. The next day the clinic announced Cohen is neither "performing procedures…nor is he currently serving as a medical director." His step down speaks volumes as investigators continue to look into the details of Rivers' death.
Published by Medicaldaily.com