Dolphins Suspend Richie Incognito For Alleged Bullying, Including Threatening And Racist Texts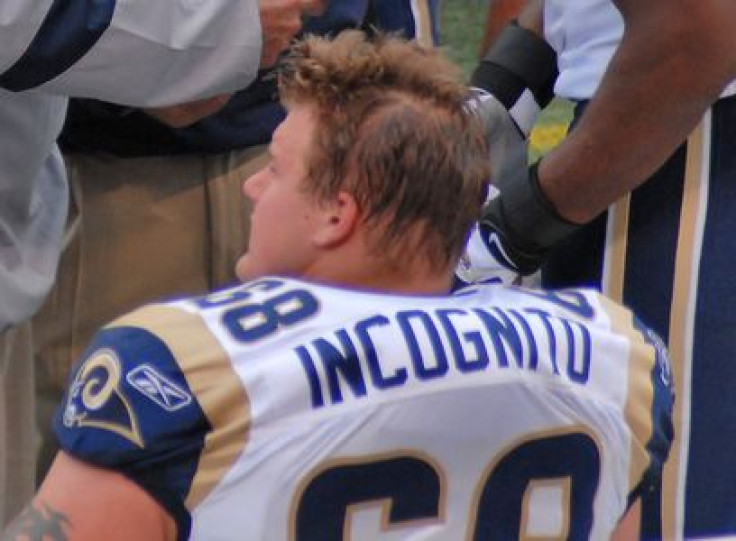 Miami Dolphins veteran guard, Richie Incognito, won't be seen on the football field anytime soon. The National Football League (NFL) player was faced with an indefinite suspension Sunday night for his misconduct that could potentially be detrimental to the franchise.
"We believe in maintaining a culture of respect for one another and as a result we believe this decision is in the best interest of the organization at this time," the Dolphins said in a statement, ESPN reports.
The third statement was released by the Dolphins after the team initially said the role of bullying in Jonathan Martin's departure from the team was not presented as a concern to them from the second-year offensive tackle. It was not until hours later the Dolphins claim Martin's agents told the team about the severity of the situation and asked the league to conduct an objective and thorough review.
Martin was last seen on the field after Miami's loss against the New England Patriots on Oct. 27. The tackle left the Dolphins on Oct. 28 as his absence from the team was attributed to an illness that was allegedly not tied to football. Martin walked away from the Dolphins facility after a prank was played by his fellow offensive linemen last Monday in the cafeteria, according to Fox Sports. The incident came shortly after the teammates got up and left Martin at a table after inviting him to sit down. Martin reportedly slammed his food tray and quickly left.
The Dolphins players have denied harassing Martin claiming "teasing" does not exceed the "normal stuff" that goes on in locker rooms. Martin does have the support of several Dolphins players like right tackle Tyson Clabo. "I want him to come back to work," Clabo told ESPN. "He's a talented young football player." "I can't say what he's feeling. I know if and when he wants to come back that I will be there to shake his hand."
Prior to the Oct. 28 incident, multiple sources told Fox Sports the Miami Dolphins and the NFL Players Association were informed Incognito left Martin voicemails that were both threatening and racially charged. The messages will be disclosed to the league as part of the investigation. If Martin's claims against Incognito's racial slurs are true, this can turn from bullying to a hate crime. According to a CBS Sports report, Incognito referred to the biracial Martin has a "half-n-----" and threatened to track down members of Martin's family and harm them.
This is not the first incidence in which Martin has dealt with harassment from teammates — bullying can be traced to the beginning of his 2012 rookie season. Sources told ESPN that Incognito asked Martin to contribute $15,000 to finance a trip to Las Vegas by some Dolphins players in 2012. The player did not travel with the group.
Incognito has taken to his Twitter to react to the allegations of his bullying demanding he wants his name to be cleared from the ESPN and other sports publications that have linked him to Martin's absence.
The Dolphins veteran guard's behavior may not come to a surprise. During Incognito's childhood — when his family moved — he was known as new, chubby kid at school in the sixth grade, the Miami Herald reports. Incognito got picked on at school and his macho father reportedly instructed him to fight back — adhering to the cliché that most bullies were once themselves bullied.
Bullying typically occurs in hidden areas such as halls, stairwells, restrooms, locker rooms and the cafeteria among other places. In sports, when one or more team members target a single player and use that behavior to intentionally hurt the player, it is known as bullying, says Dr. Joel Haber, anti-bullying expert, speaker and counselor. In Martin's case, the NFL player has been the victim of verbal bullying and relational bullying — where another player is excluded and embarrassed in front of others.
This type of behavior can leave scars emotional scars as many experience negative physical and mental health issues. Common problems include depression and anxiety, increased feelings of sadness and loneliness, changes in sleep and eating patterns, and loss of interest in activities they previously engaged in.
Dolphins coach Joe Philbin said "this is something we take very seriously, and it will not be tolerated," in regards to Martin's harassment in the NFL.
The Dolphins (4-4) face the Tampa Bay Buccaneers (0-8) on Monday, Nov. 11 in Tampa.
Published by Medicaldaily.com