Dr. Jesse Marcel Jr., Roswell Witness And Lecturer, Dies In His Home At Age 76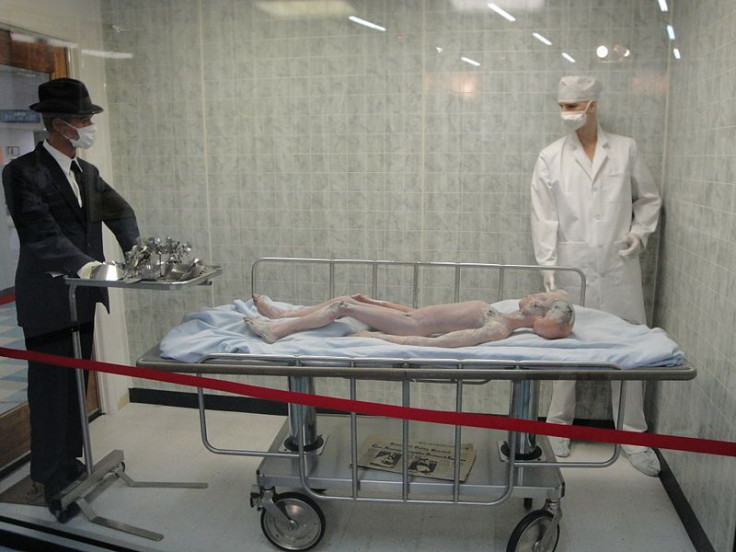 Dr. Jesse Marcel Jr., who in 1947 inspected debris that the military initially reported to be a recovered flying saucer near Roswell, New Mexico, was found dead on Saturday at the age of 76. He is survived by his wife Linda and eight children.
Marcel Jr. had only recently retired from his position as a specialist in otolaryngology (ear, nose, and throat doctor) at the Veterans Administration Hospital in Fort Harrison, Mont. His death occurred, according to his daughter Denice, who spoke with the Huffington Post, less than two months after making a final trip to Roswell. He died while reading a book about UFOs at his home in Helena, Mont. The exact cause of his death has not been reported.
Career
According to a biography posted on his website, Marcel Jr. graduated from medical school at Louisiana State University School of Medicine in 1961 and, after he completed a one-year rotating internship at the Charity Hospital in New Orleans, he joined the U.S. Navy.
He participated in the Cuban Missile Crisis and later sailed to the South East Pacific area on a tour of duty. He completed his specialty training in otolaryngology at the Naval Hospital in San Diego and then retired from the Navy in July of 1971. At that time, he entered private practice in Helena while joining the Montana Army National Guard in 1973. Training as a flight surgeon, he earned his wings in 1981 and was subsequently appointed State Surgeon of the State of Montana. For a second time, he retired from the military on his 60th birthday in August of 1996; yet, the military could not let him go. He served as a flight surgeon and contributed 225 hours of combat duty in country during the Iraqi war beginning in October 2004.
He was discharged from active duty in December of 2005. He had reached the rank of colonel.
Roswell
According to the Daily Mail, Marcel's father was an Air Force intelligence officer and the first military officer to investigate the wreckage near a Roswell, N.M. ranch in early July 1947. Bringing home some of the debris to his 10-year old son, his father maintained the debris "was not of this Earth," Marcel Jr.'s wife, Linda, told the Daily Mail. "They looked through the pieces, tried to make sense of it."
After its initial report that a flying saucer had been recovered, the military issued a statement saying the debris was from a weather balloon. Nevertheless, over the past 35 years, Marcel Jr. supported his father's version of the facts and often provided his own firsthand account of the wreckage. Interviewed on TV, radio, and other media, he lectured about Roswell worldwide.
"He never embellished – only told what he saw," his wife Linda told the Daily Mail.
According to the Huffington Post, the item that most interested Marcel Jr. was a small beam with purple-hued hieroglyphics on it.
Published by Medicaldaily.com