Dr. Oz Warns Kim Kardashian About Risks Of Raising Her Premature Baby; What Do Preemie Parents Need To Consider?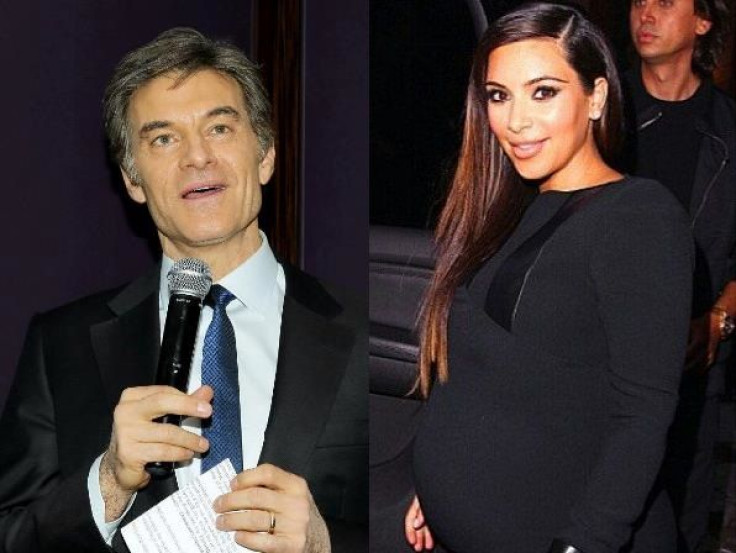 Celebrity doctor Dr. Mehmet Oz has warned brand new parents Kim Kardashian and Kanye West that they should "really focus" on their premature baby, who was born this past weekend.
During an impromptu interview with Us Weekly at Sunday's Daytime Emmy Awards, Dr. Oz even shared his own experience with his youngest child who was born premature.
"I've been following Kim's story, which I have a personal interest in aside from being a doctor," Dr. Oz explained.
"Our youngest child [Oliver] was born five weeks premature. So I know how hair-raising that is."
According to the Centers for Disease Control and Prevention (CDC), one out of every nine children in the United States is born premature. A premature birth is defined as one that occurs less than 37 months into pregnancy. Kardashian went into labor just 35 weeks after becoming pregnant.
"We can actually get kids to survive almost always, but if you don't manage them really well early on, they can grow up to develop all kinds of issues," Dr. Oz added.
A variety of treatments for a baby born prematurely is recommended for the first two years of the child's life. For instance, as soon as the child is born, he or she will usually be placed in warming incubator in the neonatal intensive care unit (NICU) to ensure normal body heat.
When the parents are allowed to take their newborn child home, they are advised to fit the infant with sensors that track blood pressure levels, heart rate, and temperature.
Most babies born preterm face few long-term difficulties, though preemie parents are advised to treat their newborns with extra care. Babies born at 35 weeks are at risk for jaundice and breathing problems, according to the CDC.
Breastfeeding is especially helpful for babies born early or at normal term, since growing infants need nutrients. Nursing mothers are advised to stick to a healthy diet and take prenatal vitamins, particularly folic acid. Using 17 alpha hydroxyprogesterone caproate may be recommended for mothers who had previous preterm deliveries.
If the child is unable to consume breast milk, doctors may consider a feeding tube to ensure the correct amount of fluids and nutrients are reaching vital organs.
Sharing his experience as a preemie parent, Dr. Oz told Us Weekly that after arriving home from the hospital, his baby "would turn blue and pass out, which would scare me. And I'm a doctor, so maybe they let him to my care [early], but it's a little nerve-wracking."
"We change how a child responds to a world around it in those first few weeks of life, so they ought to really focus in on that little girl," Dr. Oz advised Kim Kardashian and Kanye West.
"It's sacred, those first few months, for all babies but especially for the premature. It's a sacred time. They should focus on the child."
For a comprehensive guide on caring for your premature baby, visit FamilyDoctor.org.
Published by Medicaldaily.com