Dr. Phil Interviews Kelli Stapleton, Who Tried To Kill Her Autistic Teen Daughter; Move May Cost Him The Support Of Autism Research Activists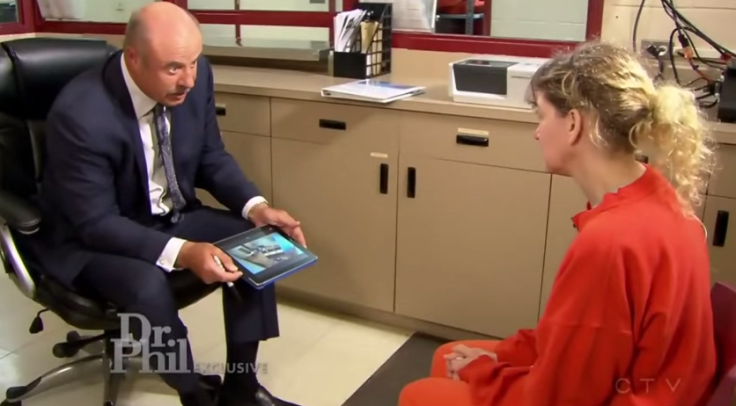 Dr. Phil's latest interview may cause him to lose any supporters he may have had in the autism research community. The psychologist and TV personality recently visited Kelli Stapleton at a prison in Benzie County, Mich., to discuss her failed attempt to end the lives of both her and her 14-year-old autistic daughter. Groups looking to advance the rights of disabled persons, including the Autistic Self Advocacy Network, are not only shaming Dr. Phil for painting Stapleton as the "real" victim, but also opening the door for any would-be copycat attempts.
"We see a pattern of copycat crimes whenever there is a well-publicized case of a parent murdering, or attempting to murder, their disabled child" Julia Bascom, ASAN's director of programs said in statement, adding:
Every time this happens, commenters come out of the woodwork offering every possible excuse, and nothing could be more dangerous. As disabled people, our lives aren't valued, and we see the consequences in every one of these headlines. Stapleton attempted to kill her daughter one year ago in the wake of an extremely well-publicized and extraordinarily hateful hatchet job about the murder of another autistic teenager, Alex Spourdalakis. Dr. Phil had an opportunity to shut down this cycle of violence, and instead he chose to perpetuate it, as loudly and widely as possible.
On Sept. 3, 2013, Stapleton invited her daughter Isabell "Issy" Stapleton on a camping trip in a rural part of Michigan. Once mother and daughter were in the van alone, Stapleton lit two charcoal grills while closing all the windows and locking the doors. Luckily, Issy's father called the police, who found the van with its two occupants unconscious from carbon monoxide poisoning. Issy would spend the next four days in a coma fighting for her life. Stapleton is currently standing trial after pleading guilty to a first-degree child abuse charge.
"The Dr. Phil show is proud to continue to shine a much-needed light on autism spectrum disorder, continuing a 13-plus year commitment to educate the American public about the challenges faced by these children and their loving families," a representative for Dr. Phil said in an email to The Daily Beast. "The recent and tragic story of what happened to Isabel Stapleton was, of course, outrageous, indefensible and unforgiveable. It is important to separate the need to condemn the outrageous behavior of her clearly emotionally troubled mother, while remaining sensitive and sympathetic to the frustrating plight of all parents with autistic children who struggle in their quest for services, help, and resources."
Published by Medicaldaily.com