Drinking Alcohol Makes Straight Men More Sexually Fluid: 'Beer Goggles' Boost Physical Attraction To Same Sex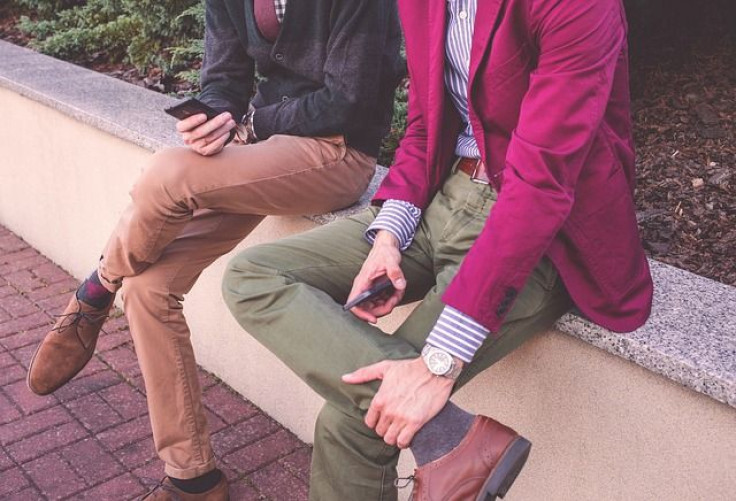 Many of us are all too familiar with the "beer goggles" effect: friends and strangers alike become more attractive after a drink or two. Undoubtedly, drinking alcohol lowers our inhibitions and makes us more open to experimentation with the same sex. In a new study, published in The Journal of Social Psychology, straight men were found to be more physically attracted to other men after a few drinks.
"Most notably, alcohol intake was related to increased sexual willingness of men with a same-sex partner, suggesting a potential shift in normative casual sexual behavior among heterosexual men," wrote the authors in the study.
Read More: Straight Women Turned On By Attractive Women Are Either 'Bisexual Or Gay,' Says Study
Researchers recruited a total of 83 straight men and women who were bar hopping in the Midwest at night. The participants were asked to complete a survey about how many drinks they'd had that night. In addition, they had to watch a 40-second video of either a physically attractive man or woman drinking at a bar and chatting with the bartender. Then, the participants rated their sexual interest in the person in the video, from buying them a drink to going home together to have sex.
Unsurprisingly, men showed high interest when the attractive woman was on the screen; women naturally were more attracted to the man. Moreover, men were more likely to make sexual comments about the woman after the video. Overall, they expressed more sexual interest in the women, regardless of how much they had. This coincides with previous research that concedes men tend to be more lax about casual sex with strangers.
However, the researchers noted an interesting observation: the more alcohol men drank, the more interested they became in the man in the video. Men who had nothing to drink showed no interest. Those who consumed over 10 alcoholic drinks were more likely to entertain the idea of gay sex just as much as having sex with a woman.
"Sexual willingness was only influenced by alcohol intake and perceived attractiveness of a same-sex prospective partner," the authors wrote.
In women, the more alcohol they drank, the more interested they were in other women, and the opposite sex.
This suggests sexuality for men and women does not fall under straight and gay, but instead is fluid. A 2016 study found women have been evolutionarily designed to have same-sex encounters. The researchers proposed women's sexuality has evolved to be more fluid than men's as a mechanism to reduce conflict and tension among co-wives in polygynous marriages.
Read More: Lesbian, Gay, and Bisexual Adults Are More Likely To Face Mental And Physical Challenges, Possibly Due To Discrimination
In men, studies have found a large number of straight men watch gay porn and even have gay sexual fantasies. Researchers believe homosexuality has evolved in humans because it helps us bond with one another. In other words, sexual behavior is not a means to an end of reproduction, but it can also be used to help form and maintain social bonds.
It's no surprise drinking alcohol leads to sexual behavior, and even makes us sexually fluid, and less inhibited. Alcohol's influence on specific brain circuits has led us to feel euphoric and less anxious. It makes us more empathetic and leads us to see other people — even the same sex — as more attractive.
Alcohol may allow us to freely express our sexual side, without judgment or reservations.
See Also:
Bisexual Women Face Mental Health Challenges Due To Stigma
Young Questioning And Bisexual Women More Likely To Struggle With Eating Disorders
Published by Medicaldaily.com