Dwayne Johnson Has Emergency Abdominal Hernia Surgery After Wrestling Injury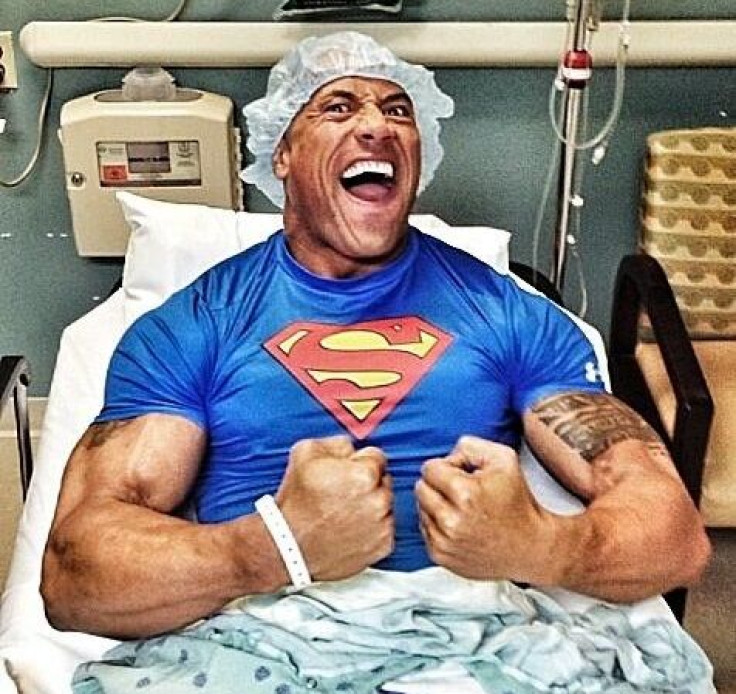 Dwayne "The Rock" Johnson had an emergency surgery yesterday for an abdominal hernia last night, reported E! Online. The injury came only weeks after the actor and former pro wrestler sustained a torn abdomen during a wrestling match against John Cena.
"Surgery a success!" the actor and former pro wrestler announced on Twitter this afternoon. "Dr repaired 3 hernial tears (fun pain). Superman is on the mend."
Abdominal hernias, or incisional hernias, occur in the abdominal wall, which wraps around your torso from the ribs to the pelvis. When the abdominal wall weakens or tears, portions of the small intestine could jut out of and get stuck in an opening, creating a hernia. Hernias develop quickly and are incredibly painful medical emergencies.
The most common type, according to the NYU Langone Medical Center, is an inguinal hernia, or groin hernia.
Risk factors for abdominal or groin hernias include wear and tear from frequent heavy lifting or other strains — like body slamming into a professional wrestler.
Johnson took his injury in stride, casually describing the hernia on Twitter on Sunday:
"Saw my Dr who had to push my intestines back thru the tear in my abdomen. Kinda romantic. Surgery is next week. #BringItOn."
The performer's Twitter feed offers a real-time account of his abdominal hernia's development.
On April 8, the night after his wrestling match against John Cena, Johnson tweeted:
"In the middle of last nights Wrestlemania match I tore my abdomen & adductor muscles off the bone. Just part of the job. But as we know...It's all about #JustBringIt."
That put a dent in his training regimen:"My dr's said that starting back training w/ torn abdominals would be a bitch. Just found out they were right;)," he announced three days later. "We gotta push thru..."
"Injury update: Dr's & I elected not to reattach tendons to my pelvis. They'll just scar up," he reported on April 13. That didn't slow down his work schedule: "Now I prep to shoot HERCULES #TheDemiGOD."
Johnson began physical therapy last week, though the reparative effects on his weakened abdominal muscles were likely countered by the "hardcore training" he started at the same time, setting the stage for his hernia.
Hernia surgeries rarely have complications, since the repair is typically a matter of moving protruding organs back into place and repairing the torn muscles. The surgery is typically done with anesthesia in less than two hours.

Recovery typically involves resting for several days and avoiding excessive strain for up to two months. In order to prevent returning hernias, people should eat high-fiber diets and strengthen their abdominal muscles. The latter is surely not a problem for The Rock, though avoiding physical stress might be more challenging.
Michael Bay, director of Johnson's latest film Pain & Gain, suggested to E! Online that the actor take a break from hernia-inducing exertions: "He was pushing it too hard. [He] needs to grow up and stop wrestling 300-pound men."
Published by Medicaldaily.com