E-Cigarette Sparks Concept For New Medical Device That Safely Dispenses Drugs In Prescribed Doses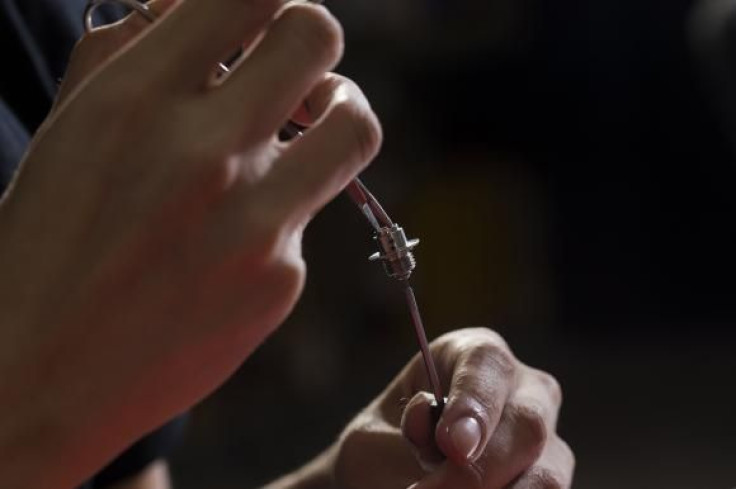 A mechanical engineer has constructed a new and conventional way for the electronic cigarette's design to dispense drugs in a safe and medically useful way. After improving upon the electronic cigarette's anatomy, a new device could hold merit in the medical field and help smokers and drug abusers quit thanks to release-controlled doses of nicotine and other drugs.
Electronic cigarettes were first developed by Hon Lik, a Chinese pharmacist who invented the device after his father died of lung cancer. It was then introduced into the U.S. markets in 2006 and months later, Noah Minskoff's mother died of lung cancer and spurred a similar inspiration.
Minskoff took the electronic cigarette, which is a battery operated device used to deliver nicotine and other chemicals into a vapor form for the user, and sent it to his mechanical engineer friend Nathan Terry. These devices, commonly known as e-cigarettes, are emblematic of the everyday cigarette or cigar; however, they are unregulated by the Food and Drug Administration (FDA) and are not standardized across the board.
When Terry disassembled the device, he found wires, bundles of glass fibers, steel wool, silicon, plastic, tape, and adhesive, according to Reuters. Terry believed current e-cigarette users could unintentionally be inhaling dangerous particles and toxic fumes.
"There were red flags everywhere," Terry told Reuters.
The FDA hasn't gotten around to evaluating these devices, which Bloomberg Industries projected total sales could reach $1.5 billion this year alone. Studies have shown that users believe e-cigarettes are a viable and safer alternative to smoking the real thing, even though there has been no reliable evidence to prove its safety.
After examining the current market product, Terry believed he could do better and teamed up with Minskoff and formed a company, Thermo-Essence Technologies, to sell their new design with the same concept. Terry created a device he believed would pass FDA inspection, knowing full well that they would eventually impose regulations, product standards and quality controls.
Once it was released onto the market, medical marijuana patients and smokers looking for a higher quality e-cigarette, became the dominant consumer base. The price tag for the safer fiberglass, plastic, and solder-free e-cigarettes cost $300, and as many as 30,000 have been sold.
Terry expanded on the idea and saw an uncharted niche for the e-cigarette's structure. An inhaler concept was born out of the technology, which could eventually be used to deliver measured doses and nicotine to help people quit smoking, and even other drugs such as opioid painkillers.
The new device could emerge as a portentous competitor to the nicotine gum and nicotine patch manufacturers, that millions of smokers rely on to quit. Minskoff left Thermo-Essence for personal reasons, and Terry sold the company in order focus all of his attention on building his second company, Minusa LLC located in Newtown, Conn. Eventually he hopes to partner with a big drug company to expand the development stage of his new product, Envi.
"This is in my wheelhouse," Minusa LLC's initial funder, biotech investor Michael Breede, told Reuters. "I think we can put a serious dent in this problem."
If the product eventually goes onto the market, it will be sold in a small pack with two short cigar-shaped devices, which will be tamper-resistant, metered-dose inhalers for a single user. It is designed to dispense a carefully controlled drug dosage to the users only after being unlocked with a code. It will then shut off and be returned to its case until it is needed for the next dose. Doctors will be able to track the patient's usage by downloading Envi's data.
"I think we can change how drugs are delivered," he said.
Terry is confident in the product he's created and believes it could revolutionize safe drug delivery for those wishing to quit a substance. However, Minusa LLC is in the early product production stage and has a long way to go from Terry's concept. If all goes well, human trials may only be two years away.
Published by Medicaldaily.com