E-Cigarettes May Not Be A Gateway To Smoking; 'National Experiment' To Assess Risks Still Ongoing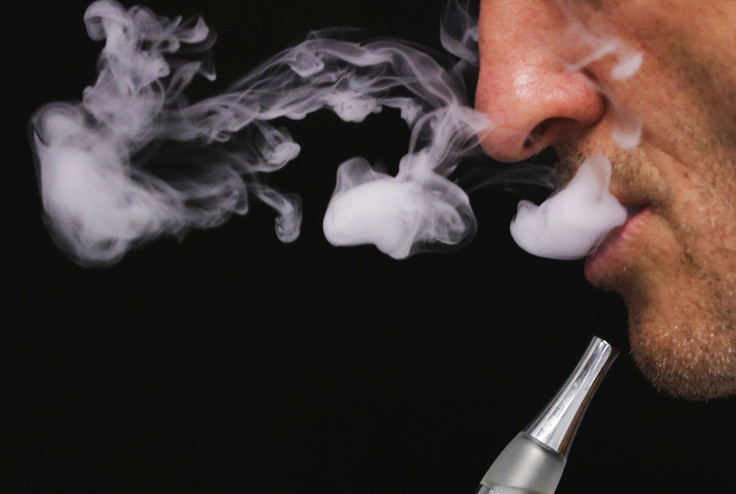 Originally, they were billed as the new cigarettes. Then, they became comparable alternatives to quitting, on par with nicotine patches. Now, researchers say parents can rest assured that e-cigarettes don't pose any threats as "gateways" to actual tobacco smoking.
A report issued last month from the Centers for Disease Control and Prevention (CDC) said electronic cigarettes may act as a precursor to more harmful tobacco products, that e-cigs would spur the "initiation of the use of conventional cigarettes or other tobacco products," in addition to causing harmful effects on young brain development. But new research assumes a more moderate stance.
In a study involving 1,300 college students, 43 percent said their first experience with smoking was with an e-cigarette, and only one person out of that group reported going on to traditional cigarettes.
"We asked what the first tobacco product they ever tried was and what their current tobacco use looked like," said researcher Theodore Wagener, an assistant professor of pediatrics at the University of Oklahoma Health Sciences Center, in a press conference. Wagener and his colleagues presented their findings at the annual meeting for the American Association for Cancer Research. "It didn't seem as though it really proved to be a gateway to anything."
The researchers had cause to be concerned: between 2011 and 2012, e-cigarette use more than doubled among students in grades six through 12, from 3.3 percent to 6.8 percent. Among high school students alone, the rate jumped from 4.7 percent to 10.0 percent. And among the total 2.1 percent of CDC survey respondents who said they currently use e-cigarettes, three quarters of them said they also smoke real cigarettes.
The overlap had many experts and parents fearing the smokeless form of the product would overtake the real thing. Despite containing only nicotine, the risk of the drug itself still poses health risks to users, as any quantity of carcinogens flooding the body raises a person's risk for illness.
"I think parents should be vigilant and talk to their kids and let them know that this not a 100-percent safe product. It's not water vapor. It's nicotine. It has carcinogens in it," Wagener said. "It might be less than regular cigarettes, but at the end of the day, they're still putting something that has carcinogens and toxins into their system."
Teens looking to find easy ways to smoke often turn to e-cigarettes, as they carry no federal age minimum for purchase. The U.S. Food and Drug Administration (FDA) is currently deciding whether to lump e-cigarettes in with their conventional counterparts as part of the agency's $90 billion jurisdiction. In the interim, at least 40 states have started the process of creating regulations for sales to minors. The FDA is expected to hand down its ruling in the coming days, cementing the product as either a tobacco product or as a drug device.
Either way, "the use of these products is increasing dramatically," Scott Leischow, co-leader of the cancer prevention and control program at the Mayo Clinic, said in a news conference Tuesday. "It seems like we're in the midst of a national experiment."
Published by Medicaldaily.com