71,000 Reasons to Think Twice About Riding E-Scooter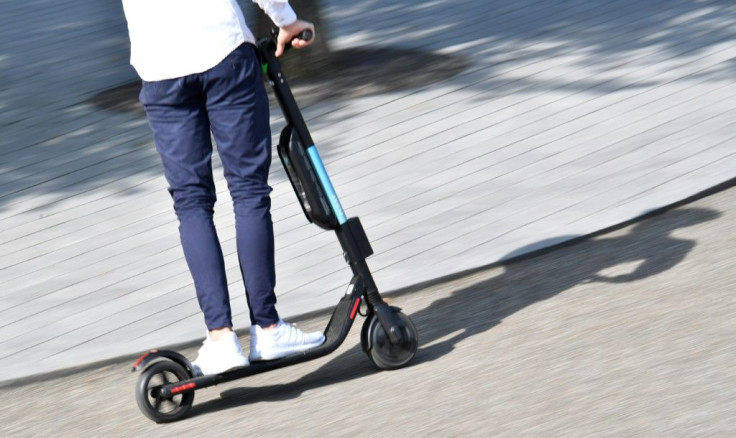 You can pick them up with one hand, as electric scooters only weigh 30 pounds. Their attraction is obvious: You can get from here to there, with no effort at all, as many have found.
Like Adam Roberts, a 50-year-old senior claims advisor living in Atlanta, thought when he used one for the first, and last time, in May 2019. It was supposed to be a 3-block ride home.
Since it was spur of the moment, he had no helmet or safety equipment. After 1 block, the wheel hit a pothole. "I flipped forward over the handlebar, landing in the street. I didn't realize the extent of my injury so I got up, brushed off, bent my glasses back straight, and walked home. I knew I was banged up, and both arms hurt, but it wasn't until I tried to unlock my front door that I realized my right arm wouldn't move much."
Eric R. Wagner, MD, has seen these types of accidents more often than he cares to.
A new study published today in JAMA, Emergency Medicine, found there were almost 71,000 emergency room visits related to e-scooters from 2014 to 2019. Dr. Wagner, a hand and orthopedic surgeon with the Emory University School of Medicine, also in Atlanta, told Medical Daily that "Usually there's fractures, sometimes shoulder dislocations, but it's really common, it's happening a lot. I probably do surgery on 2 to 3 people who have scooter injuries every month," he said. "And that was what spurred the idea of doing the study. … the amount of people that I treated in the last 2 years with scooter injuries has just been incredible."
Child's Play No Longer
Scooters – once thought of as a child's toy – have been turned into a popular form of transportation for adults. The e-scooters can move at a maximum speed of 20 mph, so they can move alongside traffic. Cities that had become accustomed to public-use bicycles allowed private companies to introduce similar e-scooter programs in 2017. They look like fun, harmless and environmentally friendly ways to get around congested cities, so the popularity of shared e-scooter companies quickly soared. Globally, the market was estimated at $18.6 billion in 2019. And then people started getting hurt.
And dead. People have been killed while riding e-scooters, according to news outlets. In Singapore, where e-scooters are popular, 6 deaths were related to the e-scooters. Also in the U.S.: In March 2019, a man in his 50s in San Diego died a few days after his e-scooter hit a bump and he hit the ground head first. And in the U.K. last year, popular television presenter and YouTube personality Emily Hartridge, died following an e-scooter accident with a truck.
A Plate in His Arm
After getting checked out at the ER in the Atlanta Medical Center, Mr. Roberts learned that aside from a cut above his right eye, from his glasses, he had soft tissue injuries and pulled tendons in his left arm. But it was his right arm that would be the biggest problem. "After several X-rays and an MRI, it was evident that my right upper humerus was broken through where it attaches to my shoulder. I ended up undergoing surgery to place a plate and screws in it as a means to reattach the two pieces," he said in an email. "I [missed] 10 weeks of work to recover, and [had] 12 weeks of physical therapy. I still lack some of my strength in the arm and shoulder and have regained about 85% of my range of motion."
The Study
What the researchers found shouldn't be too surprising -- with the increased public access, the increase in accidents began immediately. Accidents related to the scooters nearly doubled between 2018 and 2019. The most common injuries were of the head and half of those were traumatic brain injuries, which ranged from a mild concussion to much worse. Other injuries included fractures of the wrists and arms, as well as the lower limbs, and injuries to the chest and abdomen.
Dr. Wagner's team looked at who was getting hurt and, while accidents happened to people of all ages, they found that most injuries occurred to men aged 15 to 39 years. Earlier research found that many e-scooter accidents involved substance abuse, most often alcohol. Dr. Wagner pointed out that while his study doesn't have numbers related to alcohol use, it's apparent that it's happening. "You go around my city and you'll see scooters parked outside of bars, people obviously drinking, especially in the pre-COVID era. There's no way people aren't doing this while under the influence."
This study's findings support those of prior research published in January 2020, in JAMA, Surgery, which found that most injuries occurred to people aged 18 to 34 years old. The researchers also noted that 2 earlier studies looked at helmet use among riders: one study found only 4.8% of riders protected their head and another, only 2%. In certain cities, e-scooter companies tell the riders they must wear helmets, but the rule isn't enforced. And helmet requirements have even been dropped in some cities.
Dr. Wagner is not a fan of e-scooters and he wishes people wouldn't use them. "It's just like anything else, it's not a harmless thing and you can hurt yourself or you can hurt other people," he said. "They weave in and out of traffic, they weave in and out of people walking and running, and they're not safe to ride with."
At the very least, if people do choose to use e-scooters, they should take precautions to reduce the risk of injury:
Wear a helmet
Stay on well-paved surfaces
Do not weave in and out of traffic
Do not use it on crowded sidewalks or foot paths
Avoid heavy traffic
Drive sober
Only one person per scooter
Know the limits
And just because an e-scooter can go fast, doesn't mean you should go fast.
As for Mr. Roberts, he has not used an e-scooter since his one try. "I can't help but wonder what could have happened if a car was coming?"
Published by Medicaldaily.com