Early Childhood Education Should Include A Full Day Of Pre-K; Prepares Kids Better For School System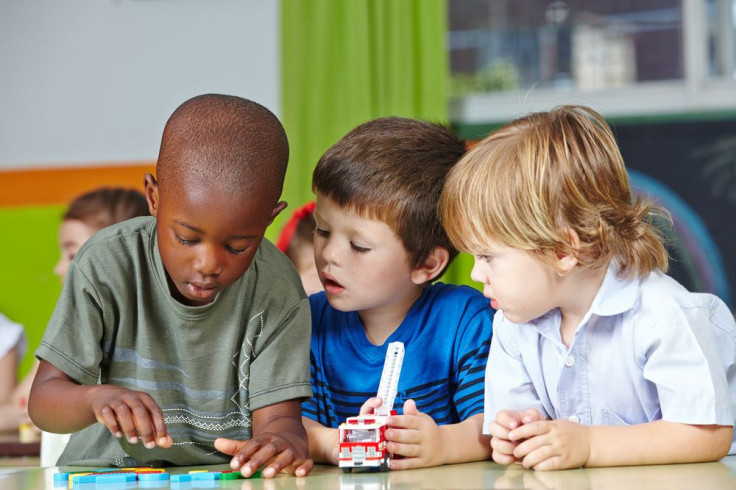 Pre-kindergarten is one of the most important aspects of early childhood education. It acts as a buffer, helping kids whose parents didn't, or couldn't, stimulate them enough (educationally) beforehand to reach a level playing field with regard to educational attainment. Many parents have suspected this for some time now, and new research from the University of Minnesota confirms it: Pre-kindergarten is crucial to not only children's development but also their readiness for the school system.
The study found that a full day of pre-K was the best way to evince these benefits, as opposed to only a half-day. It's obvious how a full day could be better. As the researchers wrote, a full day of preschool not only enriches children's educational experience, but also frees "parental time to pursue career and educational opportunities," thereby providing access to families that might not otherwise enroll. It's a win-win, essentially.
Pre-K is critical to ending what's known as the school-readiness gap. Since at least the late 1990s, researchers have attributed poorer educational achievement in 12th grade to gaps that existed in first grade. According to the Harvard Graduate School of Education, blacks, Hispanics, and American Indian students have, on average, demonstrated lower scores on reading, math, and vocabulary skills when compared to whites and Asian Americans. The Center for American Progress, meanwhile, notes that by age 5, children from low-income families are 15 months behind.
Along with his colleagues, Dr. Arthur Reynolds, a researcher at the university, looked at how ready for the school system kids were, as well as attendance and parental involvement, at the end of the 2012 to 2013 school year. Most of the kids were from low-income minority families. The study focused on 11 schools in the Chicago area, and compared a full day of classes (seven hours, with 409 students) to a half day of classes (about three hours, with 573 students). They found that kids who attended full-day pre-K scored higher on tests of socio-emotional development, language, math, and physical health. Scores on literacy and cognitive development were also higher, but the researchers didn't find them significant, according to a statement.
But despite improvements in attendance and lower rates of "chronic" absences, parents still weren't getting involved — this speaks to the importance of having a full day of preschool. It's also the missing piece to all of this; it's the reason kids experience the gap in the first place, and the reason they continue to perform poorly further down the line. In a policy brief from the Lincy Institute, a University of Nevada research organization, the authors note that parents from low-income backgrounds take a "behind-the-scenes" approach to supporting their kids because they often feel a "sense of exclusion" when they compare themselves to wealthier, more involved parents. The brief suggested educators take part in at-home involvement, which can encourage trust between educator and students' families — later on, involvement at school can begin.
Improving parental involvement may be a struggle worth handling in the longer term. After all, there are thousands of schools throughout the country. What the current study shows, however, is that we can lengthen the duration of pre-K classes in the meantime, with the hope that we can achieve what some parents aren't capable of: closing that gap.
Source: Reynolds A, Richardson B, Hayakawa M, et al. Association of a Full-Day vs Part-Day Preschool Intervention With School Readiness, Attendance, and Parent Involvement. JAMA. 2014.
Published by Medicaldaily.com