Easy Weight Loss Solution: 'Cravings,' Zero-Calorie And Sugar-Free Chocolate Strips, Satisfy Sweet Tooth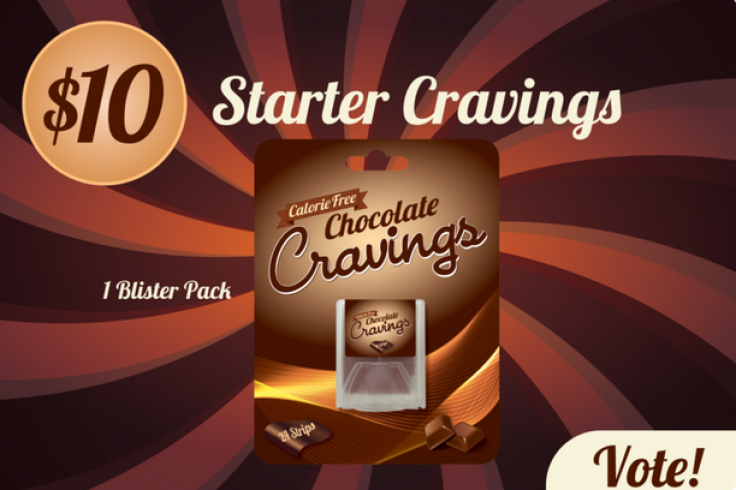 Chocoholics' dream may soon become a delicious and tasty reality, especially those with a sweet tooth who are trying to lose weight. "Cravings," zero-calorie, sugar-free, and chocolate-infused edible films — similar to Listerine breath strips — is on the verge of hitting the market to provide you with a chocolate fix. At just $10 a pack, the chocolate candy substitute can curb your appetite and help keep your diet under control, all the while satisfying your sweet tooth.
"Every pack has 24 strips; you pull one strip and let it dissolve in your mouth for a blast of flavor," said founder Ian Goldfarb on his Kickstarter page. "It's not a new technology, edible film has been around a long time, but we will be repurposing it using flavors we crave. This is where the fun begins." Rather than indulge in a Mars bar and follow it with a run on the treadmill, the milk chocolate strip will allow you to savor the flavor in your mouth without the calories. It tricks the mind into thinking the body consumed real chocolate, therefore suppressing cravings for similar foods.
The 27-year-old from Burbank, Calif., was inspired by his own personal struggles. "For years I've been following the standard regiments of working out and watching what I eat, but I've always felt like something was missing. I constantly get cravings that lead to binge eating sessions ... and then I counteract a full week of healthy diet and exercise," Goldfarb said.
His inability to say no to snacks led him to pop a Listerine strip in his mouth one day and begin to wonder why this wasn't available in non-mouthwash flavors. He simply found instructions online that explained how to make your own edible film and began to create a simple version at home. "I don't have a chemistry background and I'm not a chef, but I can follow a formula," he told the NY Daily News.
Cravings can help those who struggle with weight loss and have little will power to self-restrain themselves from high-calorie snacks and other unhealthy foods. Limiting the type of foods you consume is a way to start controling your calorie intake, and these strips claim to suppress cravings for foods like chocolate, breads, ice cream, among others. Take a Hershey's Milk Chocolate Bar, which contains a total of 210 calories, 117 calories from fat, and compare that to zero calories. "It's a chocoholic's dream," Goldfarb told the Daily News.
Goldfarb launched his Kickstarter campaign for the product in May but was unable to meet his $40,000 fundraising goal by the June 6 deadline. The chocoholic does not plan to give up just yet and hopes to seek help from an equity investor or get a bank loan. If Cravings hits the market, the strips could be released in all kinds of flavors, including pizza, French fries, and ice cream.
"A zero calorie solution to cravings. A flavor to savor on all occasions. A new way to resist your urge for over-eating," Goldfarb said about his appetite-suppressant innovation.
Published by Medicaldaily.com