Eat Vegetables, Ditch Tanning Beds, And Still Get A Summer Glow The Healthy Way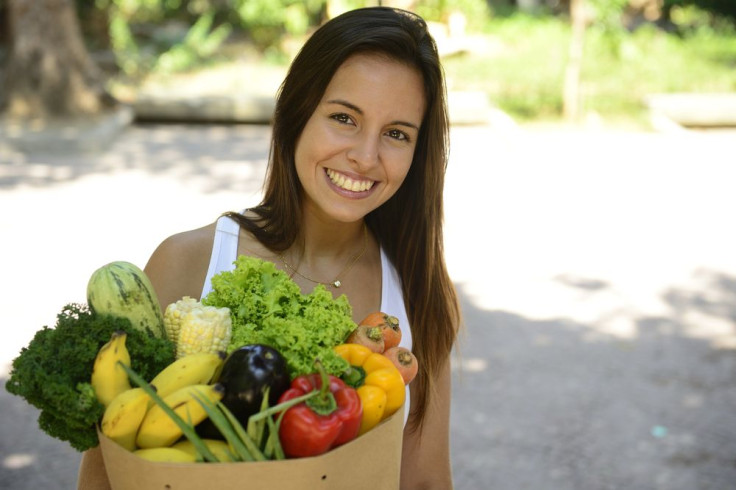 There is a healthier way to get a tan, and it will make you better-looking. A new study says a healthy, golden glow from a recommended five-a-day serving of fruits and vegetables is more attractive than the artificial brown color you get from tanning beds.
New research conducted by Leeds and Saint Andrews universities found that a carotenoid glow, a yellow coloration from fruits and vegetables, was considered more attractive than a high melanin coloration, similar to the color you can get from a tanning bed. In three individual trials, researchers surveyed 60 participants they recruited on the Internet. The majority of them were white and the rest were either mixed, Asian, Hispanic, or categorized as "other." All participants viewed 27 photos of faces.
Researchers adjusted the lighting of all of the photos so participants could see three different colored faces. The base color was adjusted under a European light. Then, participants were shown two versions of the base face, one with a carotenoid adjusted glow and the other with a melanin adjusted skin tone. Results showed that 75.9 percent of participants in all three trials preferred a carotenoid coloration over a melanin coloration. Researchers also noted that men found women more attractive who had a carotenoid glow, but naturally darker skinned men were found just as attractive with their deeper tanned faces. "We show that carotenoid coloration is consistently preferred over melanin coloration when levels of coloration are matched," lead study author Dr. Carmen Lefevre, of the Center for Decision Research, Leeds University Business School, told The Telegraph.
What's in these fresh fruits and vegetables that make us so nice on the eyes when we eat them? Red-colored super foods, like tomatoes and carrots, are rich in carotenoids (antioxidants) that make you look younger and clear up your blemishes, The Telegraph reported. This explains why the majority of participants in the study found a sunless tan from brightly colored fruits and vegetables to be more attractive. "Skin coloration appears to play a pivotal part in facial attractiveness," Lefevre said.
In a similar study published in 2011, researchers at the University of Nottingham cited in their research that people looking for a healthy mate should look for radiance in the skin. A golden hue is a sign of a healthy person, the scientists concluded. Lead author of the study, Dr. Ian Stephen, found that tomatoes and carrots give you a more attractive color than the sun. Based off of the new research, we can conclude that people are more attracted to beautiful, golden faces that result from a healthy diet. If you lost your summer tan, you might want to add some vegetables and fruits, like carrots, broccoli, and melons, to your grocery list.
Source: Lefevre C, Perret D. Fruit over sunbed: Carotenoid skin coloration found more attractice than melanin colration. The Quarterly Journal of Experimental Psychology. 2014.
Published by Medicaldaily.com