Eating Fish During Childhood Could Prevent Allergies Later On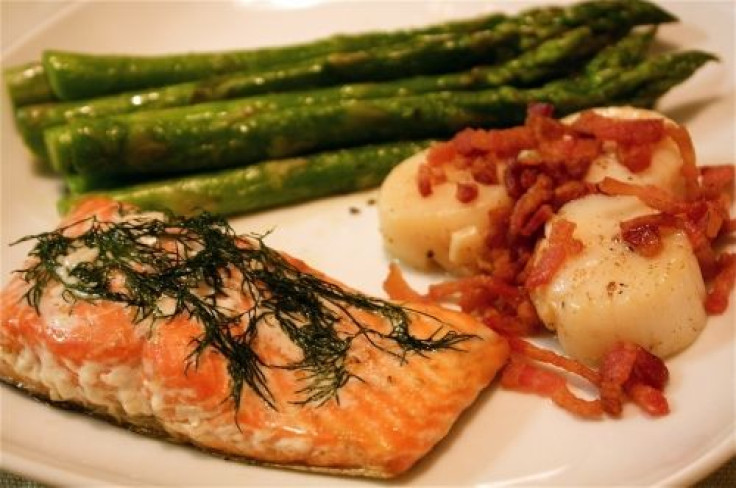 In recent years, parents have become increasingly hesitant to feed their children fish, due to fear of high mercury levels.
However, recent studies have suggested healthy fish consumption may boost brain activity in the elderly, protect from heart disease and strengthen the immune system of all ages. And now, a group of Swedish researchers are suggesting that the addition of fish to a child's diet before the age of 12 can help prevent allergic diseases.
Experts from the Institute of Environmental Medicine and the Department of Clinical Science and Education in Stockholm, Sweden analyzed data from 3,285 children registered with a Swedish cohort study.
Parents of the participating children were given surveys at age one, two, four, eight and 12 to assess any allergic symptoms, lifestyle factors and environmental exposures. The questionnaire given to parents with a one year old recorded how much fish the child was consuming daily. At eight years old the children were given Immunoglobulin E (IgE) tests to screen for any signs of allergens.
The group's results showed that 80 percent of one-year-old children consumed fish regularly (more than two servings a month). Adding fish to a child's diet between the ages of one and 12 reduced that child's risk of allergy symptoms by 74 percent.
The research team concluded that "regular fish consumption in infancy may reduce risk of allergic disease up to age 12."
Although researchers are confident in this conclusion they are unsure what is that specifically causes this effect on allergic diseases. Omega-3 fatty acids found in fish have been praised by medical experts in the past for supporting immune health and heart function.
Parents should always consider the dangers involved with consuming high levels of mercury and avoid fish with unhealthy amounts of mercury. The American Pregnancy Association offers a list of fish choices to avoid including shark, marlin, swordfish, mackerel and Ahi tuna.
This study was published in Wednesday's edition of the American Society for Nutrition's journal The American Journal of Clinical Nutrition.
Published by Medicaldaily.com