Ebola Crisis Meeting At UN: African Leaders Shun Isolation As Nations Pledge Support And Military Resources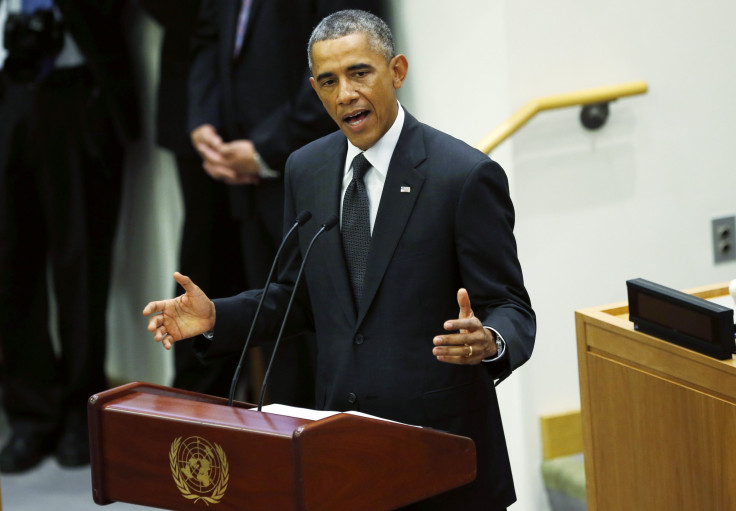 The United Nations convened a meeting in response to the Ebola disease outbreak today hosting leaders, including President Barack Obama, and representatives of nations around the world. Much of the two-hour conference was devoted to encouraging increased support of the affected nations in West Africa where a total of 6,242 cases of infection and 2,917 deaths have been reported, however, four other themes emerged: the necessity for massive and quick action, the worsening effects of isolation, the commitment of military resources from supportive nations, and the need for a new vaccine.
"We are talking about nothing less than the potential meltdown of this continent," said Dr. Jim Yong Kim, president of World Bank, who spoke urgently of the magnitude of the crisis. Noting the disease is killing "more than 200 people a day, two-thirds of them women," UN Secretary-General Ban Ki-moon opened the meeting by applauding the valiant effort that has been put into the response so far yet he voiced the need for greater speed and increased intervention in Guinea, Sierra Leone, and Liberia. "Systems are buckling under the strain," Ki-moon observed, a thought echoed by most speakers throughout the session, including Kim, a medical doctor who enumerated his past work battling drug-resistant tuberculosis and the HIV/AIDS crisis.
"I have never seen anything close to the challenge we are facing," he said, adding the "speed, complexity, and magnitude of the response required" is unprecedented. Under the gaze of Dr. Tom Frieden, the director of the Centers for Disease Control and Prevention, who did not speak during the meeting, Kim concluded, "The one thing that would be a mistake would be to settle for a response we are comfortable with but one that will not stop the disease."
Fears of Isolation
While many acknowledged the isolation of affected countries simply makes things worse, representatives of the countries themselves spoke most movingly of this dilemma they face. "Partners and friends, based on understandable fears, have ostracized us," said Ellen Johnson Sirleaf, Liberian president and recipient of a Nobel peace prize, who noted how 1,700 people in her country have already died. In the words of Ernest Bai Koroma, President of Sierra Leone, "viral diseases are no respectors of boundaries."
In particular, Koroma noted that globalization and the denser network of people "rapidly moving between rural and urban areas" were among the factors causing such rapid transmission of viral disease. "None of us realized this mix of trends would emerge with such force in western Africa," said Koroma. Supporting these sentiments, the president of the Republic of Guinea suggested borders remain open so that supplies could be transported as needed. "Ebola is a serious disease, but it's not a fatality," Alpha Conde said. "One can heal from the disease when one is cared for at an early stage."
Those providing aid committed more dollars (or Euros) while in some cases, including that of the U.S., Germany, and the United Kingdom, additional military resources. Obama, who personally addressed the assembly, noted the U.S. would make stemming the tide of disease in the affected region a priority.
"The outbreak is such that at this point more people will die, but the slope of the curve, how fast we can arrest the spread of this disease … is within our control," he stated. "And if we move fast, even if imperfectly," he suggested it could mean the difference between thousands of deaths and hundreds of thousands of deaths. On the part of the Minister of Economic Cooperation and Development of Germany, the help of armed forces to establish an airlink was promised along with 2,000 additional volunteers. "The price for inaction is high," Gerd Muller said.
With great passion, Dr Joanne Liu, international president of Médecins Sans Frontières, an organization heralded by many today for its work in West Africa, called for the development of a vaccine. "Current models will not work," she said, noting incentives and open science, permitting collaboration and sharing of information, would be necessary to create a new drug to help inoculate those at risk of becoming infected. Notably, Japan's Prime Minister Shinzo Abe had offered a candidate drug developed by a Japanese company earlier in the meeting. "The sick are desperate," Liu observed.
Though most focused exclusively on current effects of the crisis, some speakers included dire warnings of what might come. A few voiced concerns about the impending economic problems that will result in the wake of this crisis, with money having been diverted to this cause, while others spoke of even more pressing issues. In particular, France's Minister of Foreign Affairs Laurent Fabius emphasized the food crisis. "Long term consequences will be determined by food security," he suggested.
Published by Medicaldaily.com