Ebola Outbreak 2014: Death Of Sierra Leone's Top Ebola Expert Prompts Crucial Questions Over How To Stay Safe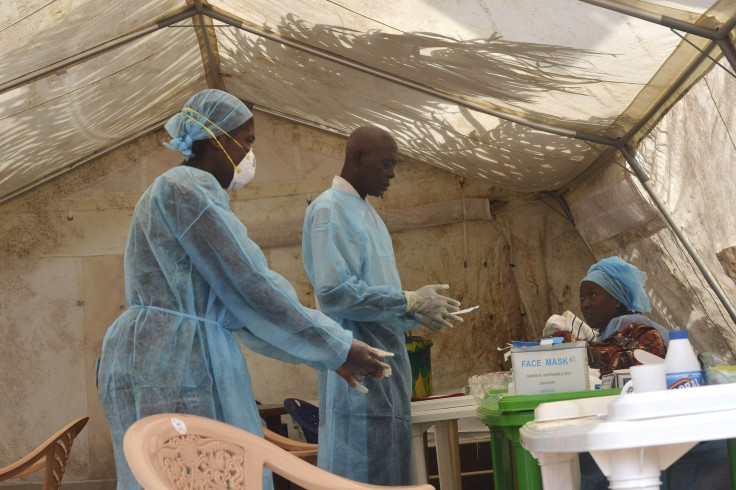 Sierra Leone's key leader in the fight against Ebola, Dr. Sheik Umar Khan, has died. Khan was the only specialist in viral hemorrhagic fevers in Sierra Leone. Chief Medical Officer Brima Kargbo called his death "a big and irreparable loss to Sierra Leone." With no signs of letting up and increasing numbers of medical workers becoming infected, everyone has the same question: What happens now?
Death Of Khan And 100 Health Workers
There was less than a week between the announcement of Khan's infection and his unfortunate death, Reuters reported. Many were hopeful that the quick diagnosis of Khan and improved treatment techniques could save the virologist, but unfortunately Kargbo announced Khan's death on Tuesday. In the wake of Khan's death, medical workers in the region are scrambling to cope with the immense outbreak. Even with a large amount of international aid, ranging from doctors to safety equipment, the weak African health systems continue to struggle to contain the virus.
Khan is only one of about 100 health workers in Africa to have died from this year's Ebola outbreak. The first two American health workers to become infected, Dr. Kent Brantly and his colleague Nancy Writebol, are reportedly still alive but terrified. Following news of Ebola spreading to health care workers, Stephan Monroe, the deputy director for the CDC's National Center Emerging Zoonotic and Infectious Diseases, ensured the media at a telebriefing on Monday that the CDC is working with other partners to "make sure that all of the people providing direct care for Ebola patients in the region have the appropriate personal protective equipment and training in order to use that, to protect themselves."
Prevention And Containment Options
Monroe ensured the public that for those living in uninfected areas, the threat of Ebola is present but not pressing. In the telebriefing, Monroe explained "the virus poses little risk to the U.S. general public," and "the likeliness of this outbreak spreading outside of West Africa is very low." Philip Hammond, the British Secretary of State for Foreign and Commonwealth Affairs had conflicting ideas in regard to the outbreak's spread, calling Ebola a "threat" to Britain, The Mirror reported.
The CDC revealed the extent of its containment plan, which it believes will keep the outbreak from spreading further. "We need to prevent future cases through meticulous infection control, safe burial practices, prompt diagnosis and isolation of new cases, and better understanding of how this dreadful disease first crosses over from animals to humans so we can prevent this from happening," Monroe said.
With the outbreak showing no signs of letting up, many wonder if it is time to test some of the experimental vaccines developed for the virus. Monroe explained that "none of these products are at the point where they could be used safely in this kind of environment," adding that the CDC did not recommend their use "at this time." Clearing with a different view on the subject, Dr. Jeremy Farrar, director of global charitable foundation the Wellcome Trust, told CNN "it would be unethical not to acknowledge that potential new treatments could both save lives and reduce transmission in this and future outbreaks." Factors such as the virus's complex biology, poor market potential, and lack of subjects for clinical trials have also added to the lag in vaccine development, IBT UK reported.
Can The Outbreak Spread Beyond Africa?
No travel restrictions have been placed on air traffic leaving Africa, with the CDC issuing only a Level 2 travel warning. This indicates that travelers should be cautious when entering infected areas. Airlines in the African nations of Nigeria and Togo deemed the threat of contamination to be higher and have suspended flights to Liberia and Sierra Leone.
International concerns have risen following the death of U.S. citizen Patrick Sawyer. Sawyer traveled from Liberia to Nigeria on an airplane, and the CDC and health authorities "are currently investigating whether passengers or crew on the plane or other people who had contact with the ill traveler are at risk for infection," Monroe said.
Sawyer, although originally from Liberia, lived in Coon Rapids, Minn., with his wife and two daughters. The Daily Mail reported that Sawyer was due to return to America in August following his brief African visit.
"It's a global problem because Patrick could've easily come home with Ebola," Sawyer's devastated wife told KSTP. "Easy. Easy. It's close, it's at our front door. It knocked down my front door." Hospitals in England and Hong Kong have reported patients exhibiting possible symptoms of the virus, but so far no one outside of West Africa has tested positive for carrying Ebola.
Published by Medicaldaily.com