Ebola Vaccines In Limbo Expose Need For More Speed In Trials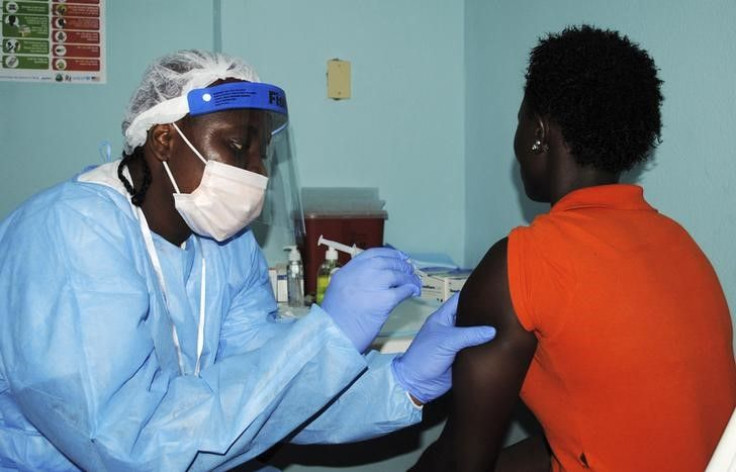 LONDON (Reuters) - Drugmakers' plans to conduct vast clinical trials to test and hopefully validate the first Ebola vaccines have been thwarted by success in beating back the deadly epidemic in West Africa.
GlaxoSmithKline, Merck and Johnson & Johnson are struggling to recruit volunteers with enough exposure to the disease to prove whether their vaccines are doing the job and preventing infection.
The story might have been very different with just another three or four months of disease spread, underscoring the need to act more quickly to develop vaccines for emerging diseases.
The hemorrhagic Ebola virus has killed more than 11,000 people in Guinea, Sierra Leone and Liberia in an unprecedented epidemic that began more than a year ago, but new cases have declined sharply in the past few months.
Liberia, for example, has seen no Ebola cases since March.
"There's no doubt everybody is very happy we have so few Ebola cases, but obviously it's also a bit disappointing when there was so much effort and energy put into accelerating the vaccines that there are suddenly no cases for the trials," said the World Health Organization's (WHO) Marie-Paule Kieny.
The Liberia Ebola vaccine trial, which had aimed to sign up more than 28,000 subjects, has had to stop enrolling after only reaching its mid-stage target of 1,500 participants.
J&J, which initially talked about recruiting 350,000 people for a clinical trial, has scaled back ambitions in Sierra Leone dramatically and is now seeking only around 3,000 to 4,000 recruits for a mid-stage study.
Brian Greenwood, a professor and vaccine specialist at the London School of Hygiene & Tropical Medicine, reckons if scientists had only had "another three or four months, we'd have been able to do it."
HOPES REST ON GUINEA TRIAL
That leaves a trial in Guinea, where Ebola is still infecting new victims, as "the only hope" for showing efficacy, according to Kieny and to Adrian Hill, director of the Jenner Institute at Britain's Oxford University.
The WHO is overseeing the so-called ring vaccination study in Guinea in which close contacts and family around each new case of Ebola are vaccinated -- either immediately or after a three-week delay -- to see if the shot offers protection.
Kieny said some 70 "rings" had been recruited so far, and initial data from these will be assessed next month to see if the trial should continue, be expanded, or be halted.
"If it continues, we will get an answer, and that would be very useful indeed," said Hill.
Despite the drastic scaling back, it doesn't mean all the preparation work on clinical tests has gone to waste, since safety and immune system response data in humans can be combined with animal experiment data to allow vaccines to be licensed.
The U.S FDA has an "animal rule" in place to allow for such approval in exceptional circumstances.
Johan Van Hoof, who is leading Ebola vaccine work for J&J, said even that would be a major step forward.
"The eagerness to have these vaccines registered based on safety and immunogenicity, combined with a commitment by manufacturers to monitor effectiveness post marketing, is a big advantage coming out of this crisis," he told Reuters.
But the inability to prove conclusively that vaccines can prevent disease in people is a bitter disappointment to scientists who hoped the record pace of vaccine development since last August would give them a vital edge.
LESSONS LEARNED?
Most experts agree that making a safe, effective and deliverable vaccine, while speedier this time than ever before, was still just too slow.
Kieny insists lessons have been learned.
She says initially turning down an offer from GSK to explore development of its experimental vaccine last year was "an error", which in hindsight might have given them those extra few crucial months. But next time, she says, the aim is to halve the time it takes to get vaccines into human clinical trials.
To do that, a "blueprint" is now being prepared on how to move more swiftly to tackle the next threat - be it Ebola, flu, a MERS-like virus, or some as yet unknown pathogen that might jump from animals and start spreading in humans.
The WHO's Keiji Fukuda noted on Wednesday that both Ebola in West Africa, and an outbreak of Middle East Respiratory Syndrome (MERS) in South Korea, had caught the world unawares.
"All countries should always be prepared for the unanticipated possibility of outbreaks of serious infectious diseases," he said.
Ben Neuman, a virologist at Britain's Reading University, warned that being properly prepared would no doubt be expensive, but added: "Nations can no longer rely on infectious diseases to remain in one place. The risk is global and the only long-term solution is worldwide vigilance."
(Reporting by Kate Kelland and Ben Hirschler; Editing by Anna Willard)
Published by Medicaldaily.com